WW (Weight Watchers) is a world-renowned name when it comes to losing weight and staying fit. It has helped millions of people with their weight loss goals and continues to get better with each passing day.
Keeping this in mind, more and more people are looking at specialized plans. This includes individuals dealing with diabetes and wanting to reel in their dietary habits as soon as possible. Weight Watchers has made it easier than ever before to eat the right way.
If you are thinking about getting started with a good diet plan, it is important to consider all that WW has to offer. They have a set of plans that are designed to help individuals that are dealing with diabetes.
Here is a breakdown of what WW is all about when it comes to diabetes prevention and why it is best to choose one of these plans for your day-to-day routine.
What is WW Diabetes Prevention Plan?
The WW Diabetes prevention plan is all about creating a specialized approach to staying healthy for those suffering from diabetes.
It is a life-altering condition and one that makes it difficult to eat well. A lot of people lose weight and never eat the way they are supposed to. This is not healthy and it is the last thing a person with diabetes should be doing.
This is why WW has taken the time to put together specialized plans to help prevent diabetes. These are plans that are made with an aim towards making sure members eat properly.
Key features:
WW App
Diabetes-Friendly Planning
Around-the-Clock Support
Virtual Workshops
Food and Activity Tracking
1. Specialized Plans
It starts with specialized plans. Whether it is the Digital, Digital 360, Digital + Workshop, or Digital + One-On-One Coaching plan, each one brings something unique to the table. If the goal is to overcome the hurdles associated with diabetes then it's these plans that stand out.
A lot of people struggle with diabetes and don't know how to go about eating properly. This leads to a situation where the wrong choices are made.
These specialized plans add structure to your life and that is something you cannot overlook. It simplifies each step in the process and makes eating fun.
2. Consistent Support
The one thing WW does better than most others has to do with support. If you go with any plan, you are going to have access to a community that is full of members that are in the same spot as you. It is easy to bounce questions off of them throughout the journey.
For those who kick things up a few notches, you gain access to coaching options, workshops, and more. There is a lot on offer for those who want to learn and adapt.
The benefits include:
Structured Support
Easy to Follow
If you go with the one-on-one coaching options, you gain access to a lot of new information. The coach is going to help tweak things for you and go through progress updates weekly.
This is powerful for those who just want someone to be there with them on their journey. If that is something you can relate to then this is what WW brings to the process.
3. Simplified Tracking
You also get to enjoy simplified tracking potions with the help of the WW app.
This is key for those suffering from diabetes because the goal is to track everything you are doing including what you are eating throughout the day.
It is easy to do so with the help of the WW app. You don't have to input anything because the barcode scanner also works alongside you when you are eating.
Just set things up and watch as the barcode picks up on what you are eating. It is a lot of fun to manage and you can quickly track what you are eating and whether or not you are on the right path for the day.
Learn more about the WW Diabetes prevention plan at their website
CDC Recognition
The CDC is strict when it comes to analyzing and judging weight loss plans in the country. They spend years going through each detail to understand whether or not a weight loss plan is viable for those suffering from diabetes.
Based on the research they have done into WW, they have stated it is one of the best options available for those who want to eat right.
It was back in March 2018 when the CDC stated Weight Watchers was one of the leading diabetes prevention services on offer right now.
This is a major plus indicating the level of depth that goes into everything WW does including its plans. This type of quality is hard to find and that is why it was recognized by the CDC.
Current Weight Watchers Plans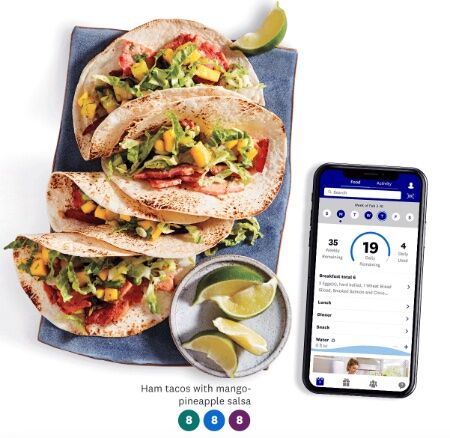 1. Digital
The digital plan that you gain access to is the starter plan and it is great for those getting their feet wet. It's affordable, refined, and offers a plethora of features for those who want to get started.
Key features include:
Food and Activity Tracking
8000+ Recipes
Customized Eating Plan
24/7 Online Support
Social Platform
Whether it is the tracking options, thousands of recipes, or the customized plan, it is a great option for those wanting to see what eating the right way is all about.
WW knows this is a challenge and will guide you throughout the process. Everything is laid out in an easy-to-understand manner for that specific reason.
2. Digital 360
This is similar to the digital plan but take things up a few notches.
The idea behind this plan is to have access to virtual cooking demos and meditations as a way to change your life as a whole. This is the "360" approach that a person can take when it is not just about eating the right way but also living properly.
Key features include:
Everything in Digital Plan
Digital 360 Coaches
Virtual Cooking Demos
Meditations
These are high-value demos that you get to go through using WW's app. These demos are fun, easy to understand and do shed light on things you might not have thought of before.
Even the virtual cooking demos are a breath of fresh air for those who want to do things the right way.
3. Digital + Workshops
This plan looks at building on what the original plans have to offer while also adding quality workshops into the mix.
KEEP READING: Is Weight Watchers or iTrackBites Better?
These workshops are all about teaching members about the intricacies of making a positive lifestyle change. This includes showcasing what works best when eating the right way.
Key features include:
Everything in Digital and Digital 360 Plans
Group Coaching
Printed Guidebooks
14,000+ Workshops
Weight Loss Workshop Curriculum
These workshops are wonderful and do set the tone for everything else a person does throughout the day. Being able to tap into over 14,000 workshops means there is always something to learn.
WW continues to add new workshops into the mix making it easier to adapt your lifestyle to the prevention plan once you start.
4. Digital + One-on-One Coaching
This plan kicks things up a notch with the coaching element. Instead of traditional workshops and the endless WW content that is posted through the app, members gain access to a trusted coach. This specialist will guide you through the nuances of following a structured plan.
Key features include:
Everything in Digital, Digital 360, Digital Workshop Plans
Personal WW Coach
Weekly Phone Calls
This is ideal for those who want to do things the right way and want a little boost each week. The coach is going to be there to help and will ensure you are trending down the right path at all times.
This is key for those getting started or worried about veering back to their bad habits.
Final Thoughts
In the end, when it comes to choosing the right plan for you, it is important to consider your budget and what you want from the journey.
Even the base plan is going to do wonders for you and will add structure to your life. The customized plans and online community are hard to beat. This is something you are going to get through the Digital plan without having to upgrade.
For those who want to get some of the other perks that WW has to offer then the remaining plans also do a great job. You gain access to workshops and coaching options that are great for keeping you on the right path.
You will learn a lot through WW and that is what makes it a great option as a diabetes prevention service. It is powerful information that you are going to get through the WW app and their online community. Eating the right food has never been easier than it is through one of these plans.
You will get all of the information you could need while also having access to a coach that knows what's required to help with diabetes.
If you do have diabetes, it will be up to you and your doctor to determine if Weight Watchers has a program that can work for you.
Resources