Weight Watchers has been in the business of helping people lose weight, improve their health, and get their lives back on track for decades now.
During that time, their system has been proven to be a very safe and effective way to lose weight, results in millions of Weight Watchers members over the years.
So what is that make the Weight Watchers program so effective and easy to follow?
Meet Weight Watchers SmartPoints.
By now most of us have heard about Weight Watchers points, but unless you've been a WW member before, you may be wondering exactly how they work.
In this Weight Watchers SmartPoints guide, we'll show you exactly that.
You're going to learn:
How Weight Watchers Points Work
Foods to Eat
Foods to Avoid
How Many Points You Get per Day
How they Also Help Track Your Exercise
How the New Rollover Points Work
What 0 Point Foods Are
So with those things in mind, let's get started!
How WW (Weight Watchers) SmartPoints Work

With the Weight Watchers Smart points system, every food is assigned a number. This number isn't just pulled from the sky, either.
It's actually based around four key factors:
Calories
Saturated Fat
Sugar
Protein
Using these things, Weight Watchers is able to determine the point value for every food you eat. Obviously if a food has a higher point total, then it will have more sugar and saturated fats. Foods that are lower on the point scale are typically lower in those areas, and higher in things like protein.
So how did they arrive at these numbers?
Years of research and scientific studies went into the Weight Watchers points system. Research has shown time and time again that you can benefit from a diet that is low in sugar and saturated fats, while benefiting from healthy proteins.
This system doesn't just help with weight loss, either. It's going to improve your overall health, which is great news for those of us who prefer a long-term weight loss solution, vs. just another crash diet.
Determining Your WW SmartPoints Budget
SmartPoints are going to vary from person to person, and they will calculate how many you get each day after you sign up and complete your Weight Watchers profile.
They base your SmartPoint total on these 4 Factors:
Daily Points
Each day will bring a new SmartPoints total. This daily budget is what you get to spend on foods and drink everyday. Again, point totals can vary from person to person depending on the factors we outlined above.
Keep in mind that the number is fluid, too. Meaning, that as you lose weight and make progress your points may go down. Don't worry, though! The formula is designed with your health in mind, so Weight Watchers is careful to make sure you're still getting the right number of nutrients everyday.
Weekly SmartPoints
Consider these as a cushion. They are there when and if you need them, and you use them a little bit each day, or feel free to save them up for a special ocassion!
That said, you don't have to use them at all, if you don't want to. They are just there to add some flexibility to the program.
Weekly SmartPoints are a use and lose it type of thing though. They don't rollover at the end of the week, so once Monday hits, you can expect them to reset to start the new week.
Rollover Points
When Weight Watchers launched their new Freestyle program (read our review), they introduced two big things:
A "Zero Point" food list, with more than 200 items on it.
Rollover Points – Save your daily points to use the next day if you need them. Great for dinner parties, a night out, etc.
The rollover points are awesome if you know you have an event, party, or just evening out coming up. Take it easy leading up to the special occasion, and use the extra points to cut loose if you want.
Making the Most of Your Daily Points
As you adjust to the Weight Watchers way of life, you're naturally going to gravitate towards foods that are lower in SmartPoints. Things like fresh fruits, veggies, lean proteins, and whole grains.
Over time, this will help you learn what it takes to make healthy choices, and change your health for good.
Use the WW App to Track Your Points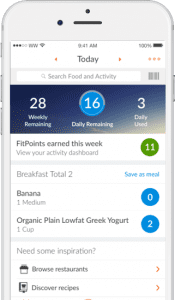 Nowadays, keeping track of your Weight Watchers points is easier than ever. That's because, Weight Watchers has a free app, that helps you log everything.
It's also a great way to get recipes, connect with other members, and get food ideas when you're dining out at restaurants.
Basically, the WW App is going to be your go-to resource for all things Weight Watchers.
Here are some key App features you'll be using pretty much everyday:
Daily Used: This will show you how many points you have used that day. Find on the top right of the app screen.
Daily Remaining: How many points you have left for the day. Fight it in the middle of your App screen.
Weekly Remaining: Your total number of Weekly SmartPoints that you have left.
WW Points vs. Calories
So why not just count calories? Are points really any different than calories.
Yes, points are very different, and if you only focus on the calorie content of food, then you may be making bad eating choices without even knowing it.
Here's an example from the Weight Watchers website, that shows why their point system is more effective than calorie counting. All of the foods you see below have 300 calories, but notice that point total for each is very different:
Weight Watchers Points for Restaurants
One of the things that I love about Weight Watchers is that you're not locked into eating pre-made food, or the same boring stuff everyday. They understand that we all have lives to live, and part of that includes making meals and home, or dining out with family and friends.
If you're wondering what you can eat when you go out to restaurants, don't worry!
Again, the Weight Watchers App will be a lifesaver when it comes to dining at restaurants. They have many of your favorite chain restaurants listed, and if they don't you should be able to use the App to determine a point total for whatever it is you decide to order.
As you get more experienced with Weight Watchers, you'll get better and better and picking out restaurant foods with a low point total, and you will even be able to save some points for dessert!
Final Thoughts
Staying on track with your health and weight loss has never been easier than it is with Weight Watchers. Their world-famous points system is what helps make the WW program so popular, and so effective at helping people take control of their weight and their health.
When you sign up for Weight Watchers, you will be given a daily point total, and as you begin to follow this program, you'll learn how to make healthy choices, and keep the weight off for good!
Right now is a great time to join Weight Watchers too, as they're offering some of their biggest savings on the year!
Follow the link below to learn more and connect with their current discounts.
CLICK HERE for the Latest WW Deals
---
Sources