What is the South Beach Diet?
South Beach Diet has been around since the mid-1990s, and even thought it first started as a best-selling book, a lot has changed since Arthur Agatston, M.D., first authored the program [1].
It's known as a low-carb diet, which garners a lot of comparisons to Atkins, another hugely popular weight loss plan.
Even though they both work by reducing your carb intake, the South Beach Diet approach is actually quite different than Atkins'.
According to Dr. Agatston, weight loss and improved health is about much more than just reducing how many carbohydrates or fats you're consuming each day. It comes down to finding "healthy" carbs and fats.
Through Agatston's approach to healthy weight loss, South Beach Diet's three phase weight loss program was born…and the rest is history.
While South Beach Diet was originally developed as a program for Agatston's patients with heart issues, it's now used by folks from all walks of life, and they've even launched a diet delivery program.
Finding the Right Foods
South Beach Diet is going to help you find the right carbs and fats, so you have a clear blueprint for losing weight in a way that's safe and healthy [2].
These are foods that are packed full of the right nutrient blend, fiber, clean protein, and healthy fats. This blend of eating is designed to reduce your sugar cravings, and help you lose weight fast.
For those that embrace the lifestyle, they may even be able to keep the weight off permanently.
How Much Weight Can You Lose?
During Phase 1 of the diet, which lasts for 2 weeks, Agatston says people can lose an average of 8 to 13 pounds [3].
If you opt for their delivery program, they're currently offering up to help customers lose up to 7 pounds during their first week.
Most customers should expect to lose between 1 and 2 pounds per week upon completing the first phase of the diet.
Does it Work for Weight Loss?
What the Experts are Saying:

Yes. Besides the restrictive first phase, this is a healthy Mediterranean-style approach to eating that can help you shed pounds. -Kathleen Zelman, MPH, RD
South Beach Diet has been proven to help lose weight, and those results are based on years of research, and client testimonials.
While some dietitians think that Phase 1 can be overly restrictive [4], people do tend to lose the most weight during these first two weeks.
During Phase 1 you will certainly cut back on most sugars, and your carbs are greatly reduced. They do this by eliminating things like pasta, bread, starchy vegetables, rice, and fruits from your diet.
Don't worry, though, most of these foods are added in moderation once you enter Phase 2. During Phase 2, you'll still keep following a low-carb plan, it's just not as strict as Phase 1. During this time you should see steady weight loss until you reach your goal weight.
When you reach Phase 3, you'll work on keeping the weight off for good.
Foods You Can Eat + Foods You'll Avoid

The South Beach Diet menu is going to be dependent on what Phase you're currently following. As mentioned, Phase 1 is the strictest, so the foods you'll enjoy during that phase will be different than later phases.
South Beach Diet offers an easy to follow guide for all phases [5], which clearly lays out what you can and can't eat.
Here's a quick look at the foods to eat and those to avoid for each of the phases.
Phase 1 Foods
Phase 1 of South Beach Diet features a more limted menu, with most of your daily meals contianing the following:
Lean Proteins: Beef, Chicken, Pork, Lamb, Seafood, Eggs, Dairy
Healthy Fats: Nuts, seeds, olive oil, avocados, etc.
Non-Startchy Vegetables: Cabbage, Brussels Sprouts, Celery, Broccoli, Salad, etc.
South Beach Diet says….Avoid these foods during Phase 1: Avoid all refined carbohydrates, grains, fruits, beans/legumes and sugary drinks, including alcohol, and limit diet sodas and other artificially sweetened beverages. You'll also limit dairy foods.
Phase 2 Foods
This is what South Beach Diet calls the "Steady Weight Loss" phase. While you'll still be following a low-carb diet, you'll re-introduce some of the foods you eliminated during Phase 1. These include some bread, pasta, and starchy vegetables.
You'll also add in fruits, legumes, and whole grains.
For the most part, you'll eat:
Lean Proteins
Healthy Fats
Starchy and Non-Starchy Vegetables
Fruits
Good Carbohydrates
Alcohol in moderation (a glass of wine with dinner)
During phase 2, you'll avoid refined breads, cookies, pasta from white flour, white rice, beets, corn, prunes, canned fruit, ice cream, and a few other things.
Again, for guidance on exactly what to eat and what to avoid, use the guide we cited above.
Phase 3 Foods
If you reach Phase 3, then you're ready to transition off the South Beach Diet. You should have also reached your weight loss goal by this phase.
South Beach Diet calls Phase 3, "You've Go This!," meaning, you've learned everything needed to keep the weight off for good.
During Phase 3 you're free to enjoy all foods, but moderation is going to be key. Fitness also continues to be important during this phase.
Is it Hard to Follow?
The difficulty of following the diet will depend on which version South Beach Diet you opt for. If you buy the book, then it will be up to you to make healthy meals and smart eating choices on your own.
This can raise the difficulty level for some.
If you want more a done-for-you plan, South Beach Diet offers that too. Their diet delivery program makes the diet much simpler to follow, as they ship you most of the meals and snacks you need for the month.
This can be a good option for those who are knew to the diet, or just want a conveinent diet program to follow.
I tried their delivery program recently…You can see how it went here:
Learn more about their meal delivery options here.
Pitfalls to Avoid
Slip ups are to be expected, so if you have a setback, don't let it derail all of the progress that you've made. It can happen to the best of us, and those who are successful jump back on the horse, and continue forward.
According to Dr. Agatston, if you have a setback during the second phase, you can easily complete another Phase 1 session to get back on track. This can be done using the diet delivery food as well.
Grocery Shopping and Meal Prep
Whether you follow the diet on your own, or buy the South Beach diet frozen foods, there is going to be some shopping and meal prep involved.
If you opt for making all of your own meals, their grocery shopping guide should make things very easy to follow. All of the ingredients are readily available at your neighborhood grocery store.
If you find yourself dining out, don't worry – they have a guide for that as well.
Heat-and-Eat Meals?
What Experts Say About Diet Meals: Save time, save money, boost nutrition and control portions by eating low-calorie, frozen foods…The taste, nutrition, overall quality and variety of frozen food has improved tremendously. I often recommend to my patients looking to lose weight that they fulfill at least one of the three basic meals with a frozen entrée as a proven dieting strategy[6]. -Jessica Bartfield, MD, internal medicine, Loyola University Health System
If you're looking for more of a done-for-you diet, or just want an easier option for your busy life, then South Beach Diet delivery may be your best bet.
While you don't have to sign up for their delivery service to do the diet, it's a great option for those who prefer meal delivery, and is a proven way to lose weight.
They have a full selection of meals, snacks, and shakes. At last check their delivery menu had more than 100 menu options to choose from.
See the full menu and get pricing details here.
Do They Offer Coaching or Meetings?
South Beach Diet doesn't currently have a coaching or in-person meeting option. If that's something that appeals to you, then Jenny Craig may be the better fit (see how the two compare).
Is Exercise Required for Weight Loss?
While you certainly don't have to exercise to lose weight [7] on South Beach Diet, their latest version of the program recommends getting a moderate amount of daily activity.
Assuming you're healthy enough for exercise (check with your doctor to make sure), South Beach Diet recommends being active at least 30 minutes per day.
This can be something as simple as going for a brisk walk.
If you want to get better results, or work on improving your fitness as well as lose weight, then they have a guide for that as well. There, you can find plenty of workouts, tips, and ideas for getting more exercise each day.
Do They Have Plans for Special Diet Needs?
South Beach Diet has plenty of options for people with particular dietary restrictions. Your options will vary depending on the option you choose.
If you opt for the book, the have options for vegetarians, vegans, and people with gluten sensitivity [8].
Delivery for Special Diets
If you opt for South Beach Diet delivery, they have a few options to pick from. These include:
They don't currently have a delivery option for vegetarians, so that's something you're looking for then Nutrisystem may be the better fit (see how they compare here).
Review Summary: Does it Work?
According to diet experts [10], and lots of testimonials we've read, South Beach Diet certainly does work for weight loss.
While some people think Phase 1 can be a bit too restrictive, it works well for most people, and has been found to be a safe and healthy way to lose weight.
They teach you healthy habits you can lose for life, so by the time you reach the final phase of the diet, you should be equipped with the tools you need to keep the weight off for good.
These days, you have several options for trying South Beach Diet. You can buy the book, or make everything much easier with their meal delivery program. I tried it, and it worked great for me.
If the delivery sounds appealing, you can connect with their best prices below: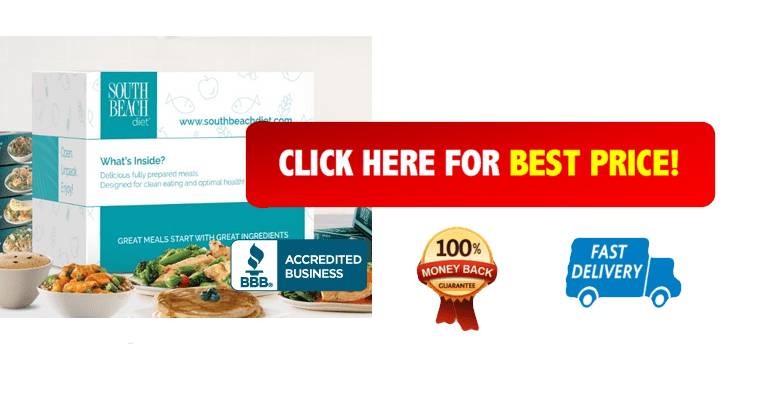 ---
Resources
Emily Laurence, What the South Beach Diet Founder Thinks About Fiber, Fad Diets, and Keto, Well and Good. Retrieved from https://www.wellandgood.com/good-food/south-beach-diet-arthur-agatston/
Wendy Lee, The South Beach Diet, WebMD. Retrieved from https://www.webmd.com/diet/a-z/south-beach-diet-what-it-is
Mayo Clinic Staff, South Beach Diet, Mayo Clinic. Retrieved from https://www.mayoclinic.org/healthy-lifestyle/weight-loss/in-depth/south-beach-diet/art-20048491
Mary Caldwell, Cutting the carbs: Everything you need to know about the South Beach Diet, Atlanta Journal Constitution. Retrieved from https://www.ajc.com/lifestyles/health/cutting-the-carbs-everything-you-need-know-about-the-south-beach-diet/utp3FkSWPEzRDL0qqBQE5I/
South Beach Diet Handbook, SouthBeachDiet.com. Retrieved from https://www.southbeachdiet.com/pdf/sbd/SB-HANDBOOK.pdf
Loyola University Healthy System, Medical Xpress. Retrieved from https://medicalxpress.com/news/2012-11-weight-low-calorie-frozen-meals-fruits.html
Helen West, RD, Does Exercise Help You Lose Weight? The Surprising Truth. Retrieved from https://www.healthline.com/nutrition/does-exercise-cause-weight-loss
Arthur Agatston, MD, South Beach Diet Gluten Solution: Phase 1, Prevention. Retrieved from https://www.prevention.com/food-nutrition/healthy-eating/a20506740/south-beach-diet-gluten-solution-phase-1/
South Beach Diet, Weight Loss and Diet Plans, https://www.southbeachdiet.com/diet/shop-plans.jsp
The South Beach Diet, Doc's Opinion. Retrieved from https://www.docsopinion.com/health-and-nutrition/diets/the-south-beach-diet/
DadQuarters South Beach Diet Resources