One of my favorite parts about South Beach Diet is that it rolls out in phase, so there's a clear beginning and ending.
That means, you know that you won't have to be on the diet forever, and you have a clearcut roadmap for losing weight and keeping it off for good.
There are key phases to the South Beach Diet, but for the purposes of this report, we're going to covering all things Phase 1.
This means, you'll learn:
How it Works
How Much You Can Lose
The Foods You'll Eat
The Foods You Won't Eat
How Long it Lasts
Grocery and Food List
With these things in mind, let's dive into South Beach Diet Phase 1, so you can learn exactly what to expect once you sign on.
South Beach Diet Phase 1: 14-Day Body Reboot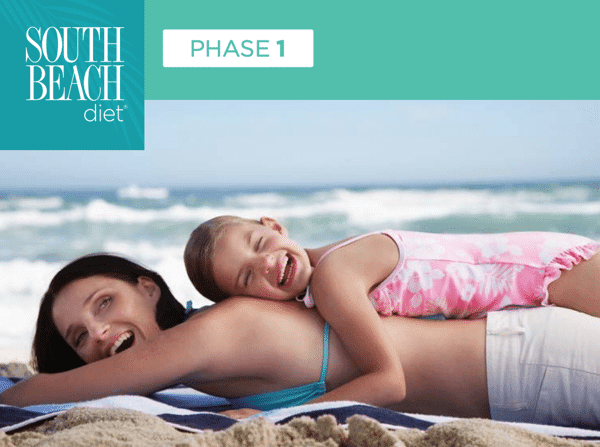 If you've been looking for a super easy and fun way to lose weight, it has never been easier than the new South Beach Diet (read our South Beach Diet review).
That's because they now have a meal delivery service, so they'll send you the right foods to eat, in the exact right portions, so you never have to wonder about what to make or if you're doing it right.
Their low-carb approach to weight loss, has been proven to help folks lose weight fast [1], and that's especially important during Phase 1, as you body "reboots" to this new way of eating.
Whether you choose to follow the diet book, or opt for their diet delivery, Phase 1 works pretty much the exact same way.
Phase 1 Weight Loss
According to South Beach Diet author, Arthur Agatston, M.D., most people can expect to lose between 8 and 13 pounds during Phase 1 [2].
If you opt for the South Beach Diet delivery plan, customers can lose up to 9 pounds and 3 inches during the first phase of the South Beach Diet.
Once you've started Phase 2, most folks can expect to lose 1 to 2 pounds per week. This has been shown to be a safe amount of weight to lose weight each week, so it's a nice, healthy number to shoot for.
Of course, some people may lose more than that too. In many cases, the people who have the most weight to lose, may see a lot more weight loss than the numbers we've posted here, but it's important to keep in mind that weight loss results are going to be different for everyone.
If you ever feel like you're not losing enough weight, you can connect with a South Beach Diet weight loss counselor for tips, guidance, and to get things on track.
Learn more about Phase 1 and South Beach Diet delivery here.
How Long Does it Last?
As the name "14-Day Body Reboot" might suggest, Phase 1 is the first two weeks of the South Beach Diet [3]. After these first 14 days are up, you will officially enter Phase 2, AKA Steady Weight Loss.
Phase 1 Meal Plan + PDF
During this first phase, you're going to prepping your body for this new way of eating and living. Because of that, this ends up being the strictest phase of the South Beach Diet.
You're going to cut way back on carbs [4], pretty much eliminate sugar, and say goodbye to booze and sugary drinks.
Don't worry, though, after you get through these first two weeks, you'll slowly get to reintroduce some of these foods – in moderation, of course.
How Often Do You Eat?
You will be eating up to six times per day during Phase 1 of the South Beach Diet. Don't get things confused, though…
You're not going to be eating huge meals all day long – these are six portion controlled meals and snacks. That means you'll eat breakfast, lunch, and dinner just like normal. On top of that, you'll get three snacks or shakes that you can have at different times of the day or night.
These small, but frequent meals help control your hunger, and keep you from having big hunger spikes throughout the day [5].
You should like the way you feel once you get used to it, and it's nice not have those giant hunger pains sneak up on you and ruin your diet because you decide to overeat.
*You can find the Phase 1 PDF at the end of this post.
Menu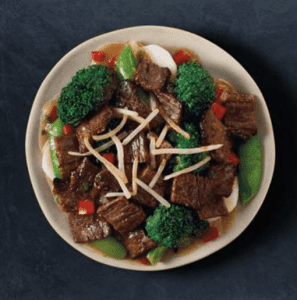 The South Beach Diet Phase 1 foods include plenty of lean proteins, healthy fats, and lots of non-starchy veggies.
Here are the foods you can expect to enjoy during South Beach Diet, Phase 1 if You Order Their Meal Delivery:
BREAKFAST
Turkey Sausage & Egg Muffin
Canadian Style Turkey Bacon, Egg & Cheese Muffin
Farmstand Garden & Cheese Omelet
Egg White Breakfast Stack
Ham and Cheese Scramble
and Many More!
LUNCH
Chicken Primavera
Chicken Roma
Just in Thyme Beef Soup
Garlic-Ginger Beef and Broccoli
Lemongrass Chicken
and Many More!
DINNER
Sesame-Glazed Beef and Veggie Bowl
Roast Turkey with Herb Gravy
Mediterranean-Style Chicken
Beef with Balsamic Glaze
Double Grilled Sriracha Chicken
and Many More!
SNACKS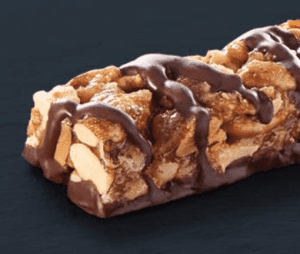 Sea Salt-Kissed Nuts
Dark Chocolate Nut Bar
South Beach Complete Shake
Chocolate Dipped Peanut Butter Bar
Whipped Peanut Butter Bar
and Many More!
Of course, there's a lot more on South Beach Diet's menu, and you have plenty of more great snacks and meals to choose from during Phase 1 [6].
There will be some meals that you will prepare on your own if you sign up for South Beach Diet, and this is important. You will want to know what and how to cook your own healthy meals, that away you'll be ready to life after South Beach Diet at some point.
You may also want to prepare some of you own snacks as well. Here are some of the things you can buy, if you head out to do your own grocery shopping:
South Beach Diet Food List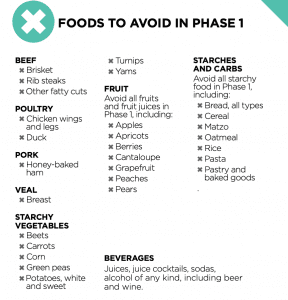 Remember, when you're heading out to do your shopping, you're going to stick to these types of foods and drinks:
Lean Proteins
Healthy Fats
Non-Starchy Veggies
Here are some examples of foods in each of these categories:
Lean Proteins
BEEF
Ground Sirloin
London Broil
T-Bone Steak
Ground Beef
Flank Steak
CHICKEN / POULTRY
Skinless Chicken Breast
Ground Chicken Breast
Ground Turkey Breast
Turkey Bacon
Turkey Sausage
SEAFOOD
All Types of Fish
All Types of Shellfish
Canned Tuna
Canned Salmon
Sashimi
PORK
Canadian Bacon
Loin Chop
Tenderloin
Smoked Ham (Natural and Uncured)
Boiled Ham
DELI MEAT
Chicken Breast
Ham (Avoid Honey or Sugar Cured)
Roast Beef
Turkey Breast (Smoked, Regular, Peppered)
DAIRY
Buttermilk
Greek Yogurt
Kefir (Plain)
Whole Milk
Unsweetened Soy Milk
HEALTHY FATS
Coconut Milk
Pine Nuts
Pistachios
Almonds
Flaxseeds
SALAD DRESSINGS
Italian
Balsamic Vinaigrette
NON-STARCHY VEGETABLES
Broccoli
Brussels Sprouts
Celery
Artichoke Hearts
Bok Choy
Of course, the grocery guide has a lot more foods that you can enjoy.
Be sure to use the free South Beach Diet app after signing up to get a good idea of what to buy when you head out, or download the PDF at the end of this report for a more detailed list.
Phase 1 Exercise
When it comes to getting exercise during Phase 1, don't think that you need to be training for a marathon. South Beach Diet knows that's not realistic, so it's better to find a program that you can stick with over the long-haul.
Here's a quote from the South Beach Diet folks about exercise:
[It's] Better to find a 30-minute work- out that you'll do daily. You won't burn a lot of calories each session, but the cumulative effect will be beneficial in every way.
Even something as simple as walking works when it comes to getting exercise everyday. In fact, South Beach Diet has something called "Walking Intervals" where you slowly build up your speed and intensity over time.
The first phase of their walking intervals looks like this: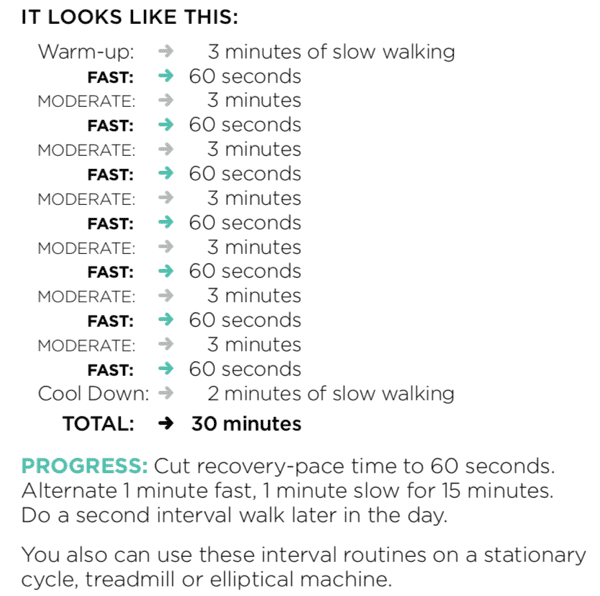 The bottom line when it comes to exercise, is just find something that you enjoy [7], something that you can do for at least 30 minutes per day, and stick with it. You should be glad you did.
Summary
South Beach Diet Phase 1 is your chance to lose the most amount of weight in the shortest amount of time when you first start the diet.
It's the strictest phase when it comes to carbs, sugar, and alcohol, but it only lasts two weeks, and in the long run it's worth it!
Joining the South Beach Diet's meal delivery program is the easiest way to follow Phase 1, and right now is a great time to join! On top of that it's super affordable!
Ready to Start Your Weight Loss Journey?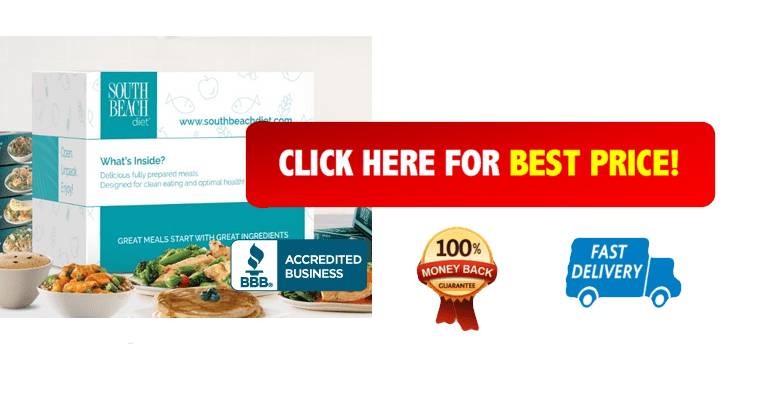 Resources
Phase 1 Explained by the Folks at South Beach Diet:
Julie Davis Carter, A Detailed Review of the South Beach Diet for Weight Losos and Hearth Health,, Everyday Health. Retrieved from https://www.everydayhealth.com/diet-nutrition/south-beach-diet.aspx
Mayo Clinic Diet Staff, South Beach Diet. Retrieved from https://www.mayoclinic.org/healthy-lifestyle/weight-loss/in-depth/south-beach-diet/art-20048491
Telisha Bryan, I Tried the South Beach Diet for Two Weeks – Here's What Happened, Women's Health Mag. Retrieved from https://www.womenshealthmag.com/weight-loss/g19994671/south-beach-diet-results/
Jennifer R. Scott, Facts About Phase 1 of the South Beach Diet, Verywell Fit. Retrieved from https://www.verywellfit.com/allowed-foods-on-phase-one-of-the-south-beach-diet-3496345
Dr. Jason Fung, Controlling Hunger – Part 1, Medium. Retrieved from https://medium.com/@drjasonfung/controlling-hunger-part-1-627ab2d751fa
Danica Benninghoven, South Beach Diet Phase 1 Grocery List, LiveStrong. Retrieved from https://www.livestrong.com/article/239463-south-beach-diet-phase-1-grocery-list/
Michelle Singer, The Exercise Personality Quiz, CBS News. Retrieved from https://www.cbsnews.com/news/the-exercise-personality-quiz/
Download the South Beach Diet Handbook PDF Here