The South Beach Diet is one of our top-rated weight loss plans, and with their recently launched meal delivery service, it's now easier than ever to lose weight fast with their program.
With their meal delivery diet service, you can get almost all of your meals and snacks for the month shipped right to your door.
This makes weight loss super simple, cuts down on annoying trips to the grocery store, and offers an affordable option for losing weight.
South Beach Diet recently added three new plans to their program, so let's take a look at what they currently offer, how much the plans cost, and what's included so you can decide which one is going to fit your budget and dietary needs.
How Much Does South Beach Diet Cost?
Here's a Quick Daily Pricing Breakdown with the DadQuarters.com Discount Applied:
On average, you can expect to pay between $10.71 to $14.79 per day when you sign up for South Beach Diet. That pencils out to $299.99 to $399.99 per month.
Prices are going to vary depending on which plan you decide to go with, and whether or not you want extra bars and shakes.
Learn more about each of the 4 main South Beach Diet plans below: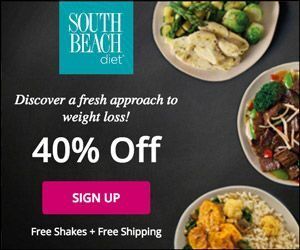 With three plans to choose from, South Beach Diet has an option that should fit almost any budget.
Here's a quick pricing breakdown based on day, week, and month:
Daily Cost
$10.71 – $13.21 per Day for Women
$12.14 – $14.29 per Day for Men
Weekly Cost
$74.97 – $92.47 per Week for Women
$84.98 – $100.03 per Week for Men
Monthly Cost
$299.99 – $369.99 per Month for Women
$339.99 – $399.99 per Month for Men
Yearly Cost
$3599.88 – $4439.88 per Year for Women
$4079.88 – $4799.88 per Year for Men
South Beach Diet Plans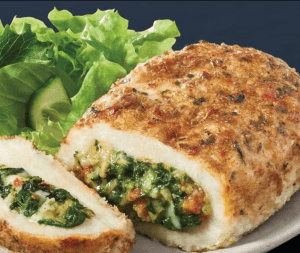 When South Beach Diet first launched their meal delivery service, you really just had one main plan to choose from, which was customizable.
Now, they have three different options for you to pick one, so have more choices and selections based on what you can afford, and the type of menu you want.
1. Silver Plan
Silver includes all of the South Beach Diet essentials and is perfect for folks on a tighter budget. It produces the same weight loss results as the two more expensive plans, so there's nothing wrong with going with this lowest-priced option.
It starts at $10.71 per day for women and $12.14 per day for men.
Here's what's included with the Silver Plan:
Every week you'll get pre-made South Beach Diet breakfasts, lunches and dinner. Plus, you can add-on additional snacks and shakes as needed. I went with extra snacks when I ordered, just to further cut down on my trips to the grocery store, but that's entirely up to you.
Your First Shipment (This is Pretty Much the Same for All Plans)
Your first shipment is going to include everything you need to power through Phase 1 of the program.
During this time, South Beachers can lose up to 9 pounds and 3 inches.
For the first 14 days, you're going to enjoying specially designed meals that feature more lean protein, are low in sugar, and lots of non-starchy veggies and healthy fats.
Your shipment is also going to include everything you need to get started on Phase 2, the Steady Weight Loss portion of the diet.
During Phase 2, you'll be eating from South Beach Diet's larger menu, so there should be more variety, and you'll re-introduce some carbs, sugars, and non-starchy veggies in moderation.
During the week, you will also be able to cook your own meals, or even dine out, just be sure to use the South Beach guides if you're wondering what you can eat for your flex meals.
2. Gold Plan: Most Popular Plan
The South Beach Diet Gold Plan is their most popular option and features everything you get in the Silver plan, plus more menu variety.
In addition to more foods to choose from, they also send you the snacks you need for the month, which is a nice addition for those of us who dread grocery shopping.
The Gold Plan starts at $12.14 per day for women and $13.21 per day for men.
3. Platinum Plan
The Platinum Plan is the most expensive option from South Beach Diet and includes everything in the Gold and Silver plans, plus you get a nice selection of South Beach shakes.
On top of that, it's their biggest and best menu, so if you're looking for plenty of variety and plan to stick with the diet through all 3 phases, this may be a great option for you.
The Platinum Plan starts at $13.21 per day for women and $14.29 per day for men.
4. NEW: Diabetes Gold Plan
South Beach Diet recently launched a brand new plan for folks with Type 2 diabetes, or those who are considered pre-diabetic.
It works just like the regular version of South Beach Diet, it's just tailored to help control blood sugar and bring down your A1C.
The Diabetes Gold Plan costs $12.4 per day. It's normally $523.06 per month, but right now you can get it for just $339.99 with the DadQuarters.com discount!
Extra Grocery Costs with South Beach Diet?
The prices posted above are pretty much what you can expect to pay, but they can go up if you decide to add anything else on. On top of that, shipping is free as long as you opt for their auto-delivery program, which also saves you money on the overall cost of the program as well.
How Does Auto-Delivery Work?
The auto-delivery service is great, and it saves you a lot of money on their plans plus gets you free FedEx shipping on every order.
There is a cancellation policy to be aware of though, so keep that in mind when you sign up. Basically, if you cancel before your second order ships, then you will be hit with a cancellation fee.
Once you get that second shipment, though, you should be able to cancel your order anytime after that, without paying any fees.
Be sure to check out the South Beach website at the time of your order for the full details on the auto-delivery policies.
Pricing Summary
If you're ready to lose weight fast, with a program that is straightforward, affordable, and easy to follow, then now is a perfect time to join the South Beach Diet.
They're currently offering some pretty awesome discounts when you sign up, so you'll want to take advantage of those ASAP.
Ready to start your weight loss journey?
Follow this link to grab a 40% discount plus get free FedEx shipping.