When it comes to finding a great meal delivery diet, quality matters. That's why Personal Trainer Food is one of the best we've tried.
If you've been looking for a diet delivery program, and want to eat meals that actually taste good, then this Personal Trainer Food review is for you.
Personal Trainer Food offers some of the highest-quality meals and snacks that we have tried, and they help you lose weight fast, through clean, healthy eating.
In this review, we'll tell you exactly what Personal Trainer Food is, how it works, and how much you can expect to pay. On top of that, we're going to show you some amazing before and after pics, and share testimonials from real customers.
Ready to get started?
What is Personal Trainer Food?
Personal Trainer Food is a premier meal delivery service, that can help you lose weight in a way that's fast and healthy. They offer some of the best diet food we have tried, and their meals are usually very simple:
Protein paired with a large helping of vegetables. As far as diet food goes, it's basically as clean as it gets.
How Does it Work?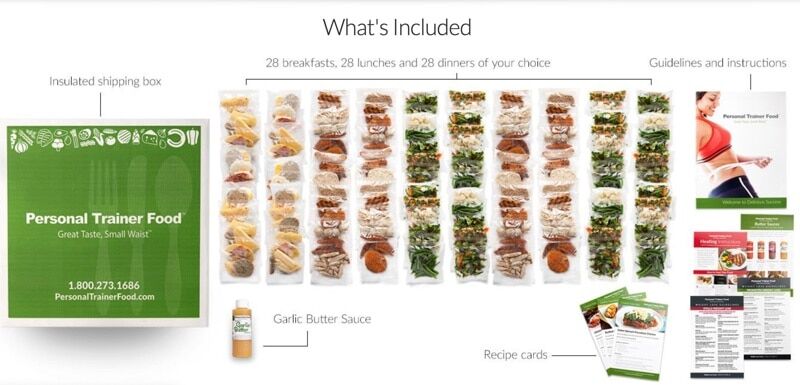 Following the Personal Trainer Food program is super easy. Here's how their diet works:
Pick Your Plan, Order Your Food
Follow Their Plan: Healthy Eating, Daily Exercise, Additional Tips for Getting the Best Results
Tune Out the Noise: Just stick with their plan, and ignore the things that can cause confusion. Weight loss doesn't have to be complicated.
Keep Things Simple: By following their diet, their healthy routines and habits will become an everyday part of life.
Say Goodbye to Process Foods
A big part of hows Personal Trainer Food works is their commitment to whole foods. That means you won't be eating overly processed meals, rather food that is free from artificial preservatives, and is actually real. You should love how your body starts to feel after just a few days of eating like this.
Your First Month on the Program
After you've completed the steps above, you'll be living the Personal Trainer Food way of life. It's a healthy blend of just the right food, and a balanced approach to exercise.
They like to say that weight loss is 90% of what you eat, so that's the primary focus. That said, exercise still plays a vital role and can benefit your overall health as well.
Here's what the first month looks like:
Week 1: While you're eating for you food to arrive, you can jumpstart the weight loss by taking part in a 24-48 hour fast. Don't worry, they'll show you how. You may start to notice some sugar withdrawals, while you're making the transition from eating processed foods, to natural, whole foods. Try to get 2,000 daily steps in – a pedometer or app can help track this.
Week 2: You should notice a boost in energy, and you may even be sleeping better. This can be attributed to the detox that's taking place, thanks to the whole foods you're eating. Your body is now entering what Personal Trainer Food calls "fat burning mode."
Week 3: Are your clothes starting to feel baggy? That's a good sign :-). You should also be losing weight at a noticeable level.
Week 4: Friends and Family are noticing the weight loss, and you're feeling more confident than ever. You should also be enjoying this new way of eating, and your cravings for sugar and processed foods are in the rearview mirror. You're ready to stick with the plan until you reach your goals.
Before & After Pictures and Testimonials (Good + Bad)
There's plenty of feedback out there about how well Personal Trainer Food works, and most of what we have seen has been very positive. The most impressive way to learn about the Personal Trainer Food results, is to see pictures, so we'll share those first.
Here are a few before and after pictures we wanted you to see: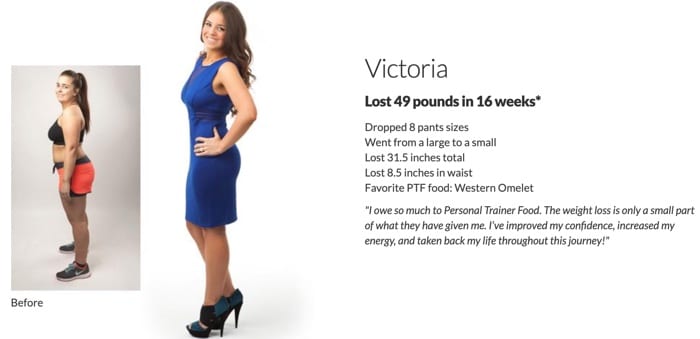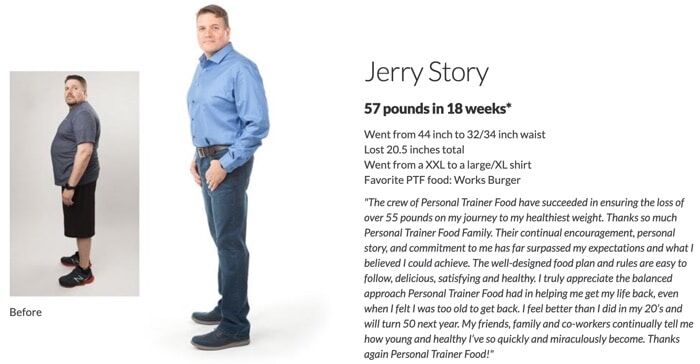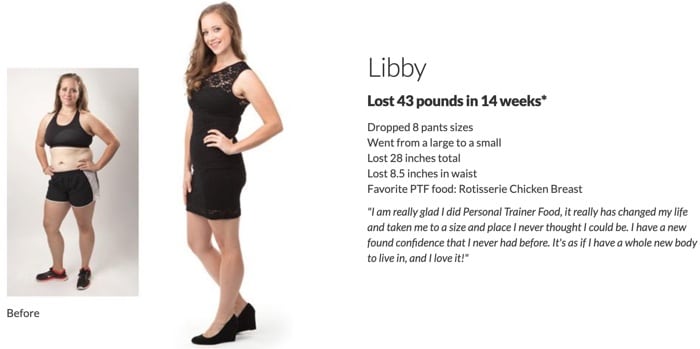 Pretty, impressive right?
Here's some additional feedback we read about the program, via Trustpilot, where Personal Trainer Food has an "Excellent" rating, based on more than 2,250 reviews.
Lesley appreciated how easy the program was to follow:
I love the easiness of it and all the food tastes so good.
Patricia reported that it was an all-around good experience:
Easy ordering process. Food is easy to prepare and tastes very good. Customer service is excellent to work with.
Bibi uses Personal Trainer Food anytime she needs to lose a few pounds:
Once every year and a half I place a new order and go back to personal trainer food. I am small and it is hard to lose a few pounds plus my job has me quite sedentary. The weight comes off very quickly.
Are There Any Bad Reviews?
Again, most customers seemed to be very happy with their Personal Trainer Food experience, as evidence by the 4.5 out of 5-star rating on Trustpilot.
There are a very small number of bad reviews there, though, so we'll share a couple here.
Carolyn seemed to have shipping issues:
Used to be an advocate and tell everyone. Cancelled after you changed email reminders so you didn't know you were receving shipment until it actually shipped, not beforehand so you could adjust for travel, not being home, etc.
Personal Trainer Food responded directly to her complaint, and said they do still, in fact, send email notifications, sounds like it may have been a simple mix-up.
Lisa reported having issues with the cancellation process:
I am not happy with personal trainer food as I cancelled my most recent delivery and I was still charged and sent food. I am out of town and couldn't get my food hence my I cancelled that specific delivery. I have tried to call the number they provide on their website and the line is constantly busy.
Personal Trainer Food responded directly to Lisa's complaint as well, and stated that why want to "make everything right," so at least they're willing to go the extra mile when a mix up does occur.
Pros & Cons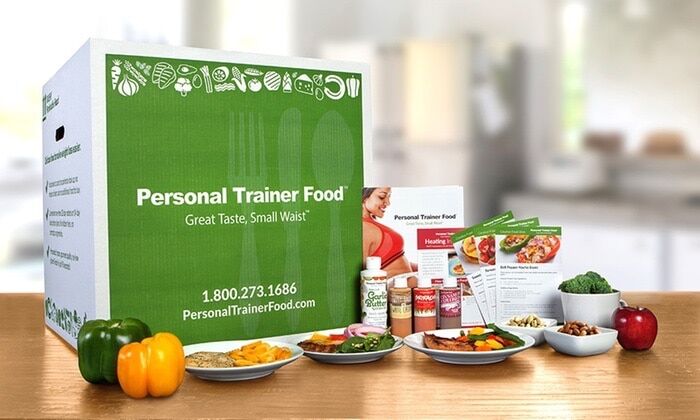 As is the case with everything, Personal Trainer Food brings its own set of pros and cons. While we'd say the good mostly outweighs the bad, it's a good idea to consider both sides before committing yourself to the program.
Here are a few to consider:
Cons
More expensive than other meal delivery diets
Results require commitment to the program
Some people prefer making their own meals
Pros
Very high-quality food for diet delivery
Whole foods
No artificial ingredients
Food tastes great
Fast weight loss
Variety of options: Keto, low-carb, etc.
Highly-rated by thousands of verified customers
Actually pretty affordable when compared to the average grocery bill
How Much Weight Can You Lose?
At last check, customers could lose up to 20 lbs in their first month on Personal Trainer Food. After that, most folks can expect an average of 1 to 2 pounds per week as long as they're following the diet.
It's important to note that results are going to vary for everyone. If you feel like you're not losing enough weight, or run into any other issues, be sure to connect with a customer support specialist, who should be able to point you in the right direction.
Menu
Personal Trainer Food has an awesome menu, that is heavy on whole foods. Each meal has a nice selection of protein, with many complimented by veggies that were flash-frozen at the peak of freshness.
Here's a small sampling of some of the meals you'll be enjoying for breakfast, lunch, and dinner:
Breakfast

Cheddar Omelet & Turkey Sausage
Frittata & Bacon
Cheddar Omelet & Maple Sausage
Country Ham
1/2 Country Ham & Egg Patty
Lunch & Dinner

Garlic Chicken
Grilled Chicken Breast
Wild Alaskan Salmon
Italian Turkey Burger
Asian Chicken Bites
Swiss Onion Chicken Burger
Beef & Lamb Gyros
Alaskan Pollock Filet
Prime Rib Fajita Strips
Angus Burger
Vegetables

Brussels Sprouts
Green Zucchini
Oriental Stir Fry
Venice Blend
Norway Blend
Seasons Mix
Italian Green Beans
Capri Blend
Snacks

Pistachios
Edamame
Lemon & Rosemary Green Olives
Cheese Sticks (Mozzarella, Colby Jack)
Shakes (Vanilla, Chocolate)
Fasting Pack
Want to see the full Personal Trainer Food menu? Head here.
Personal Trainer Food Cost: How Much per Month?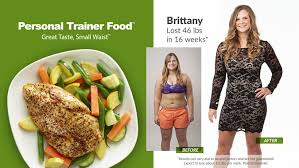 Personal Trainer food starts at $14 per day, or $356.30 per month. Prices vary depending on the plan you choose.
Here are the Personal Trainer Food plans that are currently available, and prices for each:
REV! Rapid Weight Loss: $16 per Day / $419.30 per Month
Core: $14 per Day / $356.30 per Month
Create-Your-Own Plan: $15 per Day / $398.30 per Month
At last check, Personal Trainer Food was offering a 30% discount plus free shipping – head here to learn more.
Review Summary: Where to Buy
Personal Trainer Food offers a convenient and fast way to lose weight. Their meals feature "real" ingredients, with a menu that is built around the whole foods your body craves.
No artificial ingredients.
No overly processed foods.
Just real, fresh veggies and protein. Basically, just the healthy food your body needs.
For this reason, we highly recommend the Personal Trainer Diet Plan if you're looking for a fast, safe, and healthy way to lose weight.
Ready to get started?
Head here to learn more and lock in best Personal Trainer Food deals.
---
Resources