Losing weight and getting control over your health can feel almost impossible at times, which is why so people look for programs and diets that show them exactly what they need to do to lose weight.
With so many options out there, though, it can to separate what actually works from the programs you're probably better off avoiding.
If you're looking for a program that actually works, then we'd like to introduce you to OPTAVIA – a diet and health program that is designed to teach you how to make a permanent, and lifelong transformation.
In this OPATVIA review, we'll take a look at exactly what makes this program so popular and effective, how it works, the pros and cons, what real customers are saying, and how much you can expect to pay if you decide to sign on.
This way, you can make an informed decision, when it comes time to decide if OPTAVIA is the right program for you.
What is OPTAVIA?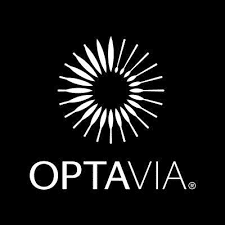 OPATIVA is a diet and health program that comes from the folks at Medifast. That means the food, meals, and shakes work in much the same way, but there are some key differences that make OPTAVIA quite a bit different than just the regular Medifast program.
These differences include:
Coaching
One-on-one coaching is probably the biggest thing that separates OPTAVIA from more traditional meal delivery diets, like Medifast.
OPTAVIA coaches are there to you guide and support you on your journey to better health.
This is important, because numerous studies have shown that this type of support improves your odds of success when it comes to reaching your weight loss goals.
To help do this, your coach is there to point you in the right direction. They've been in your shoes, so they're the perfect person to offer the support, tips, and guidance you need to succeed.
Connecting with a coach is the first step in starting your OPTAVIA journey, so if you decide the program is what you've been looking for, they have a quick and simple form for finding a coach in your area.
Diet Food Delivery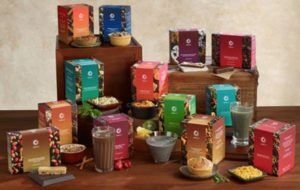 Your OPTAVIA coach will be able to help you pick the right plan for you, but they have several different options to choose from.
If you're familiar with Medifast's meals, shakes, and snacks, these plans should look pretty familiar to you.
When it comes to weight loss, they currently have three main food plans to choose from:
Optimal Weight 5&1 Program
Optimal Weight 4&2&1 Program
Optimal Health 3&3 Program
With the three main OPTAVIA food plans, you can expect to eat 6 small meals per day. This is based on their scientifically-proven weight loss method.
The big difference between the plans, is how much of their food you will be eating vs. how many meals and snacks you will be making on your own.
With the 5&1 program, for example, OPTAVIA takes care of 5 of your meals per day, while you'll be responsible for making one healthy meal or snack per day, known as "Lean and Green" meals.
If you want to make more of your own Lean & Green meals, then you may want to consider going with one of the other plans.
The best way to decide which OPTAVIA plan is best for you, though, is to work with your coach to decide which one is going to fit your needs and lifestyle.
Optavia Pros & Cons
There's a lot to love about OPTAVIA, but there are some potential downsides you may want to factor into your decision as well, so let's take a quick look at both the good and bad.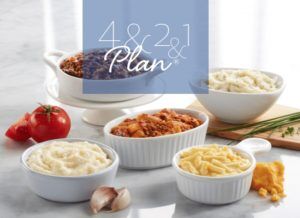 Cons
Expensive – Not Everyone Can Afford it
Requires Commitment to Reach Your Goals
Coaching isn't for Everyone
Not Everyone Likes the Food
Pros
Meal Delivery is Super Convenient
Easy to Follow
Coaching Works Great for Lots of People
Coaching Has Been Proven to Help People Reach Goals
Programs Have Been Used by More than 1 Million Clients
Recommended by More than 20,000 Doctors
Designed for a Lifelong Transformation
Huge Menu to Choose From
Learn How to Make Own Healthy Food with "Lean & Green" Meals
You Can Become an OPTAVIA Coach Too
OPTAVIA Before & After Success Stories
When it comes time to join OPTAVIA, you'll want to take a close look at what real customers have to say about the program.
Fortunately, there are lots of testimonials for you to read through at their website and other places, so be sure to check those out to see how it works.
While we encourage you to read them all, here are just a couple of the real OPTAVIA reviews that we thought were worth sharing here:
There's no blame or shame in OPTAVIA, Colleen says. Just empowering encouragement. I had to figure out the WHY behind the problems. Not knowing why I was eating or couldn't lose weight was what kept me in the endless cycle…The great news is there's no end date on the Habits of Health™. You keep the habits that you learn in this program. Being healthy is not just about a number; it's about a lifestyle of good habits. -Colleen, OPTAVIA Customer & Coach
I didn' t realize how much I needed to change my habits and rein in my calories and food intake," Esther says. I had lost up to 100 pounds several times, but because I never adopted a new lifestyle, it didn' t make a lasting difference.The unique structure of the program made the knowledge come to life, she says, and my growing confidence allowed me to face my own issues. I learned a lot about myself by adopting Dr. A's new ways of thinking. It helped me see my capabilities. -Esther, 137 LBS down
How Much Weight Can You Lose?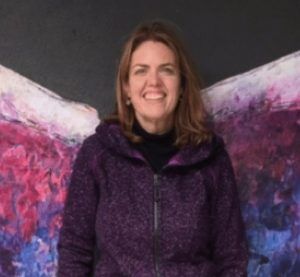 If you decide to sign on with OPTAVIA, it's important to note that the program is about much more than just a number on the scale – it's about improving your overall health, and teaching you how to keep healthy habits for life.
That said, weight loss still plays an important role in the program, and is often the primary goal for people who join.
Most folks who join the OPTAVIA 5&1 Plan, can expect to lose about 12 pounds. Clients are typically in the "weight loss" mode for an average of 12 weeks after joining OPTAVIA, and results are going to vary from person to person.
After that, you will enter more of a maintenance mode, where you goal is about maintaining a healthy weight and lifestyle.
OPTAVIA Cost: How Much per Month?
The OPTAVIA meal delivery diet plans range in price from $309.55 to $435, depending on which plan you decide to go with. The price goes up or down depending on how many meals and snacks you want OPTAVIA to supply you each day.
5&1 Plan: $392.15-$426.15
4&2&1 Plan: $435
3&3 Plan: $309.55
Obviously, if you're willing to make more of your own Lean & Green meals throughout the day, you can bring the overall price of the OPTAVIA foods down, but that means you'll be spending more at the grocery store, and more time cooking, so those are both factors to consider.
Review Summary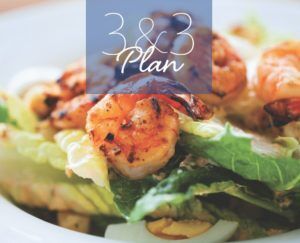 OPTAVIA is one of the premier meal delivery diet programs in the world, with a unique focus on personal coaching to help you reach your goals.
While it can be on the pricier end of the meal delivery diet spectrum, coaching has been proven to help people reach their weight loss goals.
They have a focus on helping you learn the habits necessary to improve your health, and keep the weight off for life, which is good news for those of us who are looking for something that is more than just another fad diet.
While coaching is great for lots of folks, some just want to have access to the meal delivery diet food, and reach their weight loss goals using a program that is convenient and easy to follow.
If this sounds like you, then check out our Medifast review, to see if it's a better fit.
---
Resources