Modern science has given rise to high-quality meal delivery diets that promote healthy weight loss.
Nutrisystem is one of them and remains a staple solution for individuals looking to lose weight and shed excess fat. While its contemporary named "Medifast" also aims to capture the same target audience and deliver optimal weight loss results.
This comparison is going to pit the two opposite meal delivery diets against each other to determine which one does it all.
What is a Meal Delivery Diet?
A meal delivery diet refers to a comprehensive weight loss program designed by a trained nutritionist to meet all nutritional requirements [1].
The meals in this program are hand-delivered to the person's door and will include customized foods based on what the individual's goals are.
This diet has become a popular option because it's simpler, faster, and far more efficient.
People are able to get more done during the day when they don't have to prepare meals, go grocery shopping, or deal with any of the headaches that come with daily food preparation. All of this is taken care of in the form of a mail delivery diet that sends the right foods on time.
In addition, these programs are able to improve a person's health by targeting key nutrients and help shed fat.
1. Nutrisystem
Nutrisystem (see our testimonial) is a top-rated "meal delivery" weight loss program aimed at helping people of all ages. It includes the use of personalized meal plans, high-end foods, and world-class ingredients to provide a wholesome weight loss solution.
This weight loss program has garnered attention over the years and remains the "top mail delivery diet program in the US" [2]. It has won several awards over the years and continues to grow as a company.
Price: Starts at About $8.50 per Day
(Check Latest Nutrisystem Prices)
Nutrisystem is one of the more affordable meal delivery diets around, and you can typically get started for less than $300 per month. The best part is, that includes a full supply of meals, snacks and shakes, so you pretty much have a month's worth of food covered at that price [3].
This means they have created three tiers for customers to choose from as they build out a comprehensive diet.
Basic: $9.96/Day
Core: $10.68/Day
Uniquely Yours: $12.29/Day
Uniquely Yours Plus: $12.86/Day
In general, each plan comes with its own features and those will be mentioned below. Customers are able to sign up, choose a plan, and have it catered to their needs as desired.
Please note, all of the plans are "monthly" deals and can only be signed up for the entirety of a month (30 days). The prices listed above are a "per day" price and will be added up until the full quota is completed.
How Does Nutrisystem Work?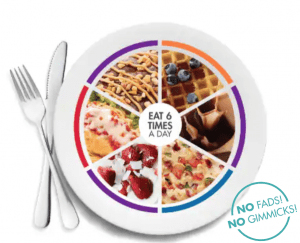 A meal delivery diet program is simple to understand and is ideal for beginners. Nutrisystem offers a set of plans (Basic, Core, Uniquely Yours, Uniquely Yours Plus) and customers are asked to select one to get started.
Once the plan has been selected, the layout will be mentioned and how the diet will begin. The idea is to take all of the guesswork out of dieting with the help of Nutrisystem.
They send out the perfect foods in a beautifully packaged box and it contains the meals you will need for the upcoming period.
Six Meals a Day (2-3 Hours apart)
Balanced Nutrition
Simple, Easy to Follow Plan for Weight Loss
Weekly Flex Meals so You Dine in or at Restaurant
Expect to Lose 1 to 2 Pounds or More Every Week
This is what the Nutrisystem is going to offer with its weight loss program. A person will be able to go through an entire month without having to worry about what they are eating or how much they are eating. All of it will be included in the weight loss program guide. It's best to follow the guide and make sure all of the key steps are kept in mind moving forward.
Do They Have Plans for Special Diets?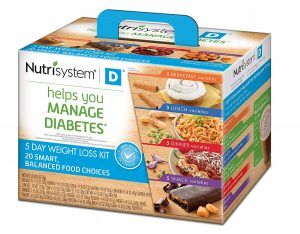 What about individuals that are dealing with a medical condition? Is there a solution on offer for them or do they have to stick to the regular options?
Nutrisystem is intelligent when it comes to building out a customizable solution and will cater to the needs of those who require a personalized setup.
Diabetes Basic
Diabetes Core
Diabetes Uniquely Yours
Vegetarian Plan
Nutrisystem for Men
For those who have severe allergies and want to make sure they are not consuming something wrong, a representative is able to help shed light on the main ingredients in the Nutrisystem meals and snacks.
A professional solution can be designed to meet these needs.
The Good
1. Easy to Follow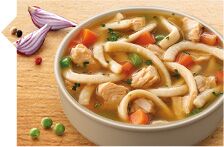 Their plans are creatively mapped out and you are able to enjoy it as soon as the box arrives. It is a gorgeous package and their meals are incredible. The depth of their knowledge is what makes Nutrisystem stand out.
2. Lots of Plans to Pick From
With four different plans (+ special diet plans) on offer, you are able to pick the exact one for your needs. This provides a good list of options for those wanting a specific solution as soon as they can find it.
3. Tastes Great
To round out the positives, the taste is something you will fall in love with. The meals are absolutely brilliant when it comes to the balance between sweet and sour. There is a lot to love when it comes to the meals.
The Bad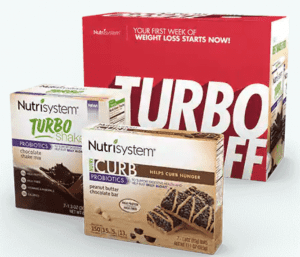 1. Harder to Follow if You Have a Family
If you have a family then this is going to be an issue for you. Of course, any meal delivery diet program is for one person but that also means it will add up as a cost.
What Makes Nutrisystem Better Than Medifast?
Both Nutrisystem and Medifast work great for weight loss, but Nutrisystem has been my preferred choice when it comes time to lose weight.
They have a huge menu, offer a wide range of specialty plans to pick from, and you can get started with Nutrisystem's full meal delivery program at a cheaper price than you can with Medifast's
Bottom Line
Nutrisystem is a power-packed meal delivery diet program and is the ultimate weight loss program. It provides a wide array of advantages including a unique set of meal plans, and an awesome menu.
This provides enough value to those looking to finally lose weigh weight and feel good about themselves. The diet is also able to offer a program that's easy to follow, and makes weight loss actually seem simple.
They have a bunch of options in their menu and it can be a boatload of fun, especially when you start seeing the weight fall off.
Learn more and check latest Nutrisystem deals below…
2. Medifast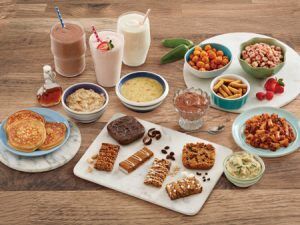 Medifast (read our review) has been around since 1980 and is a credible name in the weight loss industry. It is home to some of the world's finest nutritionists and has grown as a brand in recent years.
Its meal delivery diet program is uniquely designed and is able to offer a wonderful set of benefits to those who use it.
There are 65+ meals to work with and many other variations on offer, which is why Medifast remains a topic of conversation among weight loss specialists.
Price: Starts at About $10 per Day
(Check Latest Medifast Prices)
Similar to Nutrisystem, Medifast has designed a list of "kits" that customers can choose from based on their needs. It's best to go through each one, read the features, and make a decision.
Trial Kit: $149 + $5 Shipping (Two Day Trial)
Select Kit: $299/Month
Complete Kit: $399/Month
As one can see, the cost is going to depend on which direction you go in. The trial kit is a good starting point for those looking to get a feel for the delivery service, food items, and how it all comes together.
While the best deal is the "Complete Kit" as it provides a wide array of meals, detailed guides, and a lot of additional information on what's needed to shed fat.
How Does it Work?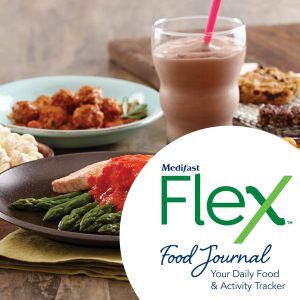 Medifast is a simple meal delivery diet program that provides a wholesome collection of meals every month [4]. Medifast is designed to offer five balanced replacement meals on a daily basis and makes sure to spread out the nutritional value.
These meals are consumed throughout the day and offer a good amount of each nutrient.
In addition, the kit is customized based on what a customer is looking for and this can include what is in the kit. It is aimed at those looking to lose weight and does target "filling" foods to help shed fat.
Do They Plans for Special Diets?
Yes, Medifast is diligent when it comes to offering a good collection of special diets on its website. These special diets have been designed by qualified medical professionals and target specific needs a person may have before they can make lifestyle changes.
The special diets include:
Diabetics
Gluten-Free
Seniors
Nursing Moms
Vegetarians
As one can see, numerous special diets are targeted by Medifast providing a well-balanced option for those needing a personalized option.
The Good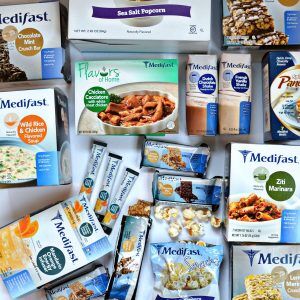 1. Proven to Work
The primary advantage would be the tested meals. They have gone through and nailed every nutritional requirement a person can have when it comes to their meal delivery diet program.
2. Balanced
The meals are balanced and don't cause issues when it comes to how much you get per serving. It is easy to enjoy the meals and go through them one by one.
4. Delicious Diet Food
The food is absolutely fantastic and that is a major requirement when it comes to meal replacement services. No one wants to have meals delivered to their front door only for the taste to be awful.
In this case, Medifast has done a good job and does provide something unique.
The Bad
1. More Expensive than Nutrisystem
It is a costly kit that is going to be sent your way and it can start to take a toll on those who want to follow it forever. In general, you are paying $399 per month and that will add up in a hurry.
2. Leans on "Hot" Foods
Yes, Medifast has a preference when it comes to the foods sent your way. This is not an issue for most people but "hot" meals can become tiring after a while.
Ready to put the Power of Medifast to work for you?
Bottom Line
Medifast is a world-class meal delivery diet program, that provides a wide array of food-related advantages, and has been proven to help with weight loss [5]. While it doesn't have the same number of plans as Nutrisystem, it does provide a good list of additional special diets.
For those looking to find a simple, efficient solution that's all included in a complete kit then Medifast does serve a purpose.
It is a good solution for anyone looking to lose a bit of weight and regain control over their health.
Comparison Summary: The Winner?
Nutrisystem, and here's why…
With a unique blend of top-tier meal replacements, meal plans, and high-quality support, Nutrisystem is able to stand out in this comparison.
While Medifast does prove to be a tough challenger with its intriguing options, recipes, and layout, the quality is not on par with Nutrisystem.
When it comes to a program such as Nutrisystem, the years of experience and overall attention to detail begins to seep through. Its expertise in the world of modern weight loss has made it a leading brand and the intricacies of its program illustrate the amount of knowledge that's on offer.
Anyone looking to find an ideal weight loss solution that covers all areas and provides world-class meal replacements should look at Nutrisystem.
Ready to try Nutrisystem? Learn more below…
---
Sources
Malia Frey, Reviews of Popular Diet Meal Delivery Programs, VeryWellFit. Retrieved from https://www.verywellfit.com/diet-meal-delivery-reviews-for-you-to-compare-3495214
Best Diets Overall, U.S. News & World Report. Retrieved from https://health.usnews.com/best-diet/best-diets-overall
Weight Loss and Diet Plan, Nutrisyste.com. Retrieved from https://www.nutrisystem.com/jsps_hmr/diet-plans/weight-loss-programs.jsp
Medifast Weight Loss Plans, Medifast.com. Retrieved from https://www.medifast1.com/medifast-weight-loss/index
Christopher D. Coleman, et al, Effectiveness of a Medifast meal replacement program on weight, body composition and cardiometabolic risk factors in overweight and obese adults: a multicenter systematic retrospective chart review study, Nutrition Journal. Retrieved from https://www.ncbi.nlm.nih.gov/pmc/articles/PMC4527127/