What is Nutrisystem for Men?
If you're an American, there's a pretty good chance you have seen advertisements for Nutrisystem at some point – either on TV, online, at Walmart, or even on QVC.
They are known for famous celebrity endorsers like Marie Osmond and Dan Marino, who often appear on television to vouch for this meal delivery diet.
I've tried the diet, and it definitely can work for guys when you follow the system correctly.
Remember, that there isn't a one-sized fits all diet, however, so while it works great for lots of men, that doesn't mean it's always the right choice for everyone.
The important thing, is finding the right diet for you, and one that has been proven to work for men, which Nutrisytem has [1].
Right now, with the brand new FreshStart program, Nutrisystem is offering men the chance to lose up to 18 pounds, and 8 inches from their waist, in their first month on the program.
In this Nutrisystem for Men review, we will tell you what this diet is really all about, including how much it costs, which plans you can choose from, and how much weight the average guy can expect to lose.
So with that in mind, let's get started…
How Does it Work?
When you sign on with Nutrisystem for Men they provide you with a guide to get you started, so you will know exactly what you need to do to have success with the program.
Your first week on Nutrisystem will start with the brand new FreshStart box.
I just finished my first week of the new Nutrisystem for Men FreshStart program, and I'm already down 7 pounds!
Check out my Week 1 Weight Loss Results:
Ready to put Nutrisystem FreshStart to work for you?
How it Works
Get to 5 Times per Day
Fresh Fruits and Veggies are Part of Your Diet
Lose Up to 1 to 2 Pounds Every Week
High Protein/High Fiber Meals
No Artificial Preservatives
Balanced Nutrition
A Month's Worth of Meals Delivered Right to Your Door
How Much Weight Can Guys Lose?
Nutrisystem recently updated their weight loss results for guys with their Fresh Start program [2], and right now, they're offering to help men lose up to 18 pounds and 8 inches during their first month on the program. It used to be 15 pounds and 7 inches, so it looks like they continue to make improvements to their system!
Results are going to be different for every guy, but after your first month, most guys can expect to lose about 1 to 2 pounds per week.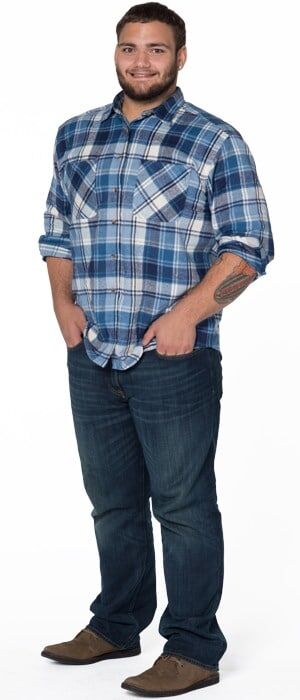 This has been found to be safe and healthy amount of weigh to lose.
Real Nutrisystem for Men Testimonials
I'm a guy who has had a lot of success using the Nutrisystem program. I've even shared my own Nutrisytem review here on DadQuarters.com, but you don't just have to take my word for it…
When you go to sign up for Nutrisystem, I encourage you to browse through some amazing before and after stories they have posted.
There are some men on their who have made some HUGE transformations – both with their weight and their overall health.
Dean's story was especially inspirational – he made some incredible changes, and Nutrisystem helped him get there:
I love the way I feel now! I even love eating healthier foods. There's no question: Nutrisystem changed my life and I'm just so happy I gave it a chance…I'll never forget my grandfather hugging me and saying, 'I can get my arms around you now'—thinking about that still makes me smile. -Dean M., Lost 245 Pounds
Pros and Cons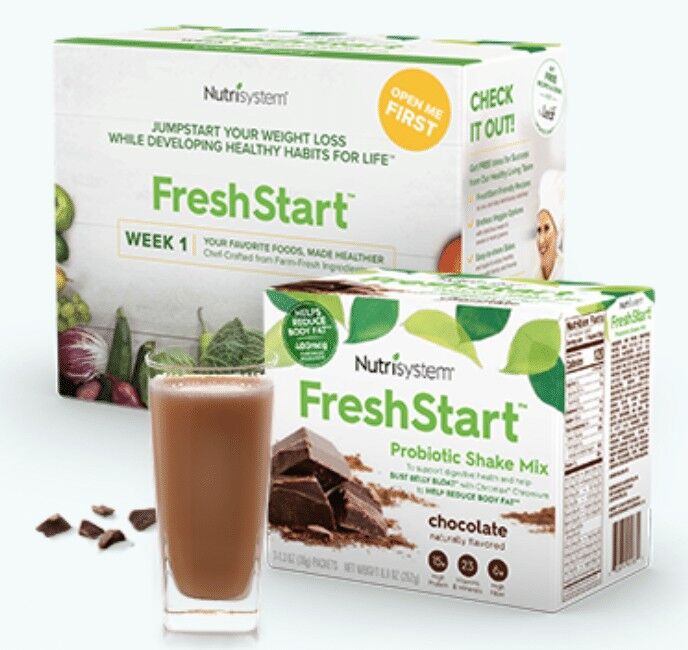 When it comes time to decide if Nutrisystem for Men is the right weight loss program for you, you'll want to take a close look at all of the pros and cons.
As someone who has lost a lot of weight with Nutrisytem, the pros outweighed the cons for me.
Cons
Not all guys like microwavable diet food
Can require big changes to lifestyle and/or eating habits
Have to fully commit yourself if you want to see great results
Pros
Diet strategies that are Proven to Work for Guys [3]: I've Personally Lost 27 Pounds Using this Program
A Plan Just for Men: They've designed the perfect weight loss program just for guys
Super Easy to Follow: Just eat the food, follow the program, and LOSE weight
Safe Way for Guys to Lose Weight: They have the research to prove it
Cuts way down on trips to the grocery store
They show guys the exercises for keeping or developing more lean muscle
Perfect for guys who hate to cook, or just want a ready-made plan for weight loss
Affordable! Guys can get started for around $10 per Day
Ready to Put the Power of Nutrisystem for Men to work for you?
Men's Plans & Pricing Info
When you go to sign up for Nutrisystem, there are several different options to choose from – The Basic, Core and Uniquely Yours are their three main offerings – here's a quick look at what you can expect to pay for each:
1. Basic
With the Basic Plan for Men, Nutrisystem will send you a selection of their most popular menu items every month.
You can pay a bit more to have more control over your menu, but I have always found the Nutrisystem Favorite's Pack to offer more than enough variety.
When you sign up for their basic service you'll receive a 4-week supply of meals and snacks with a menu that is crafted some of their most popular items – that includes things like hamburgers, chocolate brownies, and even pasta.
The basic is their most affordable plan, but still provides an easy-to-follow plan for safe and effective weight loss.
2. Core
With the Core Plan for Men, you get slightly more variety, with more than 100 menu items to choose from. This is the most popular Nutrisystem plan, and a great way to get started with the program. You can also create a fully customizable menu for no extra charge.
3. Uniquely Yours
Uniquely Yours was formerly Nutrisystem's Top-Rated plan and features more than 150 menu items. You also get to choose from their frozen items, which are definitely a notch above their traditional fare.
That's not to say the other food isn't good, but the frozen foods are a nice bonus – they include things like ice cream sandwiches, cinnamon rolls, chicken mozzarella melts, and chicken parmesan.
If can afford the extra couple of bucks per day, Uniquely Yours is definitely the way to go.
4. Uniquely Yours Plus
This is the newest and best program that Nutrisystem for Men currently offers. It features everything that you get in the standard Uniquely Yours plan, but they also throw in some of their newest shakes – FreshStart Shakes for Men.
These shakes are an awesome way to keep your hunger at bay, while also helping you power through workouts and get the most out of your day.
Uniquely Yours Plus for Men is the way to go if you want the best of the best from Nutrisystem.
That means access to their biggest and best menu ever, everything on their famous frozen menu, plus all of the snacks and shakes that you need to get through the month.
Following a plan like Uniquely Yours Plus, has been proven to be more effective than when dieting on your own [4].
Speciality Plans
In addition to the three main plans we detailed above, they also offer the following specialty plans:
Diabetes Plans
Helps you Take Control of Your Diabetes
Safe Weight Loss
Vegetarian
90+ Vegetarian Meals to Choose From
Also Includes Frozen Options
Ready to Start Your Nutrisystem for Men Journey?
CLICK HERE to Learn More and check current prices.
Food Menu for Guys
When you sign up with Nutrisystem for Men, you're going to get access to their world-famous menu of awesome diet foods.
The best part is, these foods make losing weight easier than you ever imagined. Just eat the food, snacks, and shakes they send you every month, and you should lose weight [5].
That said, they have an awesome variety of breakfasts, lunches, dinners, and snacks for guys, and you're going to love what's on the menu.
Here's just a quick peek at some of the foods you're going to be enjoying:
Breakfast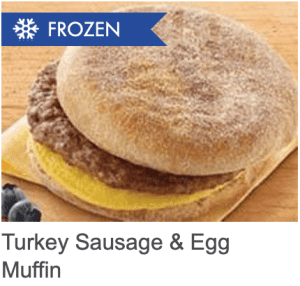 Turkey, Sausage, and Egg Muffin
Cinnamon Roll
Honey Whole Wheat Bagel
Canadian Style Turkey Bacon, Egg and Cheese Muffin
Turkey Ham & Cheese Omelet
Lunch
Spinach and Cheese Pretzel Melt
Grilled Chicken Sandwich
Hamburger
Pepperoni Pizza Melt
Chicken Mozzarella Melt
Steak and Cheese Melt
Dinner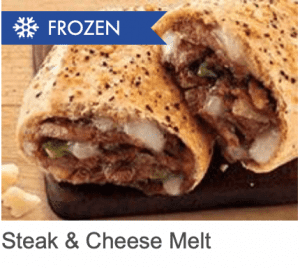 Meatloaf Sandwich
Italian Sausage and Turkey Pepperoni Pizza
Chicken Parmesan
Lasagna with Meat Sauce
Sweet and Sour Chicken
Snacks / Dessert
Ice Cream Sandwich
Fudge Brownie
Sweet and Tangy Flavoried Meat Stick
Stuffed Chocolate Pie
Whole Grain Soft Pretzel
Nutrisystem for Men vs Regular Nutrisystem
Here are the main differences to look for:
Men Eat More Calories Than Women
Pricing Differences: The plans for men cost a bit more because of they eat more food.
Weight Loss: Guys can lose a bit more weight on FreshStart
In simplest terms, the plan for men includes additional calories because men generally need more than women.
The basic plan for women has around 1200 calories per day, while the one for men shoots up to 1500. The extra 300 calories are usually in the form of a snack. Either way, these caloric numbers have been found to be a good amount to shoot for for healthy weight loss [6].
If you have difficulty staying on track with diets, the Nutrisystem plan can be an excellent choice for restoring your schedule and health. This is because they provide most of the foods for you.
The company has all of the available meals and foods online so you can see exactly what they will look like. Additionally, the descriptions help to describe the nuanced flavors that can't be seen in an image.
Review Summary
Nutrisystem for Men provides a reliable and safe way for guys to lose weight, with the added convenience of delivering the meals right to your door each month.
They have a number of different options to choose from, and right now guys can expect to lose up to 15 pounds during their first month on the program.
As a guy who lost more than 30 pounds using this diet, I can tell you that their plan works if you stick with it. It is an adjustment at first, but the longer you're on the program, the easier things get.
By the time you've reached your weight loss goals, your body should be adjusted to needing less food, which will help you keep the weight off once you're ready to transition off the program.
Learn more and see full Nutrisystem for men menu below: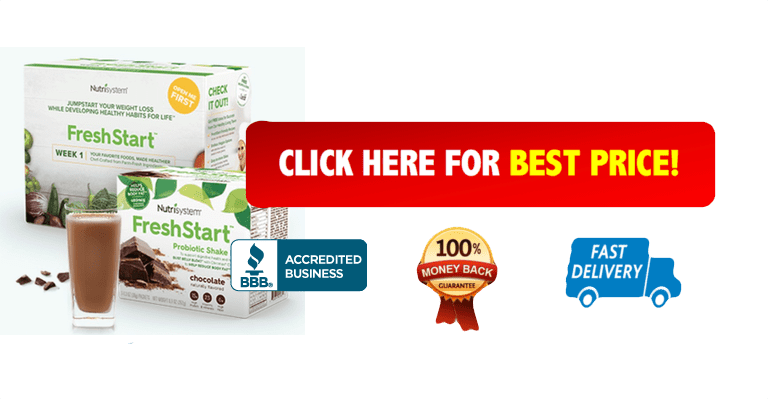 Resources
Nutrisystem News Room, Clinical Research. Retrieved from https://newsroom.nutrisystem.com/clinical-research/
Everything You Need to Know About Nutrisytem for Men, Nutrisystem. Retrieved from https://leaf.nutrisystem.com/for_customers/mens-weight-loss-nutrisystem-for-men/
Stuart Carter, Proven Weight Loss Tips for Men, Fit Father Project. Retrieved from https://www.fitfatherproject.com/proven-weight-loss-tips-for-men/
Choosing a Safe and Successful Weight Loss Program, National Institute of Diabetes and Digestive and Kidney Diseases. Retrieved from https://www.niddk.nih.gov/health-information/weight-management/choosing-a-safe-successful-weight-loss-program
CL Rock, et al., Department of Family Medicine and Public Health, School of Medicine, University of California, San Diego, Randomized clinical trial of portion-controlled prepackaged foods to promote weight loss. Retrieved from https://www.ncbi.nlm.nih.gov/pubmed/27225596
Kris Gunnars, BSc, How Many Calories Should You Eat Per Day to Lose Weight?, HealthLine. Retrieved from https://www.healthline.com/nutrition/how-many-calories-per-day