The Nutrisystem weight loss program is one of the top rated weight loss programs on the entire market. Not only does it have excellent programs for the average person, but it even has a diabetics plan that offers better diabetes control [1] for those that are in need of it.
In this article, we will talk about some of the benefits of Nutrisystem for diabetics.
Nutrisystem Plans for Diabetics
1. Basic Diabetes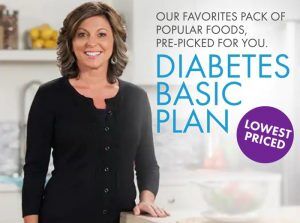 This the most affordable Diabetic option Nutrisystem offers [2], but that doesn't mean it sacrifices on food quality or weight loss results.
People who sign up with Basic Diabetes can expect:
Food That Tastes Great
A Plan That's Easy to Follow
28-Day Supply of Meals, Snacks, and Shakes
To Lose up to 18 Pounds During their First Month
When you sign on with the Basic for Diabetics plan, you'll get a selection of meals and snacks from Nutrisystem's Chef's Picks menu. These are some of their more popular foods, so you know they'll taste great!
If you're looking for one of the most affordable weight loss programs for diabetics, this is it!
2. Core Diabetes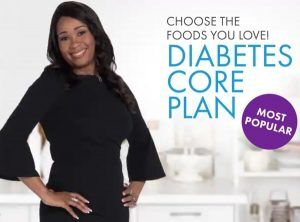 The Core menu for Diabetics is Nutrisystem's most popular plan, and gives you the freedom to choose your menu!
They recommend going with the Chef's Choice for you first order, just to give a good idea of what the food is going to taste like, but if you prefer more freedom, this is it.
The Core program for Diabetics is:
Safe and Effective Weight Loss for People with Diabetes
Helps You Manage Your Blood Glucose
Has Been Used by More than 500,000 Americans with Pre-diabetes or Type 2 Diabetes
Core includes everything you will find with the Basic plan, just more menu freedom! If you want a little more control over the foods you're eating each month, then pay the few extra cents per day, and go for Core!
3. Uniquely Yours Diabetes
Uniquely Yours for Diabetics is the biggest and best menu they offer, plus you get access to their awesome frozen food selection!
The frozen foods are a notch above their standard fare, so if you prefer to eat the best food Nutrisystem offers, then you will want to upgrade and go with Uniquely Yours D!
Here's what you can expect with Uniquely Yours for Diabetics:
Manage Your Type 2 Diabetes
May Lower Your A1C by 1.02%
Choose from 145+ Menu Items!
Access to Their Biggest and Best Variety, and their Top-Rated Frozen Menu
Ready to put the awesome power of Nutrisystem D to work for you?
Right now is a great time to buy:
Difference Between Nutrisystem D and Regular Nutrisystem
Nutrisystem D was created specifically for people who are pre-diabetic or those how have Type 2 Diabetes [3]. The big difference between Nutrisystem D and their regular program, is that the menu is built for people with Diabetes in mind.
This means:
Foods That are Lower in Sugar
Lower-Glycemic Index Food Choices
The Right Amount of Protein, Fiber, and Slower Digesting "Good" Carbs
Offers Tools for Tracking Blood Sugar to Share with Your Doctor
Beyond that, Nutrisystem D works the exact same way as the regular program, and you can expect similar weight loss results and to follow the same plan for long-term weight loss success.
Sample Menu for Diabetics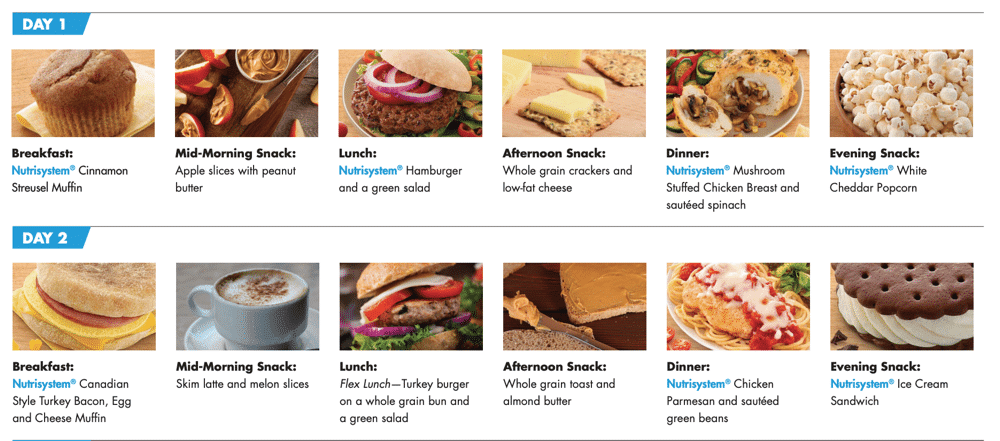 Breakfast
Nutrisystem Cinnamon Streusel Muffin
Canadian Style Turkey Bacon, Egg, and Cheese Muffin
Thick Sliced French Toast
Lunch
Hamburger and Green Salad
Turkey Burger and Salad
Pepperoni Pizza Melt and Sliced Veggies
Dinner
Mushroom Stuffed Chicken Breast and Sautéed Spinach
Chicken Parmesan and Green Beans
Roasted Turkey Medallions and Steamed Veggies
Snacks
Nutrisystem White Chocolate Chunk Cookies
Almonds and Orange Slices
White Cheddar Popcorn
Apple Slices with Peanut Butter
How Nutrisystem D Works
1. Breakfast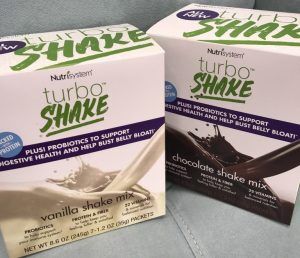 If you are someone that wakes up at around 7 to 8 am, you are going to get in your breakfast at this time.
You will be eating healthy breakfast options that come with the Nutrisystem program such as a Nutrisystem Blueberry muffin.
2. Mid-Morning Snack
Around 3 hours after you consume breakfast, you are going to be eating your mid-morning snack.
At this time, you will be eating a small snack such as fresh berries that you purchased from the grocery store on your own or yogurt that you got.
3. Lunchtime
Once lunchtime rolls around, you are going to be getting a light lunch in. For instance, you might eat a small soup one day which will allow you to get a good amount of calories and nutrients into your body. You will likely want to supplement your Nutrisystem designed meal with fresh vegetables.
4. Afternoon Snack
You will then eat an afternoon snack that will help to provide you with sufficient energy. Typically, you will be eating fresh fruit or vegetables combined with some nuts for protein and healthy fats. This should help to keep you full.
5. Dinnertime
Once it is dinnertime, you will be eating a Nutrisystem meal that is meant to fill you up completely. Whether its tacos, chili or something else – there are plenty of meals designed to be appealing to everyone.
6. Late Night Snack
You will then be prompted to eat a late-night snack if you are hungry which is going to help fulfill your dessert cravings. Whether its cookies or a cake, you can get a small snack right before bed that should keep your blood sugar levels in check.
Benefits of Nutrisystem For Diabetics
1. Proper Balance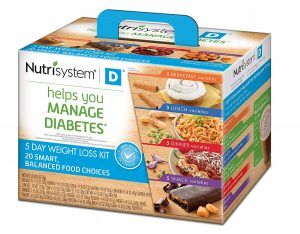 One of the reasons this weight loss program is so effective even for those that suffer from diabetes is because it offers a crucial balance for those that suffer from the disease [4].
When you have diabetes, it is more important than ever to focus on getting a proper balance of nutrition when you are looking to lose weight.
The program was designed with balance in mind as the meal plans offer everything from lean protein to smart carbs and healthy fats.
Your body isn't going to be craving anything because you will be getting a fully balanced list of nutrients in your diet through the plan itself.
2. Small Meals and Snacks
Another good thing that the plan offers is expertly designed small meals and snacks that you are going to be able to consistently get in your diet each day.
These meals and snacks were designed to be eaten every 2 to 3 hours which is going to help keep your blood sugar levels as steady as possible and it can help you avoid suffering from any sort of blood sugar spikes that might occur if you consume too much during one meal or you go without eating for long periods of time.
3. Calorie Control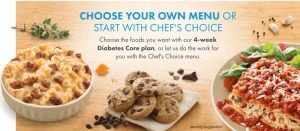 Another good thing about this particular diet program for those that suffer from diabetes is the ability to have a proper meal plan created that you can follow which offers a good amount of calorie control.
The plan is designed to help you get enough calories but with nutrients that allow you to feel much more full for longer periods of time. You will be consuming a majority of nutrient-dense foods rather than foods that have empty calories attached to them.
Because of this, you are going to be able to have a caloric restriction without putting yourself at risk of having unstable blood sugar levels. You will be getting anywhere from 1,200 calories to 1,500 calories per day.
4. Expertly Designed Plans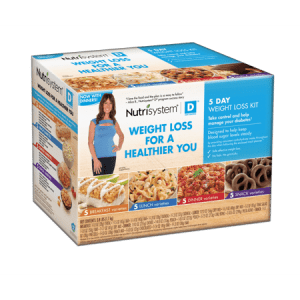 When you opt for Nutrisystem, you are going to be able to rest easy knowing that the plans were expertly curated and crafted to provide safe and effective weight loss even for those that might suffer from diabetes.
Because diabetes is something that can be somewhat complicating [5], you are going to want to be sure that you are opting for safety measures when it comes to losing weight with a weight loss program.
By utilizing Nutrisystem, you will be able to do so without worries because the entire program was designed to help those with diabetes lose weight and keep their weight under control.
Summary
The Nutrisystem program is a great option for anyone that suffers from diabetes and who might be looking to better manage their disease.
Along with this, it is a good option for those that are looking to lose weight as well.
Because it offers such a level of convenience that not many other programs can offer, it is a great option for those that are looking for all of the conveniences that come with the program and those that might want some assistance in designing a program that they can follow directions.
Being able to follow a plan directly is one of the best ways to ensure that you are going to be able to experience success with it and it can even save you a lot of time that you would normally have to spend managing your diet and figuring out what you are going to be eating daily.
Overall, there are plenty of different reasons why the Nutrisystem program is a great option for those that are looking to lose weight and better maintain their diabetes.
By using this type of program, not only are you going to be able to lose weight, but it can help you better manage your diabetes.
Ready to Put the Power of Nutrisystem D to Work For You?
---
Resources
Best Diabetes Diets, U.S. News & World Reports. Retrieved from https://health.usnews.com/best-diet/best-diabetes-diets
Diabetes Diet and Weight Loss Plans, Nutrisystem. Retrieved from https://www.nutrisystem.com/jsps_hmr/diet-plans/diabetes-weight-loss-programs.jsp
Barbara Ross, The Nutrisystem D Plan for Safely Losing Weight With Diabetes, Diabetes Health. Retrieved from https://www.diabeteshealth.com/the-nutrisystem-d-plan-for-safely-losing-weight-with-diabetes-2/
GD Foster, et al., A randomized comparison of a commercially available portion-controlled weight -loss intervention with a diabetes self-management eduction program. Retrieved from https://www.ncbi.nlm.nih.gov/pubmed/23507967
Diabetes – Symptoms and Causes, Mayo Clinic. Retrieved from https://www.mayoclinic.org/diseases-conditions/diabetes/symptoms-causes/syc-20371444