When it comes to weight loss and fitness, apps are all the rage these days. They're a super convenient way to harness the power of your smartphone or tablet as you start your weight loss or fitness journey.
There are plenty of great apps out there, and Noom and MyFitnessPal happen to be two of the best.
Each one offers something different for the user, so in this Noom Coach and MyFitnessPal comparison, we'll take a good look at both apps, so you can decide which one is going to work better for you.
With that in mind, let's take a deeper look at Noom and MyFitnessPal.
1. Noom
Noom is one of the hottest diet apps on the planet right now, and that's for good reason – their system works.
If you've been looking for a completely customizable diet and weight loss plan, that's easy to follow, gives you all the tools you need for success, and connects you with your very own health coach, then you'll want to put Noom Coach (read our full review and pricing guide here) at the top of your short list.
If you've been wondering if Noom is the right coaching app for you, here are few more details that may help you officially decide.
Noom Features
Customized Plan Based On Your Needs: Let Noom build a weight loss plan just for you
One-on-One Coaching Support – Get Tips, Guidance, and Support from Your Personal Coach
Community of Support
Huge Recipe Database
Learn Your Bad Habits and How to Fix Them Permanently

Try it for 14 Days – One Low Monthly Price After That
Who Should Try Noom?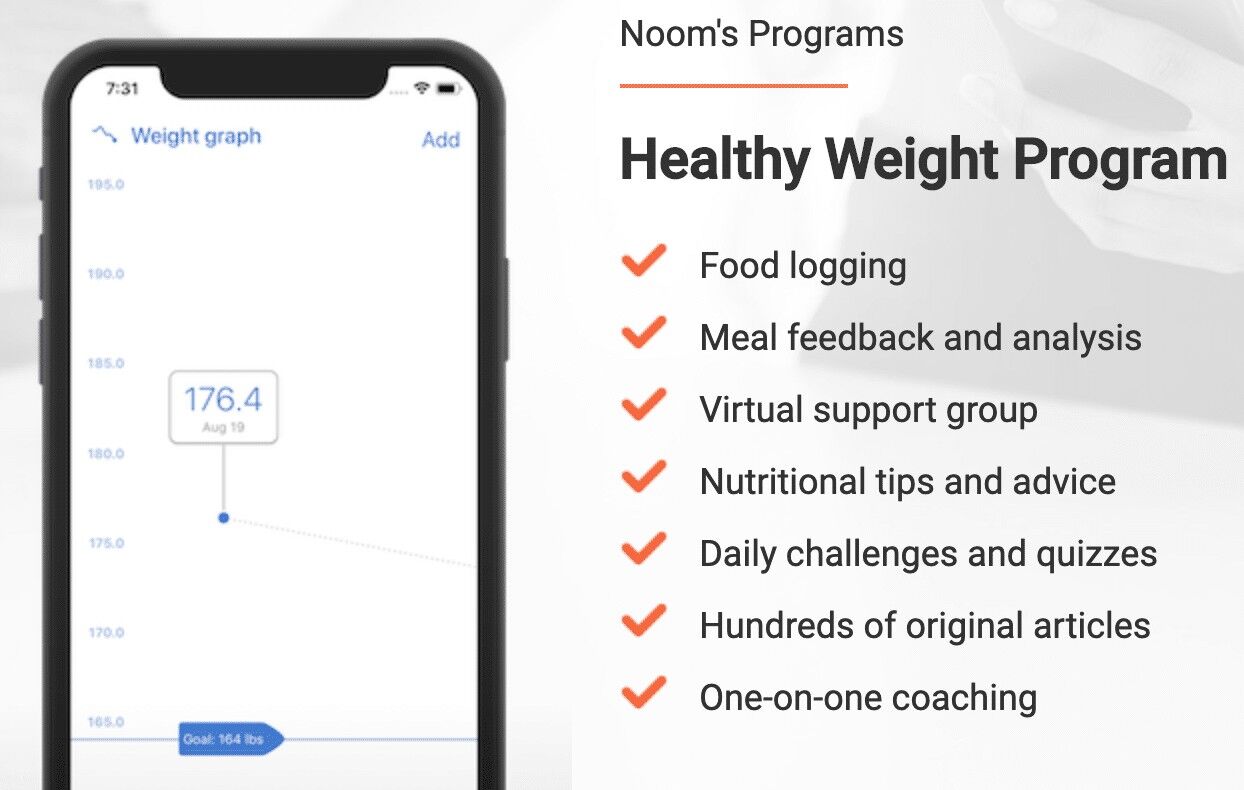 Noom is the perfect choice for anyone who wants a very affordable health app, that provides them with their very own weight loss coach, and all the tools they need to reach their weight loss goals.
On top of that, they have put together the perfect blend of modern technology, and paired it with tried and true weight loss methods that have been proven to work. This is the perfect combination for today's modern weight loss world [1].
You Should Consider Noom If:
You Want to Work with a Weight Loss Coach to Reach Your Goals
You Want an Easy-to-Use App
You Want to Connect with a Community of Like-Minded Folks
You Want a Clearcut Plan for Losing Weight
You Want to Learn How to Keep the Weight Off for a Good

You Want a Program that's Affordable!
Where Can You Get the Best Deal?
If you want to sign up for Noom, you'll have to visit their official website. From there you can start your free health profile, where you'll enter in all of the key information Noom needs to develop a weight loss plan just for you.
Ready to put the power of Noom to work for you?
Learn More and Lock in 14 Day Noom Trial
2. MyFitnessPal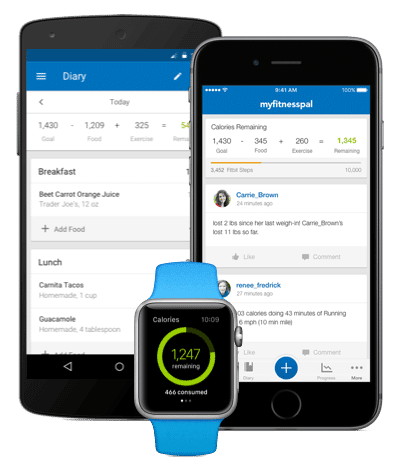 MyFitnessPal [2] is another super popular app, and it comes from the folks at Under Armour. While it's often labeled as a "fitness" app, their moto is "Fitness Starts with what you eat," so diet plays a huge role in how their app works as well.
When you sign up for MyFitnessPal, you get all of the tools you need to lose weight, get fit, and make make the healthy changes to keep it off for good.
How it Works
Food tracking is a huge part of what makes MyFitnessPal so effective for weight loss, and that's because a bunch of studies have confirmed how powerful food journals can be.
On top of that, it also helps track your daily activity and exercise.
When you combine these two, then you will be on your way to weight loss success!
What You Get with the MyFitnessPal App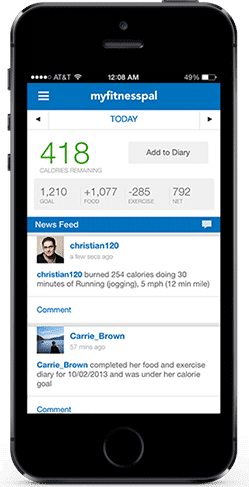 Here's what comes with the free version of MyFitnessPal:
Easy-to-Use Food Diary
Daily Calorie Goals
Custom Carbs, Fat, and Protein Goals
Huge Food Database – More Than 300 Million Items!
Create Your Own Personal Food Database
Use the Discussion Forums for Support, Tips, and to Stay Motivated
You Own Personal Diet Profile
Fits Variety of Diets: Can be Used with Atkins, South Beach Diet, Keto and More
It's Free to Get Started
If you want to upgrade to the premium version of version, it includes the following additional features:
Nutrient Dashboard
Food Analysis
File Export
Calorie Goals by Meal
Different Goals by Day
Exercise Calorie Settings
Calculate Carbs, Protein and Fat by Meal
Carbs, Protein, and Fat by Grams
Priority Customer Support
Ad Free
Exclusive Premium Content
Who Should Try it?
If you're looking for a very easy-to-use diet and fitness app, that's primary job is to help you track your daily food and exercise, then MyFitnessPal may be a good fit for you.
It's simple, yet effective, and while it doesn't boast a lot of the "bells and whistles" that other diet programs offer, it is effective for weight loss when used correctly.
If you're looking for a program that offers more guidance, including connecting you with your very own weight loss and health coach, then Noom may be the better fit.
Want to learn more about MyFitnessPal? Head to their official website to learn more [3].
Comparison Summary
While both MyFitnessPal and Noom have a lot to offer in terms of helping people lose weight, Noom is the more well-rounded diet program, in our opinion. MyFitnessPal offers some great feature for food and exercise journaling, but Noom also offers that, plus much more!
On top of that, with Noom, you get your very own health coach, who is there to guide you on your journey to better health. This is a huge bonus, considering the total cost of the program, and your coach truly is invested in your success.
If you're ready to finally reach your weight loss goals, right now is a great time to try the Noom coaching app.
In fact, they're currently offering a 14-day trial of their program…
CLICK HERE to Learn More and Activate BEST Noom Deals
---
Resources
Laura, My Honest Noom Review After Completing the Whole Program, LalyMom. Retrieved from https://lalymom.com/noom-weight-loss-app-full-review-results/
MyFinessPal Reviews, Trust Pilot. Retrieved from https://www.trustpilot.com/review/www.myfitnesspal.com
MyFitnessPal. Retrieved from https://www.myfitnesspal.com/