It's no secret that Noom is one of the most popular diet apps on the planet right now [1]. They've been in the buzz of the diet world for a while now, so chances are you've probably been hearing a lot about them.
Believe it or not, but there's a reason for all of the buzz: Noom offers one of the best weight loss programs on the planet right now, so if you've been looking for a weight loss program that actually works, then it's time to put Noom on your short list.
While the app is central to how the Noom program works, diet also plays a huge role as well. The best part is, Noom shows you the exact foods to eat, through a new way of eating they they're going to teach once you've enrolled the their program.
With the Noom food list, you'll learn what types of foods to eat, as well as how often and when you should be eating to reach your weight loss goals.
The best part is, by teaching you how and what to eat, Noom is setting you up for long-term weight loss success, so you actually have the best shot at keeping the weight off for good this time.
So with that in mind, let's take a look at the ins and outs Noom Food List, so you can see what a healthy diet looks like.
How the Noom Food List Works: Calorie Density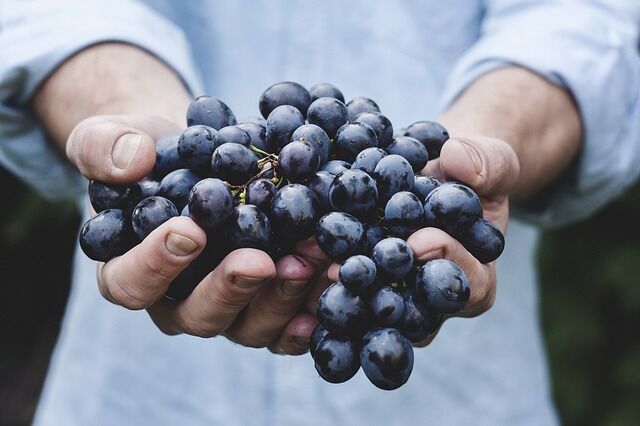 To actually have a shot at success when it comes to maintaining a healthy weight for life, it's important to learn the key elements to healthy eating.
While there are many different takes on what actually counts as a "healthy diet," Noom is taking a new approach to the way we eat and lose weight.
It's called Calorie Density, and this is how it works [2]:
What Your Plate Should Look Like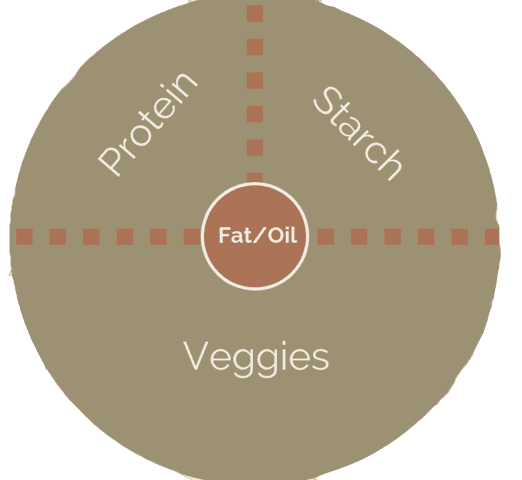 Noom suggests filling the majority of your plate with foods that are naturally water-rich, and that's because these types of foods will keep you feeling fuller for longer.
Calorie dense foods include things like:
Fruits
Veggies
Low-Fat Dairy
Grains (cooked)
Leans Meats & Poultry
Fish
Beans
Why Should Your Food be Water-Rich?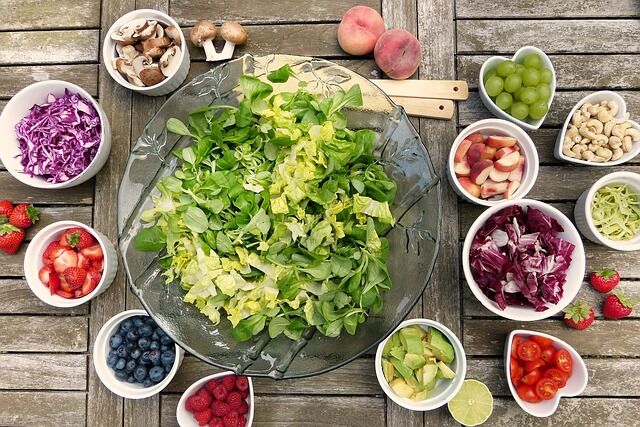 According to Noom, foods that are rich in water allow you to eat more for same amount of calories. They cite grapes and raisins as one example.
While a cup of raisins can have up to 500 calories, the same amount of grapes may only have 62 calories, and that's because they're packed full of water, and not dried out like raisins are [3].
They say, because the volume of your food is what helps you actually feel full, you'll feel the same amount of satiety from 500 calories worth of raisins as you would from 62 calories worth of grapes.
So what does this all mean?
Ditch the raisins and eat grapes if you want to feel fuller longer, and actually lose weight :).
This sounds awesome, but how can you actually know which foods (like the grapes) to eat, and which ones to to avoid?
Good news!
Noom has you fully covered, with their food list. They even organize foods by color, to make it that much easier for you to know what to eat. Remember too, that once you've signed up for the Noom diet app, you'll have instant access to the food list right from your smartphone or tablet.
Here's a breakdown of the Noom food list by color.
Green Foods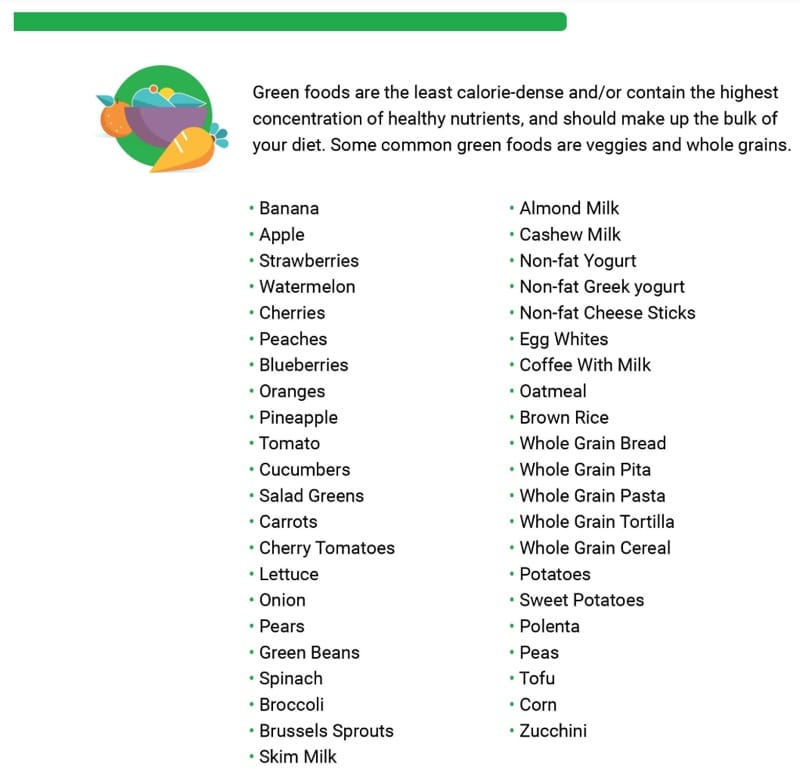 When you learn the Noom way of eating, Green Foods are going to be the majority of what you eat. That's because they have the largest concentration of healthy nutrients, while being the least calorie dense These types of food work great for weight loss [5].
As you can see in the image above, here are just a few of the green foods you'll be feasting on:
Fruits
Bananas
Strawberries
Blueberries
Peaches
Cherries
Pineapple
Vegetables
Lettuce
Onion
Broccoli
Brussels Sprouts
Carrots
Cherry Tomatoes
Whole Grains
Bread
Pita
Pasta
Tortillas
Cereal
Other Green Foods
Egg Whites
Coffee with Milk
Non-fat Greek Yogurt
Potatoes
Almond Milk
Skim Milk
and much more!
Yellow Foods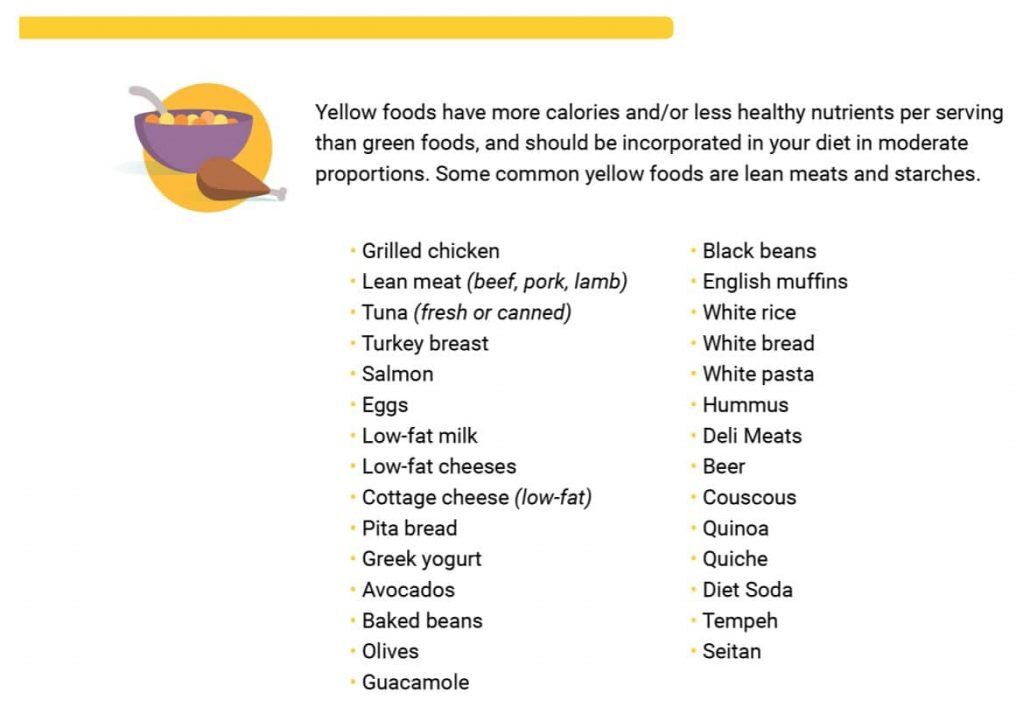 The Noom Yellow Foods are going to have more calories per serving than the Green Foods, as well as less of the healthy nutrients your body craves.
Because of this, these are foods that you're going to be eating less of, when following the Noom way of life.
Check out the full Yellow Food List from Noom above, but here are just a few of the foods you'll be enjoying…in moderation, course :).
Meats / Poultry / Fish
Grilled Chicken
Turkey Breast
Salmon
Tuna
Lean Cuts of Beef, For, or Lamb
Dairy
Low-Fat Milk
Low-Fat Cheese (Multiple Varieties)
Cottage Cheese
Greek Yogurt
Other Yellow Foods
Avocados
Baked Beans
Eggs
Olives
Diet Soda
Seitan
and Much More!
Red Foods
As you've probably guessed by now, the Red Foods on Noom's list are the ones you'll be eating the least.
These foods are more calorie dense than the Yellow or Green ones, and they have the fewest healthy nutrients serving.
Here a few of the foods on the Red list…
Meat
Ham
Red Meat (Lamb, Beef, Port)
Bacon
Salami
Other Processed Meats
Dairy
Butter
Full-Fat Cheese
Feta Cheese
Whole Milk
"Junk" Food
Hots Dogs
Cake
Butter
Pizza
Hamburger
Potato Chips
Sugar
Are There Foods You Can't Eat on Noom?
No…well, sort of.
That's the best part about Noom – it's not about what you CAN'T eat, it's about what you CAN eat. You can eat anything you want on Noom, but the key is going to be moderation.
One way you can encourage moderation is by pairing red foods with more of a green food. This will help fill you up, and as a result you'll eat less of the foods that lead to weight gain.
Summary
With the Noom Green, Yellow, and Red foods, you know exactly what to eat the most of, the foods you'll need to enjoy in moderation.
The best part is, with the Noom Food List, there aren't any foods you have to 100% avoid – you just learn how to enjoy them responsibly, and in a way that won't throw you off from reaching your weight loss goals.
When you join Noom, you get instant access to their full food list, right from your computer, smartphone, or tablet. That means, you always have access to their food database in the palm of your hand – on the go, at the grocery store, or when you're enjoying a meal out.
Ready to put the power of the Noom food list to work for you?
Head Here to Learn more and Lock in a Free Trial of Noom!
---
Resources
Keri Gans, The 10 Most Popular Diets of 2018, According to Google, U.S. News & World Report. Retrieved from https://health.usnews.com/health-news/blogs/eat-run/articles/2019-01-15/the-10-most-popular-diets-of-2018-according-to-google
Calorie Density 101: How to Eat More to Weigh Less, Noom. Retrieved from https://web.noom.com/blog/eat/2015/01/calorie-density-how-to-eat-more-to-weigh-less/
Brianna Elliott, RD, 19 Water-Rich Foods That Help You Stay Hydrated, Healthline. Retrieved from https://www.healthline.com/nutrition/19-hydrating-foods
Jeff Novick, MS, RD, The Calorie Density Approach to Nutrition and Lifelong Weight Management, Forks over Knives. Retrieved from https://www.forksoverknives.com/the-calorie-density-approach-to-nutrition-and-lifelong-weight-management/