What is the Mediterranean Diet?
There are literally thousands of diet plans out there, but that doesn't make them all equal. In fact, there are some that are far healthier, far more effective, and far more popular.
The Mediterranean Diet [1] has been enjoying major attention and popularity for over 20 years throughout the world – and this isn't even counting the Mediterranean regions from which this diet plan gets its name where this has been the normal healthy diet for many centuries.
Known for being well-balanced, this diet was based on the eating habits of many European communities on the Mediterranean who displayed unusually long and healthy lives throughout many parts of history including even modern times [2].
How the Mediterranean Diet Works
The Mediterranean Diet is focused on vegetables first [3], and then looks at other food groups as side dishes and accessories to the daily intake of plants. This is an extremely balanced diet.
A Healthy Variety is Key
Unlike vegan diets or no carb diets, the Mediterranean way of eating actually includes an array of grains, legumes, vegetables, health fatty oils, fruits, nuts, and limited animal proteins and seafood.
In other words, the focus is on a wide array of vitamins, minerals, and balanced meals that can fully energize the body.
Plenty of Fruits and Vegetables
The main focus is on a lot of fruits and vegetables, followed by grains and healthy fats. This meal plan absolutely loves olive oil. This should be the most common or "main" fat that is ingested throughout this diet.
Other foods like avocados, some limited handfuls of nuts, and fatty fish like salmon are all good options.
Omega-3s
You get plenty of healthy Omega-3 fatty acids. Proteins come in the form of fish, moderate amounts of eggs, cheese, or yogurt, and red meat should only be part of a meal once a week at most.
Water
Water is the main drink as you don't want to drink calories. However, one to two glasses of wine a day are permitted when taken with a meal.
Embrace the Lifestyle
One of the things that really makes this diet stand out is that it is about more than food as this was one of the early diets that stated lifestyle mattered.
The Mediterranean Diet not only means eating like you live in one of these regions but also that you embrace an active lifestyle which often comes in the form of long daily walks [4].
While summarizing a diet into simple basic terms should never be taken too far, as the details matter, in many ways the Mediterranean Diet can be summarized as:
Eat more vegetables, eat way less red meat, drink water, walk a lot more.
As basic guidance these are all pretty good ideas for most people but diving into the details is what really sets this diet so popular and why it is consistently ranked as one of the best diets out there.
Sample Menu
Meals are going to be colorful with a variety of foods, and vegetables or fruits will normally take up the majority of the plate although there are a few notable exceptions.
Meat will almost never be the main star, except maybe for a fillet of fish but even then the other half of the plate will likely be salad or something similar.
Examples of popular dishes [5]would be Greek yogurt topped with berries or oatmeal with a touch of honey and some sliced strawberries for breakfast, a big salad with eggs and fish for lunch, and dinner might involve zucchini salad drizzled in olive oil, with a boneless skinless grilled chicken breast on couscous.
Breakfast
Breakfast often doesn't have the variety that many of the other meals have on this diet, but that doesn't make it any less important. There tend to be a few meals that will get a lot of play.
Greek yogurt mixed with raspberries and blueberries are a very popular choice. Whole cut oats with blueberries and a couple slices of banana could be another option.
Take a touch (just a drizzle) of honey if you need a little bit of sweetness. Eggs are a very common choice and often served with some whole grain bread, or on a thin sliced piece of ham with some greenery sprinkled over.
Sliced avocado with a couple boiled eggs can be a powerful light breakfast.
Lunch
When following the Mediterranean Diet, lunch is a time for a giant salad and some sides. Veggie wraps are a popular choice here, even sprinkled with feta for more flavor.
Giant salads loaded with zucchini, greens, carrots, and drizzled in olive oil with a little bit of tuna makes for a fine meal. Add some olives for a little extra flavor.
A grilled chicken panini sandwich that includes avocado and tomato is another example. Fans of different salads might want to try a white bean salad, maybe even with a couple of shrimp on the side.
Dinner
Dinner is the time where meat as a protein usually plays its most prominent role. This is a good time for a dieter to think of what to plan as the wine can match the meat that is featured for dinner.
If it's a rare red meat night then a couple slices of lamb might be on the menu. Boneless, skinless white meat like chicken is another option, and don't forget quality fatty fish!
Dinner on the Mediterranean Diet is where a lot of customized dishes can come into play like spinach quiche lasagna or a "restaurant" style plate like a chicken breast over a small pile of warm grains, asparagus and butter to the side, a salad drizzled in olive oil off to the side of that with a whole grain bun to the side.
Rarer ingredients that are enjoyed like feta cheese, red meat, or others will most likely be eaten during this meal.
Cheese and meat heavy salads are an option for this meal, although most people will leave those for lunch.
Whole wheat pasta salad with feta, tomato, and olives might be one example of a pasta based dinner dish on this diet while an Italian chicken wrap is another popular and well known option.
Add some shrimp and balsamic vinegar for a tasty filling pasta or enjoy that rare meat-heavy dish guilt free (but 32 oz steaks are still definitely off the menu).
Snacks?
Snacks aren't heavily encouraged as three large meals with the right types of food should be enough, but for the especially active or for individuals who just need a snack there are some options.
A handful of healthy nuts like cashews, walnuts, or almonds provide plenty of nutrients and calories.
These make for a great Mediterranean Diet snack but they also pack a lot of calories into a small package, so be sure not to eat too many or snack endlessly on them. A handful should be just that: a handful.
Can You Drink Wine?
In short, yes. But…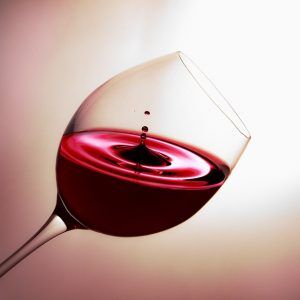 Generally the limit is 1-2 glasses a day for males and a glass a day for females [6]. Red is better than white overall, and the wine is generally drank with a meal. This makes dinner the most common time, which allows a wine and meat pairing and helps dieters de-stress and wind down at the end of the day.
A little bit of wine can be relaxing and red wine has been shown in some studies to possibly have some heart positive benefits.
Mediterranean Diet Recipes (+ PDF)
There is no shortage of recipes for the Mediterranean Diet [7]. Assuming you're not lucky enough to have an Old World grandmother who loves cooking and socializing with neighbors down the street, then there are plenty of Mediterranean Diet cookbooks, online websites and support programs, and hundreds of free recipes online you can find for free.
These offer a remarkable array of recipe options to choose from.
Further, simply by doing a little bit of research and understanding what ingredients to use often versus what to use the least, it's not hard to come up with recipes and mixes that work well and taste delicious. Remember to be fruit and vegetable heavy, enjoy that olive oil, and be light on the meat (and no processed sugars).
Add in a lot of water and a little bit of wine and most of the major points have been hit.
Here's a nice PDF guide for getting started.
Mediterranean Diet Shopping List (+ PDF)
The key here is to shift to the foods a dieter is most likely to eat versus those least liked. Not every single food on the diet list needs to be frequently used.
Olives are a very common food but if a dieter doesn't like them they can not eat them and choose other veggies or acceptable ingredients.
Meal planning is crucial since if a meal plan for a week calls for olive oil, feta cheese, and greens multiple times, then the individual wants to make sure they purchase enough when grocery shopping so they're not running out of ingredients at the end of the week.
Start with the meal plan and work back from there.
If you need a good Mediterranean Diet shopping list [8] to start with, here's a PDF that can help.
Review Summary: More than Just Weight Loss?
The Mediterranean Diet is sure to remain popular.
It's one of the best diets for long-term heart health, for being a sustainable way to stay in shape, and for long-term healthy body composition.
One thing worth noting is that this is not a heavy fat loss diet: it's a healthy lifestyle diet. This is part of the reason it is so well balanced and has such a high success rate making it a very solid choice.
Resources
Mayo Clinic Diet Staff, Mediterranean diet for heart health, Mayo Clinic. Retrieved from https://www.mayoclinic.org/healthy-lifestyle/nutrition-and-healthy-eating/in-depth/mediterranean-diet/art-20047801
Roberta Altomare, et al, The Mediterranean Diet: A History of Health, Iranian Journal of Public Health, Retrieved from https://www.ncbi.nlm.nih.gov/pmc/articles/PMC3684452/
Traditional Med Diet, OldWays. Retrieved from https://oldwayspt.org/traditional-diets/mediterranean-diet/traditional-med-diet
Saint Louis University, Stud: Mediterranean diet boosts endurance exercise within days, Medical Xpress. Retrieved from https://medicalxpress.com/news/2019-03-mediterranean-diet-boosts-days.html
Jessica Migala, What is the Mediterranean Diet? Your Ultimate Guide to the Heart-Healthy Eating Philosophy. Retrieved from https://www.everydayhealth.com/mediterranean-diet/guide/
Meri Raffetto, Wendy Jo Peterson, The Importance of Wine in the Mediterranean Diet, Dummies.com. Retrieved from https://www.dummies.com/food-drink/special-diets/mediterranean-diet/the-importance-of-wine-in-the-mediterranean-diet/
Heidi, 50 Favorite Mediterranean Diet Recipes, Foodie Crush. Retrieved from https://www.foodiecrush.com/50-mediterranean-diet-recipes/
Elena Paravantes, RDN, The Complete Mediterranean Diet Food And Shipping List, OliveTomato. Retrieved from https://www.olivetomato.com/the-complete-mediterranean-diet-food-shopping-list/