Are you on the fence on whether or not you should give the Medifast meal delivery diet program a try?
Maybe you're not familiar with the program, but you are looking to follow a diet.
Regardless, you've come to the right place because we're going to dive into a detailed review about the Medifast meal delivery program, to help you decide if it's officially the right diet for you.
How Does Medifast Work?
The Medifast meal delivery diet program [1] is a program in which meals are delivered to a person's home. It's a weight loss program that is designed to help people lose weight quickly and in a more effective way than most other diets.
The meals are portioned and carb controlled. Not only that, but the diet is rich in vitamins and minerals.
When you signup to the program, you have the choice of a few plans. When you choose the plan you want, you simply wait for the meals to arrive in the mail.
Once you receive your supply, you follow the plan's instructions and before you know it you might lose weight.
Furthermore, many doctors have and still recommend Medifast. In fact, it has actually been researched. To date, over 15,000 doctors have recommended Medifast.
Verified Testimonials: Positive & the Top Complaints
Overall, dieters who try Medifast seem to have mostly positive feedback [2] – it's even be recommended by more than 20,000 doctors [3]. When deciding if Medifast is a good option for you, we encourage you to do your own research.
There are plenty of reviews out there for you to read, and we definitely recommend checking verified reviews from trusted third-party sources, like Consumer Affairs [4]. Medifast has a 3.2 out of 5-star rating there, and it's a good place to see the good and bad.
Let's start with the positive:
I've been on this 5 & 1 plan for three weeks now and I've lost 16 pounds so far. My goal is 90 pounds. Most people who look at this and write a negative review I believe look at this as a diet. It's not a diet, it's a change of habits. And the key I found is you've got to read the book at least the first 5 to 6 chapters. You'll understand why we struggle with our weight gain and loss. How the food industry works against you to get you addicted and buying more food than you need. Once you understand the science behind the scenes it is a lot easier to go on the plan and stay on the plan. -David, Verified Reviewer
Robert says Medifast worked for him, but if you're not careful it can be easy to put the weight back on:
I have used Medifast a few times over many years when I gain my weight back (like I always do). Please note that EVERY weight loss program works until you start eating like a ** again, if you expect some miracle when you go back to your bad habits your body does exactly what you think it will. Medifast works very well if you follow it exactly and weigh your food, not snack and pay attention. You will be eating 1000-1200 calories a day which will lose weight, if you don't you are cheating.
Complaints
Here were some of the top complaints the we saw about Medifast. Most complaints seem to be about the cancellation policy or order issues. Remember, when you sign up for Medifast, you're typically committing to their auto-delivery program. This means there is a fee for early cancellation, but usually if you stick with the diet for at least two months, then you shouldn't have to pay a fee.
Either way, make sure to read the fine print when joining.
An order was processed for me without notification. I called the same day for cancellation and was told it was a glitch in the system that I was not notified and that it was caught in time to cancel. A couple days later a shipment email came through and I was charged for the order. I called again and was told it had been marked as RTS and I would get a refund in 5-10 days. I finally received a refund but it was minus shipping costs so I called again.
I didn't lose any weight and the food was not really all that good. I didn't care for the selection. I do not like green eggs and ham. Customer service was unhelpful and hard for me to get an actual person to interact with. I did not get timely replies to my emails or inquiries. Medifast was very expensive for the price and for the service and quality I received. I'm very disappointed I couldn't get any money returned to me even after I expressed my disappointment. -Denise, Verified Reviewer
Pros & Cons

When it comes to Medifast, there's a lot to like, but we'll take a quick look at both the good and bad, to give you a better idea if it will work for you.
Cons
Diet Food Isn't for Everyone
Have to Stick with the Program to Lose Weight
Requires Big Change to Most Diets
On the Spendy Side (see a cheaper alternative here)
Pros
Recommended by More Than 10,000 Doctors
Food Tastes Good
Send Most of Your Meal and Snacks Right to Your House
Say Goodbye to Lots of Shopping and Meal Prep
Easy to Follow
Just Eat the Food and Lose Weight
Variety of Menu Options
Options for Special Diets (Diabetes, Gluten Allergies, Nursing Moms, Vegetarians and More)
Right Now is a Great time to Buy (learn more below)
Medifast Cost: How Much per Month?

Medifast starts at $149 for a 7-day diet, goes up to about $329 [1] if you order their full 30-day program. These prices are contingent on you enrolling in their Medifast Advantage program, which also gets you free shipping.
What you'll pay for the Mediafast meal delivery diet program depends on the plan you choose, as there are various plans to choose from.
Generally speaking, a four week supply of meals will cost you around $300. There are meal replacement products you can order too, and they come in a pack of seven. That will cost you $16.99.
Also, there are two plans that start off at $149, but that is on a 14-day trial. After the trial you will pay around $300 for a month supply of meals.
The price is pretty fair because you are receiving a program and a plan to help you lose weight
Also, keep in mind that you can cancel at anytime. If you don't want to be billed anymore, then let the company know. This will also cease deliveries being made to you, so you will not receive any more meals.
Check current Medifast prices here.
Medifast Food Plans
There are three main plans/programs to choose from. Each is unique in their own way. That being said, the plans available through Medifast are:
1. Medifast Go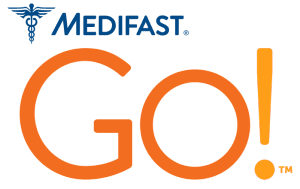 Price: Normally $429
This plan is designed for people who are busy. It includes five Medifast meals and one lean & green meal, which has been proven to be an effective plan for weight loss [4].
It is a 30 day plan that will have you eating six times per day.
You'll be eating every 2-3 hours, and you will be kept full throughout the day.
You'll have your breakfast, lunch and dinner, as well as a mid-morning meal and two snacks later on in the day.
If you're a busy person who doesn't have a whole lot of time on their hands to plan out their meals or time to prepare them, then this Medifast Go is probably for you.
You'll receive an assortment of meals with this plan. Some items include mixed berry cereal, oat bars and peanut butter bars. Shakes are also provided as part of Medifast Go. These are only a few of the food that is included in Medifast Go.
2. ACHIEVE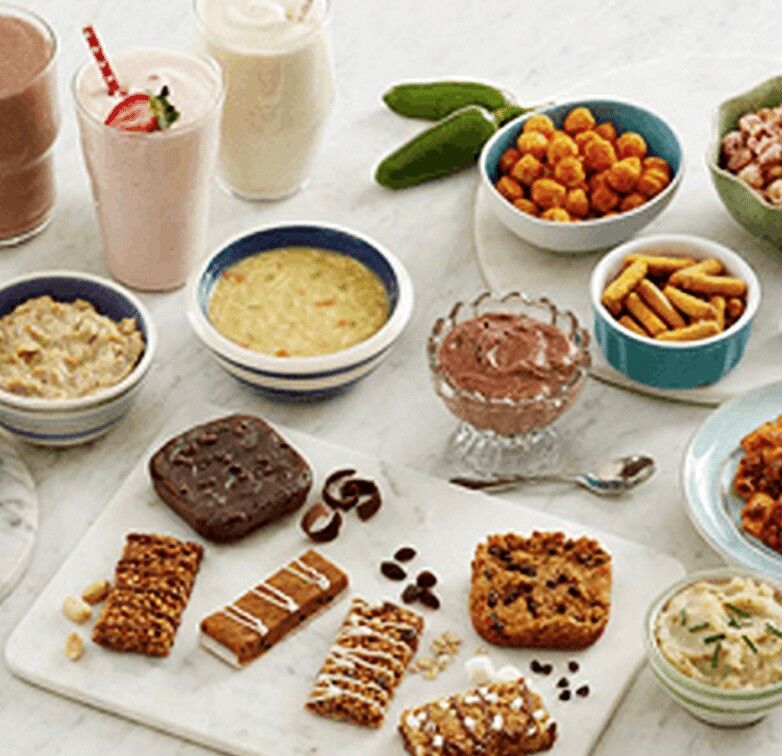 Price: Normally $395.55
This plan is flexible and designed to deliver gradual weight loss. Included in this plan are four Medifast meals and two lean & green meals.
A healthy snack is also included.
That is what you will be eating on a daily basis, and like the previously mentioned plan, this one is also for 30 days.
You'll eat every 2-3 hours. Foods such as cheese puffs, oatmeal, chocolate shakes and ziti are included in this plan. There are a lot of other foods you'll be eating too.
If you're looking for a way to lose weight at a steady pace and you're not really fussy about losing weight quickly, then this is the plan for you. It is effective and will deliver results over a steady period of time.
Whether you're looking to lose a little bit of weight or you want to shed a lot of weight, the Medifast Flex plan can help you achieve your goals.
3. Thrive Healthy Living Plan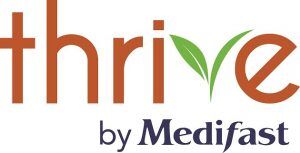 The healthy living plan is called Thrive, and it is actually a weight maintenance plan.
This is designed to provide you with what you need in order to maintain your weight loss, as well as to feel confident in your appearance, well-being and feelings.
This plan provides you with healthy fueling, two lean & green meals and a balanced meal that is made up of your choice of items.
Let's face it, so many people fail on diets and this is usually because they go back to eating unhealthy or they stop exercise once they stop following the diet.
This is where Medifast has worked hard to standout because the company believes in providing ongoing support, which is why they created the healthy living plan.
You will find it easy to maintain your weight loss when you follow the healthy living plan.
4. Plans for Special Medical or Dietary Needs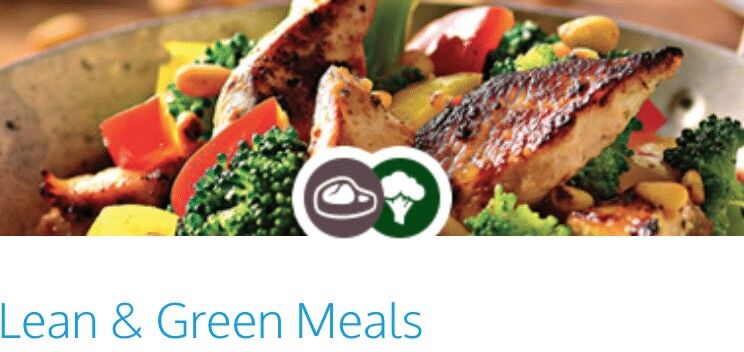 Special Plans for:
Diabetes
Gluten Allergy
Vegetarian
Nursing Moms
Seniors
It's worth mentioning that Medifast can also cater to those who have specific dietary needs or medical needs.
For example, if you speak with a member of Medifast and tell them you have requirements, then they can tailor the program to meet your needs.
This includes options for diabetics, nursing mothers, elderly people and vegetarians to name a few. They even have a coaching program called Optavia.
Medifast makes it very easy for those who have special dietary requirements to jump aboard the program. If you have been struggling to lose weight and you think your requirements have played a role in it, then give Medifast a try.
Many people with specific requirements have had success with the program.
Those are the diet plans available through Medifast. It's up to you to decide whether or not you should give any of them a try. However, we want to discuss the menu and the food in the next sections.
Learn More and check current Medifast prices.
Menu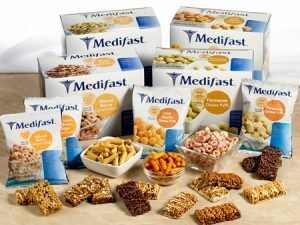 There are over 60 weight loss meal options. You can choose what items you want included in your plan. These items range from breakfast items to desserts to bars, shakes, smoothies , drinks and more.
How Does the Food Taste?
The food tastes great. You will find that the food actually tastes like real food, which isn't always the case with other diet foods. You will find that each meal is packed with flavor and very easy to consume.
Does it Work ?
What are dietitians saying about Medifast?

The thing that I like about Medifast is that it looks like the program encourages you to eat small frequent meals throughout the day….if it's a springboard that someone uses for a few months, and they lose 20 pounds or so, and it feels so good that it positively motivates them to want to continue taking care of themselves. -Juliet Zuercher, RD [5]
The Medifast meal delivery diet program does work, but results will vary from person to person.
It provides you with what you need to lose weight, and that is a balanced and nutritious diet that consists of adequate protein, plenty of vitamins and minerals.
Besides that, you'll be restricting the number of calories you consume throughout the day. In general, you won't eat more than 1,200 calories per day on the diet.
As for how much weight you can lose, this depends because everyone is different, so results vary from person to person.
The company claims you can lose 2-5 pounds within the first two weeks of starting the diet [6], and then 1-2 pounds per week from there on.
Here's a tip, if you exercise regularly and drink plenty of water and stay away from soda and alcohol beverages, then you might lose even more weight than that.
It's worth noting that there's no shortage of positive reviews about Medifast. Many people have raved about the results they've achieved with Medifast.
As previously mentioned, thousands and thousands of doctors have recommended and still recommend the Mediafast meal deliver diet program.
Review & Pricing Summary: Where to Buy
Our final thoughts is this is an extreme diet, but it is a very good diet that will likely get you fast results.
However, you have to be completely dedicated to it, otherwise you might not get the results you are hoping to get. As long as you follow the diet right down to the T, you should lose weight fast.
Furthermore, you have to work hard to keep the weight off after you come off the program. This is known as the maintenance phase, which doesn't have to be difficult.
What you need to do is continue to eat healthy and try your best to maintain a healthy lifestyle that consists of exercise and plenty of water.
This is how you'll get results that will last for a longtime to come.
The bottom line is this diet is affordable and you get a lot of value for your money. The food tastes good, the instructions for the diet are not hard to follow.
As long as you put the effort into following the program, you should have no problems losing weight. Best of all, the meals are delivered straight to your door, so there's no need to go shopping for diet food.
Where to Buy Medifast:
Learn more and check current Medifast prices.
Resources
Find Your Plan, Medifast. Retrieved from https://www.medifast1.com/get-started-now/find-your-plan
Medifast Reviews, Consumer Affairs. Retrieved from https://www.consumeraffairs.com/nutrition/medifast.html
Medifast Scientific Advisory Board: Building on our scientific heritage, Medifast Centers. Retrieved from http://www.medifastcenters.com/ourApproach/scientificAdvisoryBoard.asp
Medifast Clinical Studies Overview, Medifast Media. Retrieved from http://www.medifastmedia.com/phys/docs/clinical_studies_document.pdf
Eric Metcalf, MPH, The Medifast Diet, Everyday Health. Retrieved from https://www.everydayhealth.com/diet-nutrition/medifast-diet.aspx
Maliea Frey, Medifast Weight Loss Plan Review, Verywell Fit. Retrieved from https://www.verywellfit.com/medifast-weight-loss-plan-review-3495209