What is the Mayo Clinic Diet?
The Mayo Clinic Diet is a program based around some pretty common health principles: Eat healthy foods, exercise daily, and you should have a good shot at maintaining a healthy weight. If you're overweight, the Mayo Clinic Diet protocol, should even help you drop a few pounds.
The "real" Mayo Clinic Diet was actually released, as an alternative to a fad diet that was making the rounds, claiming to be from the well-known health clinic based in Minnesota. It was also known at the Grapefruit Diet, but it turns out it has nothing to do with the actual clinic. That means, it's a plan that most people will want to avoid [1]
In response to this, a team at the Mayo Clinic authored a diet that is actually healthy, and is far from being a fad. They make this possible through a plan that's based on a healthy eating pyramid that they developed, that shows you an approximate percentage of the types of foods you should be eating each day [2].
The diet is available as a book [3], or they have an online version available as well.
No matter which of the Mayo Clinic Diet options you choose, both are authored by real health professionals, are based on scientific research, and can serve as a path forward to maintaining a healthy weight for life [4].
How Does Mayo Clinic Diet Work?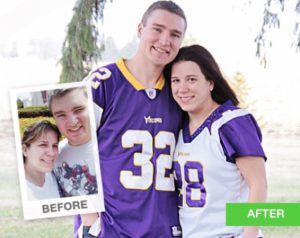 Phase 1: Lose it! (Mayo Clinic 2 Week Jumpstart
Phase 2: Live it!
As their names probably suggest, you're going to be working to reach your weight loss goals during Phase 1 of the 2-week jumpstart program..
When you hit Phase 2, you should be ready to start living the Mayo Clinic Diet way of life. That means eating healthy, getting some exercise each day, and hopefully keeping the weight off for good [5].
It's important to note: Results are going to very for everyone who tries the diet. While the diet can teach you the principles for long-term weight management, it will be up to you to commit to the program, and to make healthy lifestyle choices moving forward.
That said, one thing that reviewers like about the Mayo Clinic Diet is that it gives you a road map for losing weight, but more importantly, they teach you how to live a healthier life, so you have the best chance at maintaining your weight loss.
Here's a look at what you can expect from each Mayo Clinic Diet phase:
Mayo Clinic Diet 2-Week Jumpstart: Phase 1 – Lose it!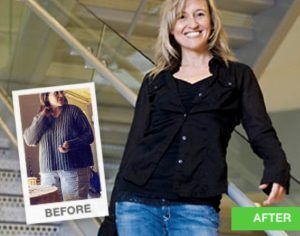 Phase 1 only lasts two weeks, but it's one of the most important times of the Mayo Clinic Diet, as you're going to be prepping your body for steady, healthy weight loss.
Results are going to be different for everyone, but you can expect to lose a decent amount of weight during these first couple of weeks.
Folks with the most weight to lose can probably expect to drop more pounds during Phase 1.
Here's How the 2 Week Jumpstart (Phase 1) Works
Designed to Help Jump-Start Your Weight Loss
Learn the Healthy Habits You Need to Reach Your Weight Loss Goals
Pinpoint the Bad Habits That Made You Gain Weight in the First Place
Learn How to Make Healthy Meals and Snacks
Learn How Much Exercise You Need to Maintain a Healthy Weight
Phase 2: Live it!
Once Phase, or the Mayo Clinic Diet 2-Week Jumpstart ends, you should be on your way to steady and healthy weight loss. You will have learned all of the tools you need to continue on until you reach your weight loss goals.
Plus, you will now be ready to keep the weight off for good, through a combination of healthy eating, which is super important, in my book!
What is the point of doing a diet, if you're aren't learning the right tools for long-term health and weight loss?
If the plan isn't teaching you those tools, then it's just another fad diet, which is something to avoid, in my opinion.
Healthy Eating Pyramid
This is the foundation to the entire Mayo Clinic Diet. Their Healthy Eating Pyramid [6] is a simple-to-follow visual aid that shows you the types of foods you should be eating, and in what amounts each day.
Follow this, you and you should always have a roadmap for healthy eating.
Here's what it looks like: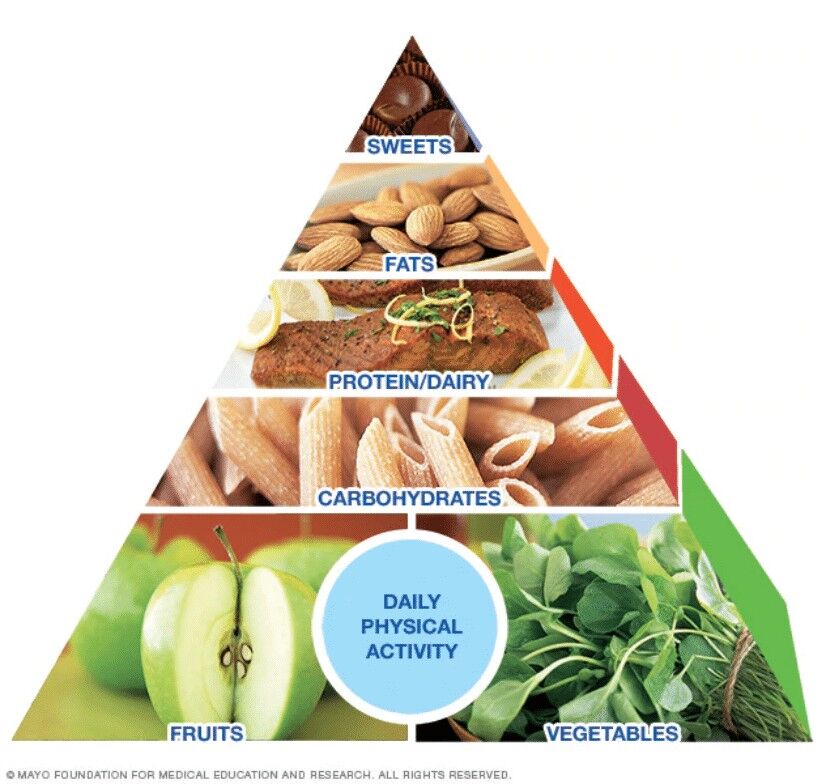 As you can see, your diet should focus around plenty of healthy foods and vegetables, with more limited amounts of carbs, proteins, fats, and very little sugar or sweets.
They also include daily physical activity in the pyramid, as a nice reminder to get moving.
How Much Weight Can You Lose?
The Mayo Clinic says that people who follow the program correctly may be able to lose up to 6 to 10 pounds during these first two weeks. Most importantly, you're going to be dropping pounds in a way that has been proven to be safe and healthy. No fads or gimmicks here!
After that, they say people should continue losing 1 to 2 pounds every week, until they've reached their weight loss goals.
Pros and Cons
When it comes time to decide if Mayo Clinic Diet is the right weight loss program for you, you'll want to weigh the pros and cons closely.
In my opinion, there aren't too many cons and there are a lot of pros, so the decision should be pretty easy…
Pros
Comes from One of the Most Well-Respected Health Institutions in the World
Easy to Follow
A Plan You Can Follow for Life
Gives You a Plan for Exercise Too
Huge Database of Healthy Recipes
Free Fitness and Food Trackers
Fast Weight Loss Results: 6-10 pounds in first two weeks
Super Affordable: Just $4 per Week!
Cons
Requires a commitment to healthy living on your part
Not as convenient as a meal delivery diet
Need to be comfortable making your own meals and snacks
Have to do your own grocery shopping
Mayo Clinic Diet Cost: How Much per Month?
When you join the Mayo Clinic Diet program, expect to pay $4.00 per week. After that, it costs approximately $52.00 to enroll in their full 13-week program, which pencils out to about $16.00 per month.
This gives you complete access to everything the program offers, including:
Phase 1 & Phase 2 Weight Loss Guide
Mayo Clinic Diet App
Food and Fitness Journal
100s of Easy-to-Make Healthy Recipes
Fitness and Exercise Plans
Weight Loss and Inches Tracker
Check latest Mayo Clinic prices here.
Mayo Clinic Diet vs. Noom vs. Weight Watchers
Mayo Clinic isn't always the right fit for everyone [7], so you may be interested in learning about some similar programs, that are also highly-rated for weight loss.
Here are a few other programs for you to consider if you don't feel that Mayo Clinic Diet is right for you:
Noom
Noom is also based on years of research, and is a program with a focus on changing behaviors. For the most part, that means identifying your bad behaviors, and replacing them with healthier ones.
Here's how it compares:
How it Works: Noom is a diet app that pairs you with a coach. This makes it different from Mayo Clinic Diet, as they don't offer coaching.
Foods: Noom also focuses on a healthy eating plan, with recipes and guides users can access from the app.
Price: Noom is more expensive than Mayo Clinic Diet, but it does feature one-on-one coaching, and a community you can connect with. Mayo Clinic Diet doesn't have either of these features.
WW (Weight Watchers)
Weight Watchers is another very popular diet app, the works more like Noom than it does Mayo Clinic Diet. It also has a focus on your overall health, however, so it's a decent alternative to Mayo Clinic Diet as well.
How it Works: WW has an app-based program, and it mostly is used for their points system that tracks food and exercise. The aim is to teach you healthy habits you can use for life. Unlike Mayo Clinic Diet, they offer 1-to-1 coaching, and in-person meetings as plan options.
Foods: On WW there isn't a food you "can't" eat, but everything is assigned a point total. You only get a certain number of points per day, so you're trained to eat foods that are worth less points. That means opting for healthier items, instead of junk food.
Price: WW is cheaper than Mayo Clinic Diet, as they have plans that start at less than $3 per day.
Review Summary: Where to Buy
The real Mayo Clinic Diet is a plan based around healthy eating, exercise, and making positive changes that you can use for life. For those who commit to the program, it can be a proven way to lose weight.
It was created by the world-class health clinic, and is supported by research and science.
While results will vary for everyone, it's one healthy option for losing weight.
Learn More About Mayo Clinic Diet: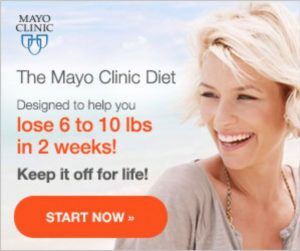 Resources
Christine Mugnolo, What You Should Know About the Unofficial Mayo Clinic Grapefruit Diet, Live Strong. Retrieved from https://www.livestrong.com/article/520049-the-unofficial-mayo-clinic-grapefruit-diet-plan/
Mayo Clinic Diet Staff, The Mayo Clinic Diet: A weight-loss program for life, Mayo Clinic. Retrieved from https://www.mayoclinic.org/mayo-clinic-diet/art-20045460/in-depth/art-20045460
The Mayo Clinic Diet: Eat well. Enjoy Life. Lose weight. Amazon. Retrieved at https://www.amazon.com/Mayo-Clinic-Diet-well-weight/dp/1561487775
The Experts Behind the Mayo Clinic Diet, retrieved at https://diet.mayoclinic.org/diet/the-experts
Kathleen M. Zelman, MPH, RD, LD, The Mayo Clinic Diet, WebMD. Retrieved from https://www.webmd.com/diet/features/the-mayo-clinic-diet#1
Mayo Clinic Healthy Weight Pyramid: A guide for healthy eating. BCBRSI. Retrieved at https://www.bcbsri.com/BCBSRIWeb/images/pdfs/fn14_hwp.pdf
Jamie Ducharme, A Study on Twins Offers Proof That We All Need Personalized Diets, TIME. Retrieved from https://time.com/5600706/personalized-diets-study/