Jessie James is a 28-year-old country singer and is heralded for her work in the music industry [1]. As she continues to build her successful career, Jessie has also taken the opportunity to shed a bit of fat that was accumulating after pregnancy.
She wanted to look fit again and this was alongside running her successful businesses and musical career.
While looking for the right answer, she realized it was time to consider a comprehensive diet change. This is when she came across the South Beach Diet and felt it was the right diet plan for her needs [2].
She was looking to spend time with her husband Eric Decker while making sure to build a thriving charity foundation at the same time.
It was going to be a lot of work, but she knew the South Beach Diet was the way to go.
What is the South Beach Diet?
Before looking at Jessie's experience, it's important to think about what the South Beach Diet has to offer and how it works (read our review of South Beach Diet to learn more).
3 Phases
The South Beach diet is split across three phases [2]. The first phase demands cutting out specific foods such as alcohol, bread, potatoes, rice, baked goods, fruit, and pasta to name a few.
Once these carbs are removed, it's time to move onto phase two and gradually introduce them back into the routine slowly. This ensures the body has enough fuel to keep going and weight loss results continue to appear.
The final phase of this diet is when the carbs are fully introduced through healthy foods as the body becomes slimmer.
This was the diet Jessie started following as she put together a complete diet plan for her needs.
Jessie's Results with South Beach Diet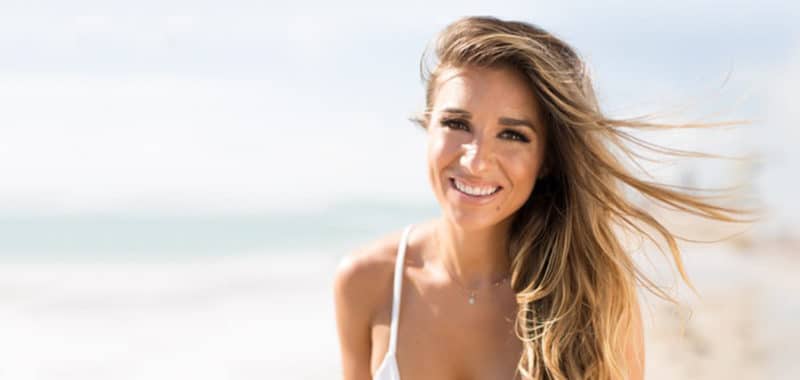 Jessie says sh knew she was going to be busy considering the amount of work she does throughout the week. This meant she needed something easy to follow, efficient, and in line with her sleeping routine.
This was the only way to make sure her health was a top priority and she wasn't taking shortcuts in a bid to lose weight.
This is when she realized the value of the South Beach Diet and what it has to offer.
She was able to get through the various phases and put them together into a personalized healthy diet plan. It was all about creating something that was going to add value to her life and remain ideal for her nutritional requirements too.
The South Beach DIet was able to win her over in this regard [3].
As she was going through with the diet, she noticed a change in how she felt. Her energy levels were starting to go through the roof and she was feeling on top of the world. This alone made her want to persist with the diet plan and make it a big part of her routine.
As the days went by, she realized it was having a profound impact on her overall health and well-being. She was becoming slimmer and it wasn't taking away from her ability to function while managing her businesses.
She was hooked onto the program and even took the opportunity to put together a list of reasons for why she loved it.
Ready to see what South Beach can do for you?
Why She Recommends the Diet
1. Simple to Follow

She says the main reason she loved the South Beach Diet had to do with how easy it was to follow.
She didn't want to complicate things because she needed a solution that was a good part of her life and not something that was adding stress. This was why the diet plan won her over as soon as she took a look at how the diet works.
She felt it was a great way to pursue healthy eating.
The South Beach Diet is often renowned for being great as it doesn't require a person to count calories throughout the day. It's all about eating the right foods and being reasonable with the portions. When the portions are good, the nutrients and calories end up working out too.
This is what Jessie followed too.
She was able to put together a wide array of recipes based on what she liked and disliked. This made it easier for her to power through the phases without feeling lost or fatigued. She was able to get more and more out of the diet as the days went by and that's what made her want to complete the diet plan.
2. Efficient
She listed efficiency as one of the big reasons for her enjoying the South Beach Diet. She felt the foods were in line with what she wanted and they were being delivered to her front door.
She didn't have time to go through the recipes and that's what made this such a winning option in her mind.
The South Beach Diet is all about offering high-value South Beach meals consistently. Members can have these wonderful foods delivered straight to their house as they go through the weight loss program.
This is what makes the diet plan such an intriguing fit for those who want a great solution.
She was able to pick through a multitude of options and that's something she enjoyed. She always had a healthy snack in her hand ensuring she wasn't starving herself throughout the process. Even when she was in the car, Jessie was able to take out a snack and munch away.
3. Tasty
Jessie stated it was incredibly tasty and that was something she cared about. She didn't want to push through something that was horrible to taste and didn't work with her preferences.
In this regard, she was getting more out of the diet and it was healthy at the same time. This included her favorite meals such as Garlic Ginger Beef and Caribbean Inspired Chicken.
For Jessie, the food was spectacular and it was one of the reasons she wanted to continue with the diet plan as her schedule got busier.
4. Steady Weight Loss
She was used to seeing people mention quick fixes and she didn't like those ideas. They didn't match what she wanted. She liked seeing gradual progress and feeling good about what was going into her body daily. She didn't want to take risks and this was a structured way to handle her dietary needs.
In the past, Jessie would eat sugar all the time and it was getting in the way of her weight loss needs. By cutting those foods out, she was already seeing amazing results even while going down this slower path.
The South Beach Diet was something that allowed her to adjust along the way.
She was able to take advantage of different recipes, enjoy good foods, and see the weight slip away as soon as she wanted it to.
This alone made it enjoyable and something she was able to fall in love with. She was starting to see the value of high-quality recipes and what they stood for.
Jessie James Decker South Beach Diet Commercial
Here's Jessie's latest commercial for South Beach Diet:
South Beach Diet Promo Code
If you're looking for the Jessie James Decker promo code for the South Beach Diet, it turns out they aren't currently offering one.
That doesn't mean you can't save on their plans – in fact, in most cases you don't need a promo code to lock in there latest savings.
At last check they were offering a 40% discount, but that's subject to change.
Learn more and check current South Beach Diet prices.
Summary
In the end, Jessie says her main goal was to lose weight and that is exactly what transpired. She saw tremendous results and the weight went away at the speed she wanted it to.
She ended up looking better than she ever had and feeling great at the same time.
The habits that were instilled in her throughout the three phases is what made the diet unique.
It was something she will carry on for years to come because the results are easy to manage and they work in unison with your schedule.
Jessie plans to continue with the diet plan because it works brilliantly.
If you think South Beach Diet may be your ticket to weight loss success, like it was for Jessie, it's worth considering.
It's important to remember that your results may be different than Jessie's, and it's not always going to be the right diet for everyone.
That said, if South Beach Diet sounds like it could be a good fit for you, you can learn more about it below:
---
Resources
Jessie James Decker, Retrieved from https://jessiejamesdecker.com
South Beach Diet: What to Know, U.S. News & World Report. Retrieved from https://health.usnews.com/best-diet/south-beach-diet
Korin Miller, 'The fastest I have ever lost weight': Jessie James Decker shares diet that gave her major results, quick, Yahoo Lifestyle. Retrieved from https://www.yahoo.com/lifestyle/jessie-james-deckers-post-baby-diet-secret-fastest-ever-lost-weight-190234128.html
Jessie James Decker's Weight Loss, South Beach Diet. Retrieved from https://www.southbeachdiet.com/jessie-james-decker/index.jsp