What is Jenny Craig Rapid Results?
Jenny Craig is a diet delivery program, that pairs customers with a weight loss coach. They say their program is so effective because the combination of coaching and calorie controlled meals offers a proven recipe for success [1].
As one of the best-selling diets in the world, it has developed a long track-record of successfully helping people reach their weight loss goals.
On top of the one-to-one coaching, they also offer in-person meetings, at Jenny Craig Weight Loss Centers. Enrollment in this service, depends on whether or not they have a center in your town, but it's another perk that makes this diet one worth considering.
All of these features make Jenny Craig a top choice for many people, but is it the right option for you? Let's find out…
What a Doctor Says About Jenny Craig: Many people swear by this diet, and there is research to show that it works. The good news is also that from a nutrition standpoint, it meets most of the U.S. Department of Agriculture's Dietary Guidelines for Americans. -Dr. Hansa Bhargava [2]
How it All Started
While Jenny Craig happens to be one of the best-selling diets in America, it actually started in Australia back in 1983. That means they've been helping people lose weight for almost 40 years.
It was founded by Sydney and Jenny Craig, who not long after founding their diet company, had established 46 weight loss centers in the United States.
Now they have centers located around the world, and have helped millions of customers lose weight.
Their proven combination of weight loss coaching and eating small, calorie-controlled meals, has been a big hit with customers. In addition to their frozen meals, you will also eat a selection of fresh produce with most meals, as well as other low-calorie snacks.
How Does it Work?

A lot has changed with Jenny Craig since the 80s, but the principles of the program largely remain the same for both men and women. Eat portion controlled meals, get moderate exercise, and work with your weight loss consultant to reach your goals.
When following their diet, you'll eat 6 times throughout the day. This includes meals, snacks, and shakes that Jenny Craig provides, along with fresh produce and low-fat dairy with your meals. This means you'll be eating every 2-3 hours.
With their new Rapid Results program, your eating schedule takes place during a 12 hour window. Their latest research is based on your body's circadian rhythm, so you eat when you body is most likely to burn the most calories, and refrain from eating when in it's in "rest" mode. For most, this means eating only between the hours of 7 am to 7 pm.
What Jenny Craig Says About Rapid Results: The latest nutritional research proves what you eat AND when you eat both contribute to weight loss. We created Rapid Results based on this revolutionary research. With Rapid Results we provide you with a plan that takes maximum advantage of your body's natural fat-burning ability, so you lose weight faster, plus our consultants have completed new comprehensive training to deliver excellent weight loss guidance for results [3].
When you sign up, you'll work with your coach to pick the best menu for you. At last check, they had more than 100 meals and snacks to pick from. These can easily be ordered from JennyCraig.com, or you can pick up the food at a local center.
Plan on connecting with your Jenny Craig consultant weekly, or as needed as issues may arise. This can come in the form of a phone call, or online chat. If there's a center in your area, you may also want to attend in-person meetings.
The instructors and coaches provided by Jenny Craig aren't always certified nutritionists or diet experts, but they've been trained to be a valuable resource on your weight loss journey.
Your daily calorie intake will be determined after you fill out your online Jenny Craig profile. Your consultant can help with his part too. They'll determine how many calories you should eat to lose weight after calculating your weight loss calorie level [4].
For most, the caloric range will be somewhere between 1,200 and 2,000 calories, but remember it will be different for everyone, based on their individual profile.
What You Can and Can't Eat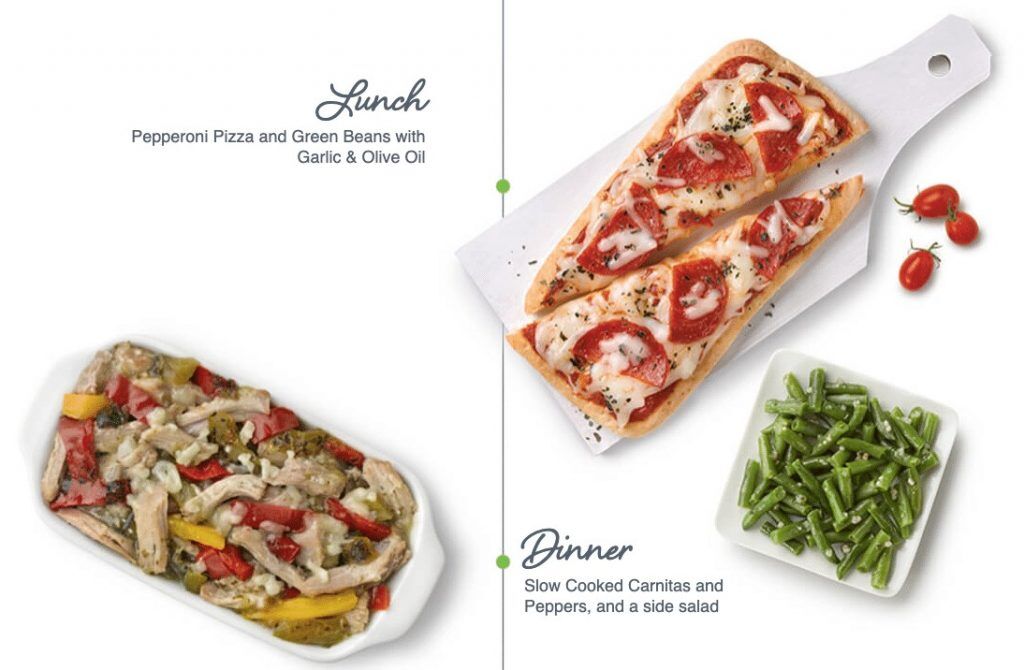 One thing that people like about diets like Jenny Craig, is that you really don't have to worry about what you can and can't eat too much. As long as you stick to their plan, and eat the food they provide you, then you should be able to lose weight successfully.
For the most part you'll be eating Jenny Craig provide food for the majority of your meals. That includes breakfast, lunch, dinner, snacks, and even dessert.
In addition to that, you're expected to do a small amount of grocery shopping for things like fresh vegetables, some fruit, and other healthy snack items. These groceries will be used mostly for side dishes to eat alongside your Jenny Craig meals.
Eat This
Jenny Craig Meals, Snacks, Shakes
Approved Condiments
Vegetables
Fruit
Some dairy
Don't Eat
Fast food
Anything that isn't Jenny Craig approved
Questions? Consult with your coach, they'll have the answers
Because most of the Jenny Craig meals come to you frozen, you'll want to make sure you have plenty of freezer space for everything. This also means you'll need a microwave to heat your food.
Most of the snacks and shakes won't need to be frozen or refrigerated, so just make sure you have adequate pantry space for these items.
Eating portion-controlled meals, like the ones Jenny Craig provides, can often leave people feeling hungry. That's why they suggest also eating plenty of vegetables, and some fruit with every meal. This healthy fiber can help keep you feeling fuller longer [5], and is also an essential part of keeping your digestion running smoothly.
An example can be something as simple as some sliced carrots and cucumbers with your lunch, or a chopped salad with your Jenny Craig dinner.
Fruit can be a great addition to their breakfast offerings.
Eating Schedule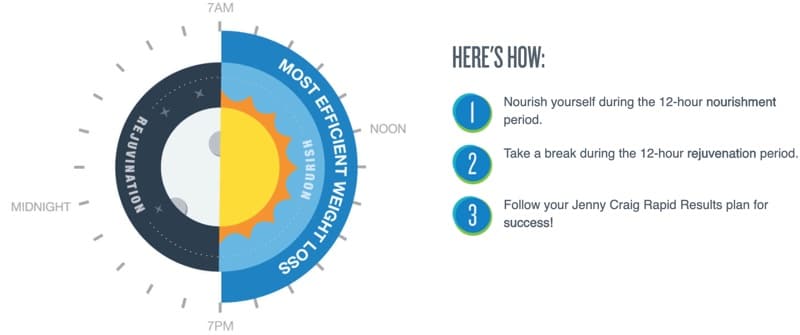 You'll eat 6 times per day on the Jenny Craig diet, or once ever 2-3 hours. With their new Rapid Results plan, they recommend that you follow a "daylight" eating schedule, to follow your circadian rhythm [6].
This means, you should plan on completing your eating schedule between the hours of 7 am and 7 pm for the best results.
Pros and Cons
When it comes to weight loss, individual preferences are going to be different from person to person. So while Jenny Craig may work great for one person, it may not always be the best option for the next.
Here are some of the pros and cons to consider:
Cons
More Expensive than Other Meal Delivery Diets
Frozen Diet Food isn't for everyone
Need freezer space
Not compliant with some food allergies
Jenny Craig isn't always the best diet for everyone for a variety of possible reasons. For some, a delivery program may not work with their schedule, or because they have a family. If you have a spouse or children, it can be a harder program to follow, unless they're doing the diet with you.
The price is also somewhat expensive. Jenny Craig comes out to be about $24 per day, while other similar diets, like Nutrisystem, are closer to $8.50 per day (see how they compare here)
Another knock? The frozen meals means that you're eating a lot of processed foods. This can be a negative for some people, but remember, this isn't a diet you have to be on forever. You'll hopefully use it to learn new, healthy habits, and then eventually make your own healthy meals, that don't have to be as processed.
Pros
Fast Weight Loss – Lose up to 16 LBS in First Month
Diet support – Your Jenny Craig Consultant is there with you Every Step of the Way
Easy to follow – Just Eat the Food, Follow the Plan, and Lose Weight!
Food tastes good – Meals and Snacks Designed by Chefs
Convenient – Meal Delivery Makes Weight Loss Easier
While we mentioned above that delivery food isn't always the best option for everyone, it works great for a lot of other people. It's convenient, takes a lot of the guess work out of weight loss, and offers a plan that's simple to follow.
On top of the foods, the coaching is another huge pro of the Jenny Craig Diet. This can be a huge benefit for people who have trouble sticking to a plan, or just need someone they can go to for support and to stay on track.
For the most part, we'd rate the Jenny Craig food as high-quality. Based on our own personal experience, and what we've read online, they offer some of the better diet food out there.
What Jenny Craig Customers have to say? This is my first time doing Jenny Craig and I love it. 6 weeks and I'm down almost 25 pounds. I love the food and the counselors are nice, down to earth women. I couldn't lose weight to save my life. After a few weeks I would usually come off and gorge. I don't feel deprived at all. I really love the food and daily desserts. -Ruby a Verified Reviewer from Southfield, MI [7]
How Does it Compare to Other Diets?
There are several other meal delivery options for you to consider, if Jenny Craig doesn't look like the right program for you, for whatever reason.
For some, the price may be too high, and for others the coaching or meetings aspects may not be something they need to be successful.
Whatever that reason, here are some of their top competitors for you to consider:
South Beach Diet
Key Details: Low-carb meals and snacks. Eat 6 times per day. Can be purchased online (see how they compare)
Price: Cheaper than Jenny Craig, but doesn't have the coaching. Starts at around $10 per day.
Food: Menu is more internationally-inspired. 100+ menu items. Keto-friendly options.
Nutrisystem
Key Details: Very similar to Jenny Craig. Eat 6 meals per day. Phone support available. Purchase online or in stores (Jenny Craig vs. Nutrisystem).
Price: Cheapest meal delivery available. Starts at about $9 per day.
Food: Biggest diet menu available. American-style dishes. 160+ menu items.
Medifast
Key Details: Similar program to Jenny Craig, but without the coaching. Purchase online.
Price: Less expensive, at about $10 per day.
Menu: Similar menu and options as Jenny Craig. 60+ items to choose from.
Diet Review Summary: Where to Buy

Jenny Craig is a great weight loss program, with a plan and system that has been proven to help people reach their weight loss goals in a way that's fast, safe, and healthy.
On top of that, their one-on-one coaching is their support you every step of the way.
Where to Buy Jenny Crag:
Ready to start your Jenny Craig weight loss journey?
Learn more and check latest Jenny Craig prices
---
Resources
Amanda MacMillan, The Surprisingly Effective Way to Lose Weight, Time. Retrieved from https://time.com/4651641/telephone-weight-loss-coaching/
Jeannette Moninger, Jenny Craig, WebMD. Retrieved from https://www.webmd.com/diet/a-z/jenny-craig-diet
Jenny Craig Rapid Results. Retrieved from https://www.jennycraig.com/rapid-results
Sarah S, Understanding the Calorie Balance, Healthy Habits a Jenny Craig Blog. Retrieved from https://community.jennycraig.com/healthy-habits-blog/eat-well/understanding-calorie-balance/
Why Fiber is So Good for You, UCSF Benioff Children's Hospital. Retrieved from https://www.ucsfbenioffchildrens.org/education/why_fiber_is_so_good_for_you/
Circadian Rhythm, Science Daily. Retrieved from https://www.sciencedaily.com/terms/circadian_rhythm.htm
Jenny Craig Reviews, Consumer Affairs. Retrieved from https://www.consumeraffairs.com/nutrition/jenny_craig.html