Jenny Craig is one of the most well-known diets in the world, and while it has helped millions of people lose weight over the years, it's not always the right choice for everyone.
If you're looking for a diet program that's different from Jenny Craig, but still produces some awesome weight loss results, then you'll want to keep reading to our top-rated alternatives for this year.
Below, we'll detail some diet options, that each offer something different than Jenny Craig. Since Jenny Craig is a meal delivery service, we'll be including some other great delivery options, while also including a program that is a totally different approach to dieting.
Either way, you should be able to find a diet program that is going to help you reach your weight loss goals this year!
Our Top 3 Jenny Craig Competitors
Before we dive in, here our Top 3 Jenny Craig Alternatives this year:
Nutrisystem
South Beach Diet
Noom
Ready to find the diet program for you? Let's get started…
1. Nutrisystem
Nutrisystem (head here for our review) is the best selling diet delivery program in the world for reason – it works! They've been leading the way in the meal delivery diet space for decades now, and during that time they have helped millions of people lose weight.
If you're looking for the best alternative to Jenny Craig, then we recommend starting with Nutrisystem.
Here are just a few of the factors that push Nutrisystem to the top of our list:
Why We Recommend Nutrisystem
More Affordable

: Nutrisystem's food is about half the price of Jenny Craig's
Huge Menu Variety: 160+ Menu Items to Pick From
Specialty Plans: Options for Vegetarians and Diabetics
Fast and Safe Weight Loss: Lose up to 13 LBS in Month 1 (18 LBS for Guys)!
Counseling Available: Connect with a weight loss coach to stay on track
Tested it Personally, and Loved My Results
How it Works
With Nutrisystem, weight loss is made simple. The process to reaching your weight loss goals is easier than ever:
Pick Your Plan: 4 Options to Choose
Eat 6 Small Meals per Day, Mixin in Fresh Fruits and Veggies
Enjoy Healthy Flex Meals Throughout the Week
Follow the Program and Lose 1 to 2 pounds every week
It's seriously as easy as that, which is one of the reasons I love Nutrisystem.
You basically just sign up, eat the food, follow their program, and you should be on your way to reaching your weight loss goals in a way that's both safe and healthy.
How Do You Sign Up?
Ready to put Nutrisystem to work for you? Signing up is quick and easy!
Plus, right now DadQuarters has some awesome Nutrisystem deals to share with our readers.
2. South Beach Diet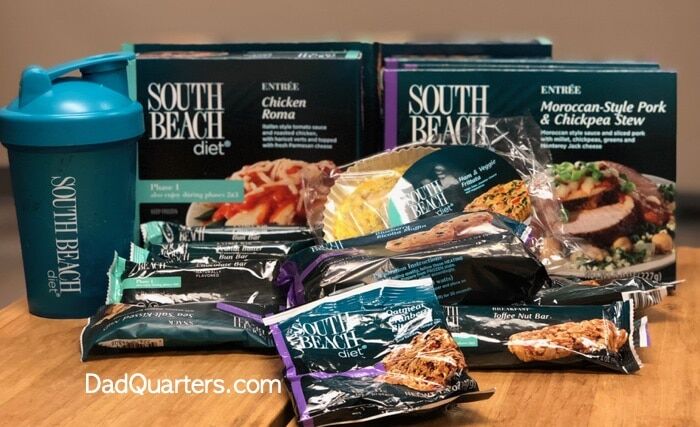 South Beach Diet (my review) is another awesome meal delivery program, that is producing some impressive weight loss results for those who follow it.
It's very similar to Nutrisystem, with the biggest difference probably being the style of food. There's a lot to love about South Beach Diet, which is why it's ranked number 2 on our list.
Why We Recommend South Beach Diet
Low Carb Weight Loss Plans: If you like the low carb lifestyle, SBD is worth checking out!
Fast Weight Loss: Drop up to 7 pounds in your first week
Keto-Friendly Options: A nice selection of keto-friendly meals and shakes
Easy to Follow and Convenient
Cheaper than Jenny Craig
How it Works
South Beach Diet works in a way that's very similar to Nutrisytem. You're going to be eating 6 small meals per day, while also mixing in some fresh produce.
It rolls out in 3 key phase, with the first phase being the most strict.
During Phase 1, most folks can expect to see the most weight loss in the shortest amount of time. During Phase 2, dieters can expect to lose an average of 1 to 2 pounds per week.
By the time you hit Phase 3, you're ready for life after South Beach. If you're serious about keeping the weight off, you will want to continue following their healthy eating and lifestyle, but you should be ready to make meals on your own, and make smart choices when dining out.
How Do You Sign Up?
Right now the official South Beach Diet website is the only place you sign up for their full program. DadQuarters.com has some awesome deals to pass along, though…
CLICK HERE to Activate a 40% South Beach Diet Discount
3. Noom

Rounding out our Top 3 list is one of the hottest diets in the world right now: Noom (learn more about it here). With Noom, we're moving beyond the world of meal delivery diets, to give you an option that works totally differently.
With Noom, you'll enjoy a personalized approach to weight loss, that teaches you how to develop good habits, shows you how to make healthy meals and lifestyle choices, and connect you with your very own weight loss coach.
Noom's the perfect choice for those who don't want to use a meal delivery diet, but do want a program that has been proven to help people reach their weight loss goals.
Why We Recommend Noom
There a bunch of reasons to love of Noom, but here are just a few of the reasons that we're happy to recommend it:
Personalized Weight Loss: They develop a plan for you based on your personal information
One-on-One Weight Loss Support: Full access to weight loss coach
Revolutionary Diet App: Noom uses modern-day technology to help you lose weight
Community of Support: Connect with other Noom members for support, tips, and just to chat
Backed by Science
Affordable: Get started for less than $50 per month
How Does it Work?
Everything with the Noom diet runs through their app. This is where you'll get recipes, track your food and exercise, connect with your Noom community, and with your weight loss coach.
It's easy to follow, uses the latest in technology, gives you all of the tools you need to reach your weight loss goals.
How Do You Sign Up?
Ready to put Noom to the test? Signing up is super easy, and right now is a great time to join.
In fact, you can currently try Noom risk-free for 14 days, which gives you a chance to see how it works and decide if you like it before committing to the full program.
Learn More & Activate Best Noom Deals
Competitor Summary: Our Top Pick?
Above, we've shared three great alternatives to the Jenny Craig Diet plan. Each one brings something different to the table, but all offer a proven way to reach your weight loss goals.
Whether you're looking for a meal delivery diet, or something completely different, we've got you covered.
That said, we're here to pick the best alternative to Jenny Craig, for us that answer is simple: Nutrisystem's our top pick.
There are a number of reasons that we prefer Nutrisystem, including:
Larger Menu
Easy to Follow
Variety of Specialty Plans
Proven Results
More Affordable
Ready to reach your weight loss goals?
Resources