What is Diet to Go?
Diet to Go is a diet delivery program, that delivers frozen weight loss meals to you each week [1]. Their meals are portion-controlled to help customers lose weight. The idea is, eat their foods, follow their program, and most people should expect to lose weight.
There's evidence to support that their meals do work for weight loss, and in addition to that, they're one of the highest rated diet delivery programs in terms of food quality and taste.
Unlike some other services that rely on a lot of processed foods in their diet meals, Diet to Go focuses on whole foods, with most meals consisting of a protein source and vegetables.
They currently have several menus to pick from, including:
Balance
Balance-Diabetes
Keto-Carb30
Vegetarian
The meals can work great in the short-term for weight loss, as the calorie controlled meal plan is very likely to encourage weight loss. It can be hard to keep the weight off, however, unless you continue to maintain a healthy eating plan.
History of the Program
Diet to Go's beginnings can be traced back to 1991 [2], when founder Hilton Davis first launched the program in Lorton, Virginia. They were one of the first services to offer a full meal delivery program, and since their early days they have maintained a philosophy of providing nutritionally-balanced meals for their customers.
Now days, all of their meals are prepared in one of their USDA-Certified kitchens [3], and they continue to provide their clients with meals and snacks that are "fresh, delicious, and low-calorie."
While their core mission remains the same, they have expanded over the years to offer a variety of different menus designed to meet the needs of a variety of different dietary issues. These include meal plans geared for people with type 2 diabetes, vegetarians, and low-carb options.
How Does it Work?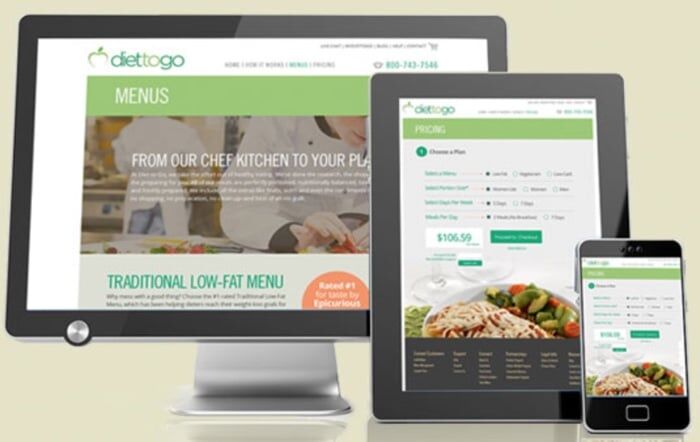 The philosophy behind Diet to Go is fairly simple: The customer signs up, they pick the plan that fits their dietary needs and budget, and Diet to Go does the rest.
They send you the food you need to eat for weight loss. Follow the plan, and most people should expect to lose some weight based on the calorie intake provided by the Diet to Go plan.
The total calories vary depending on the plan, but for the most part, men can expect a meal plan that provides up to 1,600 total calories per day, with the women's plan serving up 1,200 calories per day [4].
For the most part, all of the foods are made from real, whole food and ingredients. The exception may be some of the condiments that you might want to use, if you choose to do so.
They have a couple of different options when signing up. These options include picking from a 5 or 7 days per week meal plan, and you will also have to decide how many of your daily meals you want Diet to Go to provide. They currently offer options for 2 meals per day (no breakfast), or 3 meals per day.
Foods to Eat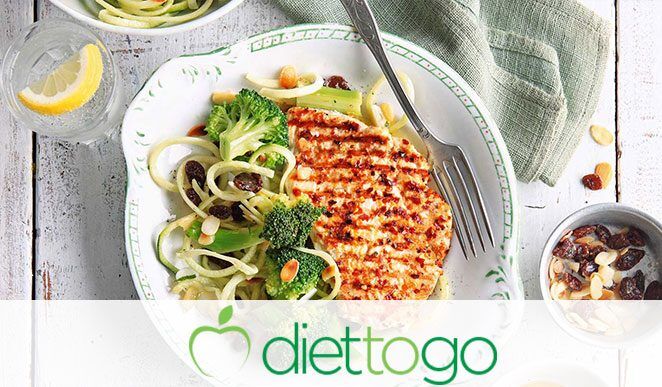 When you are enrolled in the Diet to Go delivery service, you'll mostly be eating the meals that they send. There will be times when you make your own meals, however, especially if you opt for the 5-day plan, or only the 2-meal option.
When you're not eating the Diet to Go food, you'll want to continue to focus on clean, healthy eating, if your goal is to lose weight. As long as you're staying within your designated daily calorie count, you should stay on track with your weight loss.
They have meal ideas and recipes via their membership portal on the website, or you can use the app to find these resources as well.
The foods van also vary, depending on the plan you pick. If you opt for their keto plan, then your meals will consist of about 30 daily net carbs. The vegetarian menu won't feature any meat offerings, and the diabetic foods are designed to keep your blood sugar from spiking, by using ingredients that are lower on the glycemic index [5].
Sample Daily Menu
The menu will change depending your plan, but here's a small 3-day sampling from their Balanced Menu:
Monday: Western Omelet, Andouille Sausage, Cumin Salmon
Tuesday: Vegetable Quiche, Boston Cod, Chicken Parmesan
Wednesday: Pork Chop, Baked Turkey Cutlet, Turkey Steak
Pros & Cons
What do doctors say about whole foods like those used in Diet to Go and weight loss?
In general, the less processed a food is, the slower it takes to digest, and the longer it keeps you feeling satisfied and full [6].

-David Ludwig, MD, author of Ending the Food Fight [6]
Cons
Real results require real commitment
Diet food isn't for everyone
A bit more expensive than other meal delivery diets
Hard to maintain weight loss once you stop controlling calories at every meal
Cost can be prohibitive
Pros
Some of the best tasting diet food we've tried
Variety of plan options: Diabetes, Keto, Vegetarian
They say it's Safe and Healthy Weight Loss
Support Available from Dietitians
Cuts down on grocery shopping
No counting points, or doing weigh-ins
Very little meal prep
Endorsed by leading health institutes, and food made in USDA approved facilities.
Utilize real, whole foods. Very little processed ingredients, like a lot of other meal delivery diets
Diet to Go Cost: How Much per Month?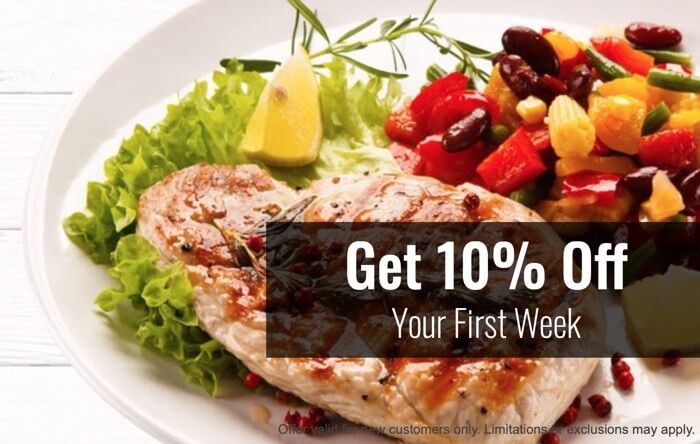 Diet to Go starts at $121.99 per week, which pencils out be about $12.20 a meal [7]. Keep in mind, these prices are for the 5-days per week plan, and only 2 meals per day.
If you opt for their full service plan, which includes 3 meals per day, 7 days per week, it can bring the total cost down quite a bit. With this option selected, their prices are listed at $179.99 per week, or $8.57 per meal.
Ultimately, you'll have to decide which option you can afford, and which how many meals per week you want Diet to Go to provide.
Learn more about the other plans and check current Diet to Go prices.
How Does Diet to Go Compare to Similar Services?
Because Diet to Go can be on the more expensive side, you may find yourself looking for an alternative program. There are lots of diet delivery services out there [8], so if Diet to Go doesn't meet your needs for whatever reason, it's a good idea to shop around until you find a diet that works for you.
Here are a few options you can consider:
BistroMD
BistroMD is a program that is pretty similar to Diet to Go. Here's how the two compare:
Menus: BistroMD also features a lot of whole food options, and is considered to be in the upper-tier of diet delivery programs, like Diet to Go is. They have a number of different specialty plans to pick from as well.
Plans: BistroMD also features weekly plan options, and you can opt for two or three meals per day, just like Diet to Go offers.
Price: BistroMD's 7-Day plan starts at $134.96 per week, which makes it cheaper than Diet to Go.
Learn more about BistroMD here.
Personal Trainer Food
Personal Trainer Food is another service that mostly offers whole food meals. They also use very little processed ingredients.
Menus: Personal Trainer Food has a more limited menu that Diet to Go, in terms of specialty options. But, all of their meals are built around a selection of lean protein, and fresh vegetables.
Plans: They currently have 3 plans to pick from, and even a build your own plan options. They don't currently have a vegetarian menu.
Price: Personal Trainer Food is purchased in two-week increments, or a full 28-day supply. It costs about $356.30 for the monthly plan, or $160.30 for the two week plan. These prices are based on your first order.
Learn more about Personal Trainer Food here.
Nutrisystem
Nutrisystem features meals that are more processed than what Diet to Go offers. They're also quite a bit cheaper. If you less concerned about eating whole food, and are looking for a more budget-friendly option, then Nutrisystem may be worth investigating.
Menu: They have more than 200 foods to pick from, and a selection of frozen foods as well.
Plans: Nutrisystem has plans for men and women, as well as options for vegetarians and Type 2 diabetics. Their food comes in 28-day supplies, or you can order "kits" that give you a week's worth of food. They also have an a la carte menu.
Price: Nutrisystem costs about $9.00 per day, and they provide 6 of your meals per day on their monthly plans.
Learn more about Nutrisystem here.
Summary
Diet to Go is a meal delivery service that offers meals that are made from real, whole ingredients. They have a number of different plans to pick from, and you can decide if you want them to send you 2 or 3 meals per day.
If you follow the plan correctly, it may help you lose weight. That's based on a calorie-controlled diet, and using their food for most of your meals each day.
It can be tough to keep the weight after you transition off the diet, unless you commit to a healthy eating plan moving forward.
That said, Diet to Go can be a good option if you're looking for a diet that delivers meals, and has a fairly straightforward plan to follow.
Learn more about Diet to Go and see their latest pricing here.
Resources
Diet to Go, retrieved from https://diettogo.com
Diet-to-Go, Wikipedia. Retrieved from https://en.wikipedia.org/wiki/Diet-to-Go
Become a USDA Foods Vendor, USDA. Retrieved from https://www.ams.usda.gov/selling-food/becoming-approved
Laura Dolson, What is the Diet to Go Balance Meal Plan?, Verywell Fit. Retrieved from https://www.verywellfit.com/diet-to-go-balance-meal-plan-2242274
Glycemic Index, The University of Sydney. Retrieved from http://www.glycemicindex.com
Kathleen M. Zelman, MPH, RD, LD, Experts' Best Diet Tips for Weight Loss, WebMD. Retrieved from https://www.webmd.com/diet/features/experts-best-diet-tips-for-weight-loss#1
Diet to Go Plans, Retrieved from https://diettogo.com/plans
Christine Yu, 14 MEAL SERVICES THAT DELIVER HEALTHY FOODS ACROSS THE COUNTRY, Well and Good. Retrieved from https://www.wellandgood.com/good-food/national-healthy-meal-delivery-services/