What is BistroMD?
BistroMD is a diet delivery program, that was designed around the weight loss principles of Dr. Caroline J. Cederquist [1]. It's based on clean eating, rather than focusing on eating less. This makes it different from some of the other meal delivery programs, whose plans are centered around calorie control.
The currently offer plans for men, women, as well healthy heart, gluten free, diabetic friendly, vegetarian, and menopause programs.
Their foods are free from a artificial sweeteners, trans fats, and preservatives. They're made from high-quality, fresh ingredients, that typically feature a vegetable paired with lean protein.
What Dr. Cederquist Says About Her Program:

I have spent the past 20 years helping people achieve successful weight maintenance. We want to be your partner in your wellness.
How it Started
Dr. Cederquist started BistroMD with her husband Ed in 2005, and is headquartered out of Naples, Florida [2]. They're known as the "foodie" and the "M.D.," as Caroline is the brains behind the operation, and Ed works directly with the chefs to craft their meals.
They believe that weight loss starts in the kitchen, and to accomplish that mission, they create chef-prepared meals that are designed for weight loss.
These meals are a notch above many of the other programs out there, as they're not like the typical frozen diet dinners other comparable programs offer.
While they don't focus on calorie control, you'll naturally be eating less calories through their program of clean and healthy eating. With meals that feature clean protein, and fresh produce, weight loss is a lot easier.
Meals Based on Science:

With bistroMD, every menu and every recipe is created so that you receive the proper macronutrients. Each of the entrees included in our healthy weight loss diet contain a scientific balance of complex carbohydrates, like vegetables, whole grains and fiber, along with lean protein and healthy fat ratios.
How it Works
BistroMD is far from being a fad diet. They don't make extreme weight loss promises or quick fixes. Rather, they provide healthy meal plans, that help you lose weight based on the research of the medical doctor who founded the program – Dr. Cederquist.
Their frozen meals are ready to eat in just 5 minutes or less, and they have more than 150 chef-crafted menu items to pick from.
Getting started with BistroMD involves selecting the program that works best for you.
These include:
Standard Plan: Nutritionally balanced breakfast, lunch, and dinner meals sent to you each week. Helps you lose weight through a plan that's easy to follow, and features fresh vegetables and a protein choice.
Gluten Free: Meals designed for people with with issues related to gluten intolerance or sensitivity. All of the food on their gluten-free meals are tested to the FDA's gluten free standard, and are free from what, barley, or rye.
Heart Healthy: Meals designed to protect your heart. 100+ meals that are at or below the American Heart Association's recommendations for fats, sodium, and calories [3].
Diabetic: Meals designed to help maintain healthy blood glucose levels. All diabetics meals have 25 grams or less of net carbohydrates. They also adhere to recommendations that diabetics eat a "normalized" level of carbs at every meal [4].
Meonpause: Meals designed to maintain stable blood sugar levels, and prevent your body from producing too much insulin. Less than 25 grams per meal.
Vegetarian: Plant-based and seafood options. Not suitable for vegans.
Each of their plans include several options to pick from. You can opt for the full program, or just have them send you lunches and dinners. You can also decide if you want them to provide your meals for 7 days of the week, or just 5.
Once you've picked your plan, and decide how many BistroMD meals you want to eat each day, they'll send out your order within a couple of days. You can save money by enrolling in their auto-shipment plan, but check their latest terms to see what the cancellation policy is.
Learn more and check latest BistroMD prices here.
Eat This, Not That
BistroMD eliminates the guesswork from your diet, which is why so many people like diet delivery programs. You don't usually have to worry about what to eat, or not eat, because they're going to provide most of your food for you.
For the most part, focus on clean eating, and you should be on the right track.
Here's a brief look at what to eat, and the foods to avoid when on the BistroMD diet:
Foods to Eat
BistroMD meals
Lean Protein
Vegetables
Fruits
Keep Net Carbs at 25 grams or Less
Foods to Avoid
Trans Fats
Fast Food
Processed Foods
Bread, Pasta, Etc.
Because BistroMD focuses on clean eating, it's easy to stick with the diet, even when you've decided that you no longer need their meals.
Each entree is built around a lean protein option, and paired with vegetables. Stick with that plan, and you should be able to lose or maintain your weight, even after you've stopped the diet.
What Are Customers Saying About their BistroMD Experience?

I love the meal plan with BistroMD, The food is wonderful, I never believed I could eat more and loose weight but I have. Three smart meals a day and a snack. I have already lost 17 lbs. -Darla D., Verified Reviewer
Daily Eating Schedule
The BistroMD daily schedule calls for eating a healthy breakfast, lunch, and dinner. If you have the option of having BistroMD supply all of these meals each day.
In addition to your main meals, you can also eat two healthy snacks per day. You can make these on your own, or order them from BistroMD.
How Many Calories per Day?
When following BistroMD, dieters will eat between 1,100-1,500 calories per day. This caloric intake consists of 3 meals and 2 snacks per day.
Long-Term Weight Loss

Unlike fad diets that promise easy, extreme weight loss that often doesn't last, bistroMD's weight loss plans use a scientific approach to achieve healthy, long-term weight loss results.
Need More Info?
Learn more about all of the bistroMD programs, menus, and the research behind their delivery meals at BistroMD.com.
Pros & Cons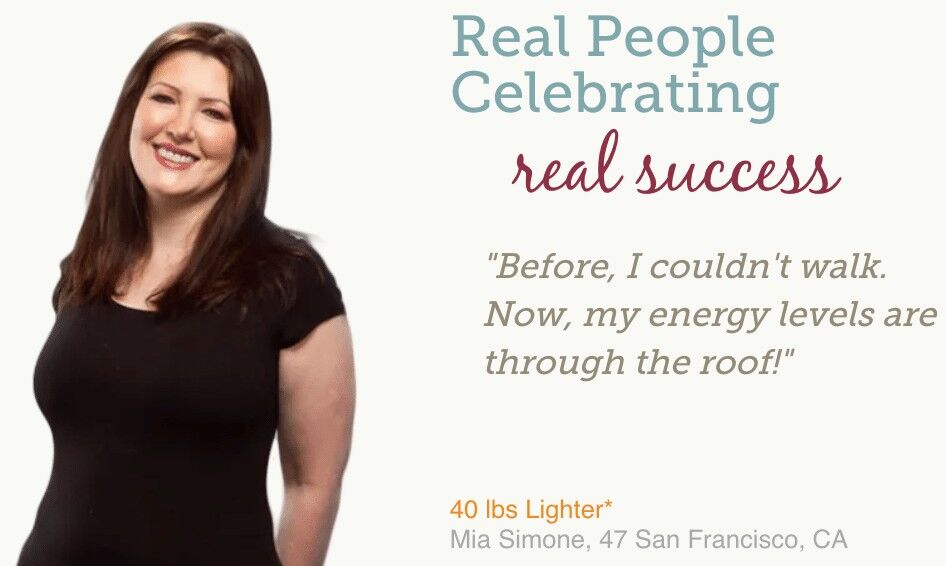 For the most part, BistroMD testimonials tend to be overwhelmingly positive.
That said, there are some complaints [5] out there, so let's take a look at both the pros and cons to help you decide if you're ready to join BistroMD.
Cons
On the Expensive Side
Requires Big Change in Dietary Habits
Some People Don't Like Diet Food, But BistroMD is one of the best
Pros
Makes Weight Loss Easy – Very Little Grocery Shopping or Meal Prep
Safe, Healthy, and Fast Weight Loss
Some of the Highest Rated Meal Delivery Diet Food
Meals Shipped Right to Your Door
Doctor-Deisgned
Support You Need to Reach Your Goals
Learn How to Eat Healthy and Keep the Weight off for Good
Lots of Positive Reviews
Proven to Work
Plans for Special Diets: Vegetarian, Diabetic, Gluten-Free, Heart Healthy
BistroMD Cost: How Much per Month?
BistroMD has several plans to choose from, that ranging in price from $89.96 to $134.96 per week. Pricing changes depending on how many meals you want per day, and how many days of the week you want BistroMD to cover. Shipping if free when you sign up for their auto-delivery program.
Full Program
7 Days: $134.96 per Week
5 Days: $112.46 per Week
Lunches & Dinners Program
7 Days: $112.46 per Week
5 Days: $89.96 per Week
The prices listed above depend on your enrollment in their auto-delivery program. Expect to pay a bit more per week if you decline this option.
Learn more and check latest BistroMD prices.
BistroMD Alternatives: How it Compares
BistroMD has a "great" rating on Trust Pilot, a third party service that gathers real customer testimonials. 74% of reviewers left at least 4-star feedback, with more than half of all verified-customers rating the company as "excellent" [6]
Wondering how BistroMD stacks up against the competition. There are several other programs out there, that also offer meal delivery services.
A lot of the other options out there feature foods that are processed, but they're also a lot cheaper than BistroMD. If you're looking for alternatives that feature fresh foods, like BistroMD, then we recommend Personal Trainer Food or Diet to Go.
If you don't care about the food as much, and just want something that's much cheaper, then Nutrisytem may be your best choice.
Here's a closer look at each:
Personal Trainer Food
How it Compares: Meals very similar to bistroMD, with a focus on clean and healthy eating. Two main plans to pick from, or create your own plan based on unique dietary needs. Read our Personal Trainer Review to learn more.
Price: Starts at about $14 per day.
How Much Weight Can You Lose? Lose up to 20 lbs in 4 weeks.
Diet to Go
How it Compares: Similar food and meal plan. Chef-crated meals. Diabetes, keto, and vegetarian options available.
Price: Starts at $121.99 per week, or $12.20 per meal.
How Much Weight Can You Lose? Lose up to 1 to 2 pounds per week. Read our Diet to go review to learn more.
Nutrisystem
How it Compares: Processed foods and snacks, but a lot cheaper. More than 160 menu items.
Price: Starts at around $9 per day.
How Much Weight Can You Lose? Lose up to 13 pounds in first month.
Review Summary: Where to Buy
BistroMD's focus on clean, healthy eating, makes them a top-choice when it comes to diet delivery programs. They have menu options for people with special dietary needs, different pricing and plan structures, and are backed the research of a medical doctor.
Their plans can be more expensive than some of the other meal delivery programs we've reviewed, but you're paying for quality when it comes to BistroMD.
If clean, healthy food is important for you when it comes to losing weight, then we recommend checking out BistroMD.
Where to Buy BistroMD:
Learn more and check latest BistroMD prices.
Resources
Meet the foodie & the M.D., BistroMD. Retrieved from https://www.bistromd.com/our-story/meet-the-foodie-and-the-md
Bistro MD's Competitors, Revenue, Number of Employees, Funding and Acquisitions, Owler. Retrieved from https://www.owler.com/company/bistromd
AHA Diet and Lifestyle Recommendations, American Family Physician. Retrieved from https://www.aafp.org/afp/2007/0515/p1573.html
Alison Gray, RD, MBA, Nutritional Recommendations for Individuals with Diabetes, Endotext. Retrieved from https://www.ncbi.nlm.nih.gov/books/NBK279012/
BistroMD Reviews, Consumer Affairs. Retrieved from https://www.consumeraffairs.com/food/bistromd.html
bistroMD reviews, Trustpilot. Retrieved from https://www.trustpilot.com/review/www.bistromd.com