When it comes time to lose weight, you're going to have some decisions to make. Before deciding which diet is best for you, it's usually best to decide the type of program you're looking for.
These days, there are plenty of options, so just about everyone should be able to find a diet that fits their needs, goals, and budget.
Diet apps are one of the most convenient and effective ways to lose weight.
When you pick one of the top-rated apps [1], you can get access to all of the weight loss tools you need for success, right from your smartphone or tablet.
On top of that, they're one of the most affordable diet options available.
In this article, we'll take a look at the best weight loss apps currently available, so you can find the best one for you.
Our Top 5 Diet Apps for 2023
Noom
WW (Weight Watchers)
Mayo Clinic Diet
Lose it!
iTrackBites
All the weight loss apps we've ranked above bring their own set of pros, cons, and features [2]. This means while Noom may work great for most folks, WW may be the better fit for the next group.
Either way, you should be able to find a diet app here that can get you to your weight loss goals, in a way that's safe, healthy, and fast.
Let's take a look at each of these weight loss programs in closer detail, so you can get started on your weight loss journey ASAP…
1. Noom
Price: See Latest Prices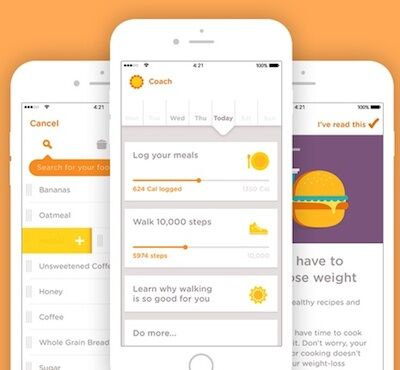 Noom is everywhere right now, especially if you spend any time on Instagram [3]. If you do, odds are good that you've probably heard from a lot of happy Noom customers.
Noom is one of the most complete weight loss apps we've reviewed and that's because it teaches you how to build healthy habits for life, and you get your very own diet coach who's there to guide you on your journey.
Here's a bit more info about the diet:
How it Works
Learn How to Ditch Bad Habits, and Replace Them with Good Ones
Learn What it Takes to Keep the Weight Off for Good
Work One-on-One with Your Noom Coach
Get a Personalized Weight Loss Plan Built Just for Your
See Exactly What You Need to Do and How Long it Will Take to Reach Your Weight Loss Goals
Everything is Accessed and Controlled Through the Noom App
Access Huge Noom Food List for What to Eat and Recipe Ideas
Why Noom Made Our List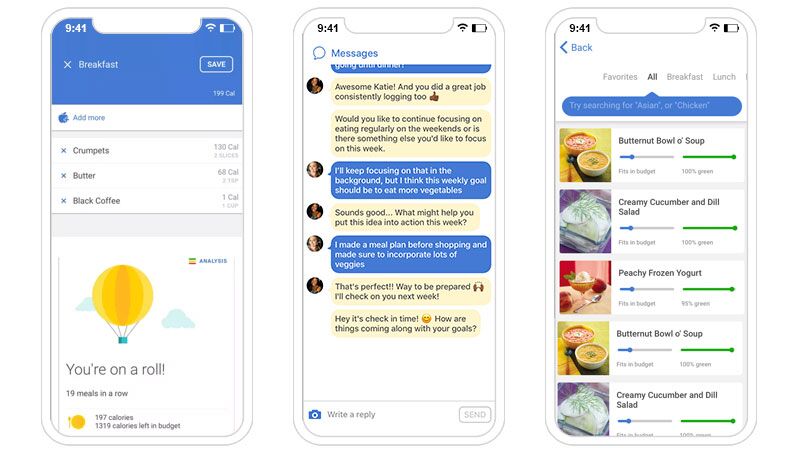 Noom tops our list because it's simply the best and most complete weight loss app we've reviewed. It features everything you'd want and need in a diet, and it isn't a short term solution – if you take what your learn to heart, you have a real shot at keeping the weight off for good!
On top of all that, it's very affordable – it can be as low as $20 per month if you purchase the yearly plan.
How to Sign Up
If you're ready to try the best diet on the market right now, then we definitely recommend that you give Noom a try. It's as good as it gets, and right now you can try it free for 14-days.
Learn more and get the Noom free trial here.
2. myWW (Weight Watchers) Freestyle
Price: Check Latest Prices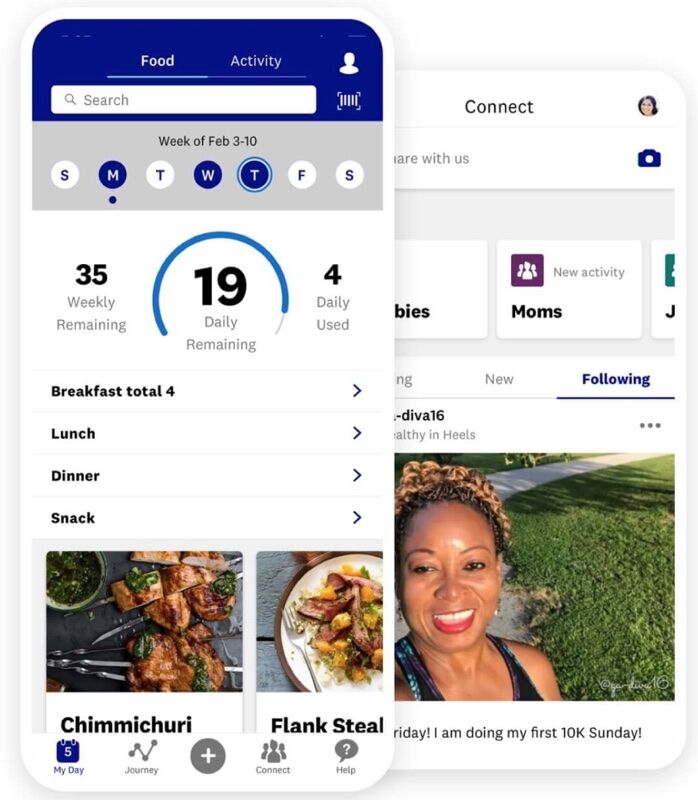 my WW Freestyle (our review) has been in the diet business for decades now [4], and after all that time, they're still at the top of the game. While they may have changed their name from Weight Watchers to WW, their program still works great for weight loss, and features a few more benefits these days.
If you're looking for one of the best and most affordable diet apps available, then put WW on your list.
How it Works
Pick from 3 Plans: Online-only, Online & Meetings, Coaching
Use Weight Watchers Points to Track Food and Exercise
Lose About 1-2 pounds per Week
Work with a Coach to Reach Your Goals
Attend Workshops (Meetings) in Person
Freestyle = More Freedom: More Than 100 ZeroPoint Foods
Use the App to Track Progress, Scan Foods on the Go, and See What to Eat at Restaurants…Plus Much More
Connect with WW Community: Chat, Send Videos, and Connect with Other Members
Join for Free Plus Get First Month Free
Why Weight Watchers Made Our List
WW is one of the biggest names in the diet industry for a reason: It works!
Their points-based system is backed by years of research, and has been proven to work through the millions of customers who've put it to the test. It's simple, easy to follow, and can teach you what it takes to make your weight loss permanent.
They also offer full coaching, allow you to connect with other members on a personal level, and offer more freedom than ever with their new Freestyle program.
How to Sign Up
Joining Weight Watchers is easier than ever – simply go to their website, pick the plan that fits your needs and budget, and you're ready to download the app.
Right now you can join for free plus get a free month:
Learn more and see current WW plans here.
3. Mayo Clinic Diet
Price: About $5 per Week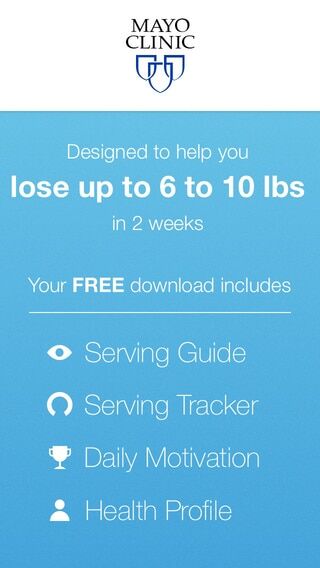 Wouldn't it be great if there was a diet that came straight from one of the most highly-respected medical institutions in the world?
Good news – that diet exists, and it's called the Mayo Clinic Diet
And as its name suggests, it comes from the expert minds a the Mayo Clinic. That means it's designed with your overall health in mind [5].
Like many of the other weight loss programs on our list, dieters who take what they learn to heart, have a great shot at keeping the weight off for good.
That's because, Mayo Clinic Diet isn't a fad diet – it's mission is to help you build healthy, lifelong habits.
Here' how…
How it Works
Works in 2 Phases
Phase 1: Lasts 2 Weeks, Lose up to 10 LBS
Phase 2: Live it! Learn how to use Mayo Clinic Diet strategies for life
Use App for Everything You Need for Success
Fully Personalized Meal Plan
100s of Easy-to-Follow Recipes
Portion-Control Guides
Tips, Articles, More
Healthy Habit Tracker
Food/Fitness Journal
Weight Tracker
Personalized Workouts, Fitness Tips, Walking and Running Guides
Why Mayo Clinic Diet Made Our List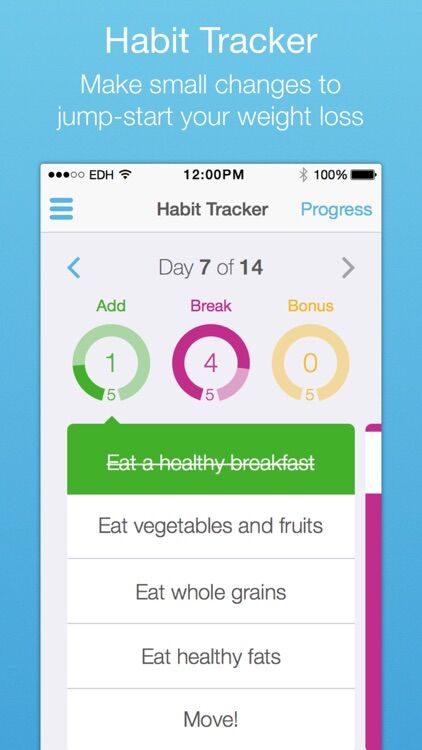 Mayo Clinic Diet makes our list, because of all of the features that we've outlined above. It's a very comprehensive program, that covers all areas of healthy living.
That means you'll learn how to eat right, and the role that exercise can plan in benefiting your overall health.
On top of all that, it's one of the more affordable diets around – starting at about $5 per week!
How to Join
If you're ready to get started with the Mayo Clinic Diet, signing up is super easy. They have a dedicated website set up for their diet, and that's where you can learn everything you need to about their weight loss program.
That's also the place to lock in their latest deals…
Check Mayo Clinic Diet plans and prices
4. Lose It!
Price: $3.33 per Month for Premium Plan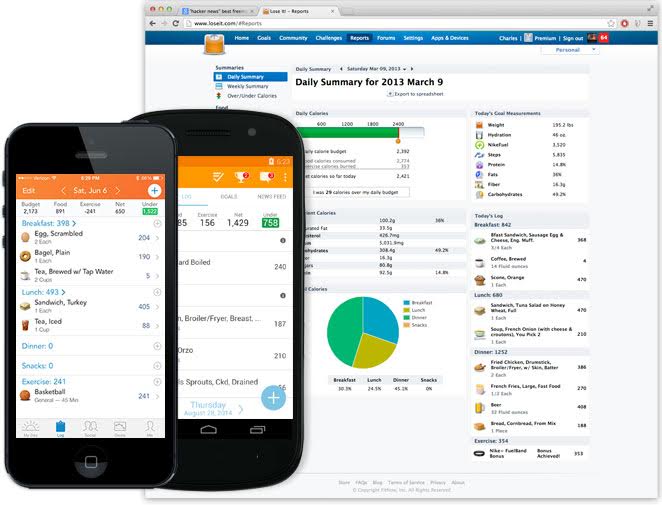 The Lose It! app is a popular choice for a lot of folks, because you can started with their program for free. The free plan gets you their basic services, but is an excellent pick for people who just want to track calories and exercise.
The basic plan also allows you to connect with the Lose It! community.
For just a few dollars per month, you can upgrade to their Premium service, which is definitely worth it if you're serious about your weight loss.
Here's how the Lose It! Premium plan works:
How it Works
Overall Health Tracker: Weight, Body Fat, Water, Sleep
Exercise Tracker: Steps, Calories, Minutes
Medical Tracking: Blood Glucose, Blood Pressure
Nutrition: Carbs, Fats, Protein, Fiber, Sodium
Body Measurements: Neck, Hips, Waist, Biceps, Thighs, Chest
Snap It Food Photo Analysis
Barcode Scanner
Reminders
Meal Planning
Exercise Planning
Syncs with Wireless Scales
Syncs with Popular Fitness Trackers: Fitbit, Garmin, Misfit
Connect with Lose It! Community
Why Lose It! Made Our List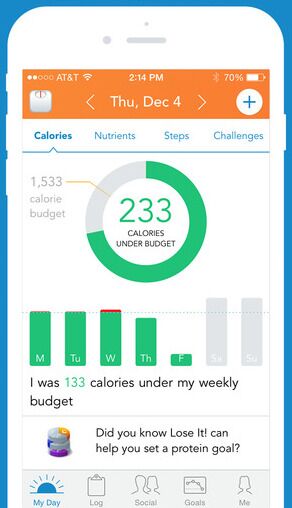 Lose It! makes our list because it's super well-rounded, and offers everything you need to reach your weight loss goals. You can get started for free, or pay just a few dollars per month for the best plan they offer.
How to Join
Getting started with Lose It! is super easy…simply download their app on your smartphone or tablet, and you can start trying it for free.
Get it in your app store, and you can visit Loseit.com.
5. iTrackBites
Price: Get iTrackBites Pro for $11.99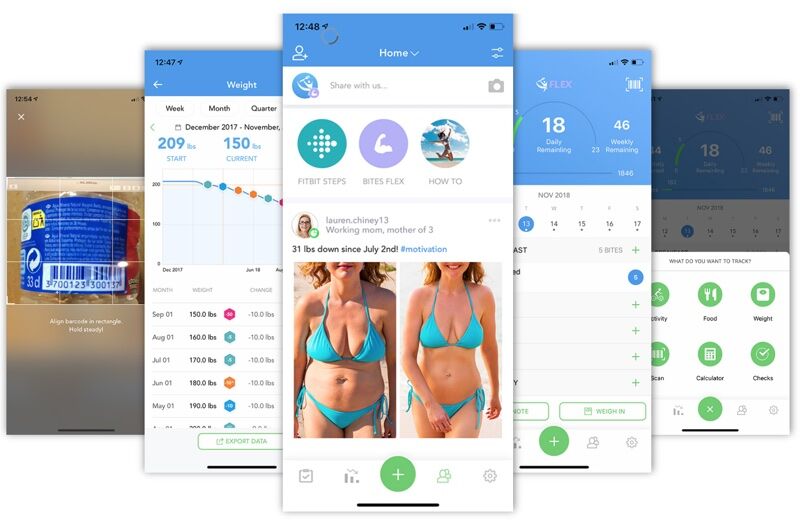 iTrackBites has everything you need to lose weight, and the best part is, you can get started for free. From barcode scanners to a giant food database, iTrackBites has your diet needs covered.
Here's what makes it work…
How it Works
Food & Exercise Tracking
Barcode Scanner
Online Community
Huge Food Database
Weight Tracker
Progress Tracking
Why iTrackBites Made our List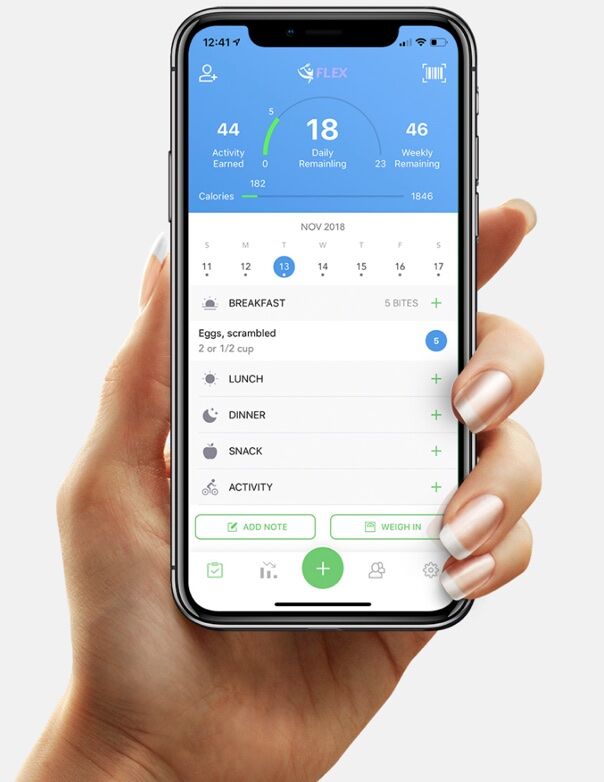 iTrackBites has a proven track record of success, and you can get started for free. As far as budget-friendly weight loss apps go, iTrackBites is about as good as it gets.
The free plan can be a great option for a lot of people, and if you want something a little more robust, you have the option of upgrading to their paid plan.
How to Join
Ready to get started with iTrackBites? Head to the app store on your phone or tablet and simply download the free app. You can also go to itrackbites.com to learn more.
Summary: Our Winner?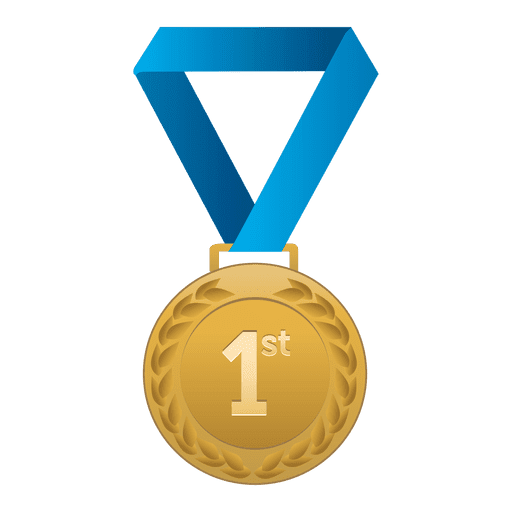 Finding a great weight loss app doesn't have to be hard…All of the options we've outlined above are good places to start. They've all been proven to work for thousands, and even millions of customers in some cases, and they're built around strategies you can lose for life.
If we had to pick just one to with, though, the choice would be…
Noom, and here's why:
Based on the Latest Research
Plan Built Around Your Unique Needs and Goals
Work 1 on 1 with a Noom Coach to Reach Your Goals
One of the Largest Food Databases in the World
Huge Community of Support
Super Easy to Follow
Teaches You How to Develop Healthy Habits for Life
Try it Free
Ready to learn more about Noom?
Head here to check latest Noom plans and prices.
---
Resources
Brianna Elliott, RD, The 10 Best Weight Loss Apps That Help You Shed Pounds, Healthline. Retrieved at https://www.healthline.com/nutrition/10-best-weight-loss-apps
K Aleisha Fetters, Melissa Matthews, 15 Weight Loss Apps That Actually Work, Men's Health. Retrieved at https://www.menshealth.com/weight-loss/g19543131/seven-fitness-weight-loss-apps/
Noom, Instagram. Retrieved at https://www.instagram.com/noom/
Robert D. McFadden, Jean Nidetch, a Founder of Weight Watchers, Dies at 91, The New York Times. Retrieved at https://www.nytimes.com/2015/04/30/business/jean-nidetch-dies-at-91-co-founder-of-weight-watchers-and-dynamic-speaker.html
Kelley Luckstein, Mayo Clinic publishes second edition of The Mayo Clinic Diet to help people shed weight, stay trim, Mayo Clinic News Network. Retrieved at https://newsnetwork.mayoclinic.org/discussion/mayo-clinic-publishes-second-edition-of-the-mayo-clinic-diet-to-help-people-shed-weight-stay-trim/