When it comes to losing weight, it doesn't get much easier or more convenient that a meal delivery diet. But, with so many options to choose from, how can decide which diet is going to work best for you?
In this guide, we'll show you exactly what you should be looking for in a meal delivery diet, as well as our top-5 choices, so you can make an educated decision about your weight loss.
There are lot of reasons that meal delivery diets work so great, but these are just a few of the key reasons that we are huge fans of using these services:
Convenient: Most companies send almost all of the food you need for the month right to your door. This means your trips to the grocery store are few and far between.
Easy to Follow: Every meal delivery diet I have tried has been very straight forward and easy to follow: Just eat the food they send you, follow the plan, and you WILL lose weight!
Affordable: In most cases, you can get an entire month's worth of meals and snacks for right around $300 – compare that to what you typically spend on groceries in a month, and you should see some huge cost savings!
Keep reading to learn more about our top 3 picks, plus see 3 more diets that can also produce some pretty awesome weight loss results.
Top 4 Cheap Weight Loss Meals Delivered to Your Door
Nutrisystem
South Beach Diet
Jenny Craig
BistroMD
Remember, a lot of this is going to come down to your own personal tastes, so while when program may be the perfect fit for a lot of folks, it may not be the perfect choice for others.
Our suggestion?
Take a good look at the menu, food choices, and meal styles that we're about to share with you, and then you should be able to find one that checks all the boxes for you!
1. Nutrisystem

Nutrisystem tops many of our "best of" lists, and that's for good reason (see my weight loss results).
Besides the fact that their diet works great for weight loss, they also have one of the biggest and best menus of all the diet food companies out there.
What does that mean for you?
More food, more variety, and a lot more bang for your buck.
Here's a look at some of their top-selling diet foods…
Menu Highlights

More Than 160 Choices
Chef-Created Food
Made with Farm-Fresh Ingredients
Balanced Nutrition to Put Your Body into Fat Burning Mode
Options for Breakfast, Lunch, Dinner, Snacks, and Shakes
Healthy, Lean Protein
Low-Glycemic Carbs
No Artificial Sweeteners or Flavors
No Calorie Counting
No Measuring
Plans for Vegetarians and Diabetics
Easy to Follow Menu for Fast Weight Loss
Their Best-Tasting Foods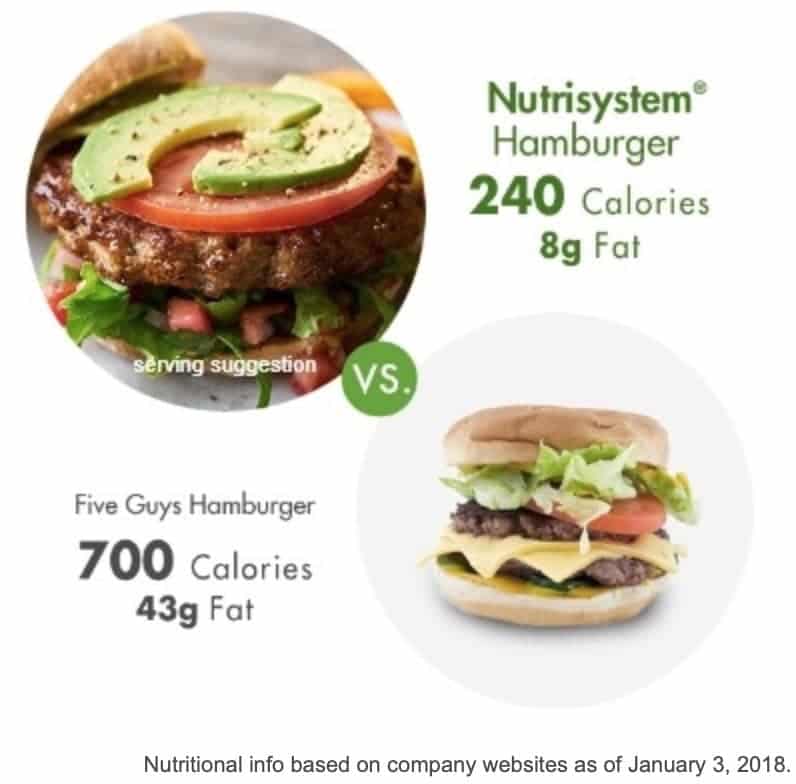 With so many different foods to choose from, you're sure to find plenty of things you love on the Nutrisystem menu.
One of the best part about Nutrisystem is that they sacrifice flavor or choices just because you're on a diet.
You still get to eat the foods you love, and should lose a lot of weight while doing it! We're talking about crowd favorites like pasta, pizza, burgers, mac and cheese, muffins, ice cream, and more!
Here's a look at some of our favorites…
Breakfast
Cinnamon Roll
Buttermilk Waffles
Turkey Sausage & Egg Muffin
Homestyle Pancakes
Turkey Ham & Cheese Omelet
Lunch
Hamburger
Grilled Chicken Sandwich
Pepperoni Pizza Melt
Tuna Salad
Steak & Cheese Melt
Dinner
Cheesesteak Pizza
Rotini & Meatballs
Chili with Beans
BBQ Seasoned Chicken Sandwich
Chicken Enchilada
Snacks / Dessert
Ice Cream Sandwich
Chocolate Brownie Sundae
White Cheddar Popcorn
Chocolate Cupcake
Whole Grain Soft Pretzel
Who Should Pick Nutrisystem's Food?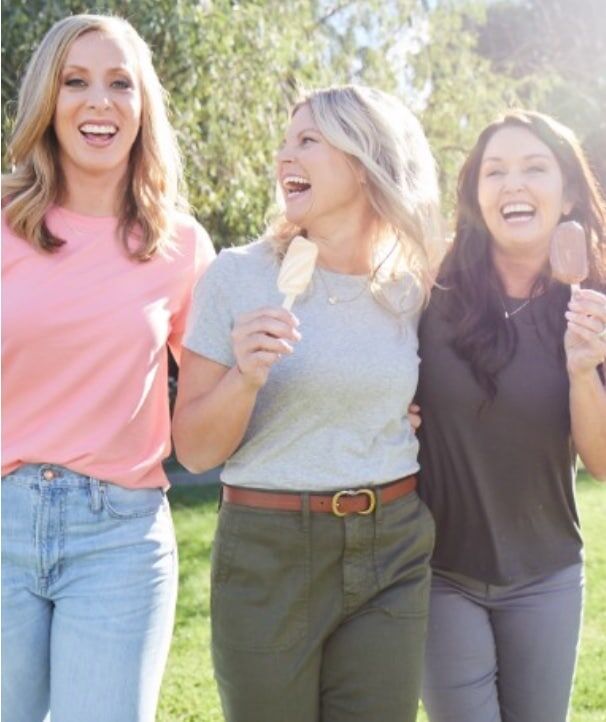 If you're looking to join the best meal delivery diet program, then Nutrisystem should be at the top of your list.
There are plenty of reasons they're the best selling meal delivery diet in the world, including their amazing weight loss results, and great tasting diet food.
So, if you're looking for any of the following, then it's time to consider Nutrisystem:
Biggest and Best Menu
Classic Foods Most People Enjoy: Solid Variety of Italian, Mexican, and American Style Cuisine
Huge Frozen Food Selection
A Program That's EASY to Follow
No Calorie Counting
Minimal Meal Prep
Very Little Grocery Shopping
Considered Pretty Affordable
Where to Get the Best Deal
Think the Nutrisystem diet food looks like the best option for you?
It works great for most who try it, but keep in mind that weight loss results will be different for everyone, and it requires commitment to the program to have the best shot at success.
See Nutrisystem's latest prices and plans here.
2. South Beach Diet

South Beach Diet is another very solid choice when it comes to great tasting diet food (she why here). In fact, I may prefer their menu slightly when compared to Nutrisystem, but Nutrisystem gets the edge because of the larger menu variety, and their plans are a bit cheaper.
Either way, you can't go wrong with South Beach Diet when it comes to menu variety, and food quality. And on top of that, it's still very affordable.
Here are just a few of the factors that make the South Beach Diet frozen foods some of the best:
Menu Highlights

Huge Selection of Breakfast, Lunch, Dinner, and Snack Options
Chef-Inspired Meals and Snacks
Keto-Friendly Menu Options
Farm-Fresh Ingredients
Fully Prepared Meals That Are Ready to Eat
Awesome Variety of the Dishes You Love
Diabetic-Friendly Menu Option
Healthy Fats, Lean Proteins, and Good Carbs
Their Most Popular Menu Items
Wondering if South Beach Diet's meals and snacks are going to be something you like?
I've used their diet food, and I thought that it tasted great, but take a look at some of the more popular menu items, to get a better idea if they're going to have the foods you like.
Breakfast
High Protein Pancake Mix
Farmstand Garden & Cheese Omelet
Just Add Eggs – Ham & Cheese Scramble
Mushroom & Pepper Egg White Omelet
Vegetable Frittata
Lunch
Broccoli and Cheese Stuffed Chicken Breast
Grilled Chicken Sandwich
Chicken with Apricot Glaze
Edamame Chicken
BBQ Sauce with Chicken
Dinner
Artichoke & Spinach Stuffed Chicken Breast
Margherita Pizza
Chicken in Bourbon Flavored Sauce
Chicken Roma
Sesame-Glazed Beef & Veggie Bowl
Snacks / Dessert
Dark Chocolate Nut Bar
Parmesan Cheese Crisps
Sweet & Tangy Flavored Meat Stick
Whipped Chocolate Almond Bar
Fudgy Graham Crumble Bar
Who Should Join South Beach Diet?
South Beach Diet offers a simple, low-carb plan to weight loss. On top of that, they have a fun and diverse menu with many great-tasting meals and snacks to pick from.
If you like with with a Mediterranean flare, they have options for you, while also plenty of dishes that are both Asian and American-Inspired.
They have several different plans to pick from, so they pretty much have an option to fit any budget.
Where to Get the Best Deal
If you're ready to put South Beach Diet to the test, then the first place you'll want to head is their official website.
From there, you can pick you plan, select your menu, and get started on your weight loss journey as soon as your food arrives.
Head here to learn more and check current South Beach Diet prices.
3. Jenny Craig
Not only does Jenny Craig have awesome-tasting diet food, but they also offer a weight loss coaching program, that puts them in another class when it comes to meal delivery diets.
If you're looking for a program that provides you with a meal plan that is designed to help you lose weight, as well as one-on-one support to help get you to your goals, then the Jenny Craig is the diet for you.
Here are some of the menu features that make Jenny Craig one of the best:
Menu Highlights

Just Launched Their Most Effective Menu Ever
Chef Crafted Premium Food
No Artificial Ingredients
Fully Prepared, Frozen Meals
Awesome Flavors
Ingredients You'll Feel Good About
Balanced Blend of Protein, Whole Grains, Fruit, Veggies, and Dairy
Their Most Popular Menu Items
Much like, South Beach Diet and Nutrisystem, Jenny Craig has very nice, large selection of meals and snacks. Here's a small look at some of their more popular offerings, to give you an idea of what Jenny Craig is all about:
Breakfast
Maple French Toast
Cheddar Cheese Omelet
Cheesy Egg & Bacon Skillet
Cheesy Egg & Sausage Scramble
Blueberry Pancakes & Sausage
Lunch & Dinner
Asian Style Beef with Veggies
Butternut Squat Ravioli
Cheesy Potatoes & Chicken
Beef Merlot
Beef Teriyaki
Beef Fiesta Taco Bowl
Cheese Ravioli
Chicken Ranch Melt
Chicken Burrito
Chicken Pot Pie
Snack / Dessert
Chocolate Lava Cake
Chocolate Walnut Brownie
Apple Crisp
Triple Chocolate Cheesecake
Vanilla Buttercream Cupcake
Who Should Join Jenny Craig?
If you're looking for a meal delivery diet program that has great-tasting food, and can help you reach your weight loss goals through the help of one-on-one coaching, then Jenny Craig should be at the top of your list.
Their menu features American-style cuisine, as well as some other Asian and Mexican classics. Basically the stuff most of us like!
Basically, though, your decision should come down to whether or not you're the type of person who prefers to have the help of a one-on-one coach. If that's something that sounds appealing, then Jenny Craig could be the best choice.
If you don't need one-on-one coaching, then Nutrisystem may be the better fit. It's quite a bit cheaper, is super easy to follow, and they offer weight loss counseling, it's just not quite as personalized as Jenny Craig.
Where Can You Get the Best Deal?
Ready to put the power of the Jenny Craig diet food to work for you?
The only place you can join is at their official website. From there, you can also learn more about their coaching, see the full meal, and lock in their latest discounts.
Lock in the best Jenny Craig deals here.
4. BistroMD

BistroMD offers some of the best diet food we have tried (read our review here), but that does mean that it costs a bit more than the other programs on our list.
They're considered to be in the upper-tier of diet food, though, so if budget isn't an issue, then BistroMD may be just the meal delivery diet that you've been looking for.
The BistroMD programs features a doctor-designed menu, that is packed full of delicious chef-inspired entrees.
Here are just a few of the menu items we love:
Menu Highlights
Delicious Chef-Prepared Meals
Just Heat and Enjoy
Over 150 Menu Options
Variety of Menu Options: Heart-Healthy, Diabetic, Gluten-Free, Vegetarian, Menopause, and More!
Designed by a Doctor
Scientifically Proven Weight Loss Meals
Nutritionally Balanced
7 Day or 5 Day Food Menus
Their Most Popular Menu Items
With more than 150 items to choose from, BistroMD has one of the more diverse menus of the programs featured on our list.
Here are just a few of the BistroMD crowd favorites…
Breakfast
Artichoke, Spinach and Roasted Red Pepper Frittata
Italian Style Omelet
Bagel Sandwich with Egg, Caramelized Onion, Mushroom and Swiss
Apple Cinnamon Oatmeal with Scrambled Eggs
Homestyle Waffles with Scrambled Eggs and Maple Syrup
Lunch / Dinner
Salmon with Dill Mustard Sauce
Lasagna with Garden Marinara
Blackened Chicken with Creamy Smoked Paprika Sauce
Hickory Smoked BBQ Pork with Broccoli
Tilapia with Orange Parsley Sauce
Manicotti with Vodka Marinara Sauce
Beef with Red Wine Sauce and Barley
Pork Tenderloin with Mushroom Marsala
Spinach and Feta Stuffed Salmon
Chipotle Pineapple Smoked Pork Street Tacos
Snacks / Desserts
Espresso Fudge Cookie Bites
Decadent Chocolate Cherry Bar
Very Berry Boost Fruit and Nut Mix
Chocolate Espresso Cheesecake
Raw Power Nut Mix
Who Should Join BistroMD?

If you're looking for top-tier diet food, that is chef-crafted, and doctor-designed, then BistroMD may be the best fit for you.
They offer premium-level food, but it does come with a higher price tag than some of the other diets on our list, so be sure to factor that in when deciding.
Where to Get the Best Deal
Ready to start your BistroMD journey? Then you'll need to head to the BistroMD website to get started. From there, you can pick your plan, dial in your menu, and learn more about their awesome diet foods.
Head here to lock in BEST BistroMD deals.
Bottom Line
When it comes to finding the best-tasting diet food on the market, you can't go wrong with any of the programs on our list.
It's important to remember that it's diet food, so as long as you don't go into it expecting restaurant-quality cuisine, then you should be happy with your order.
Even so, you can still find meals that taste great, offer plenty of variety, and fit almost any budget. We recommend reading over the programs listed above to find the one that fits your needs, and matches your taste!
That said, if you're looking for the best of the best – that means best flavor, best food, and best price, then we recommend the Nutrisystem Diet:
Learn More and Lock in 40% Nutrisystem Discount HERE.
---
Resources